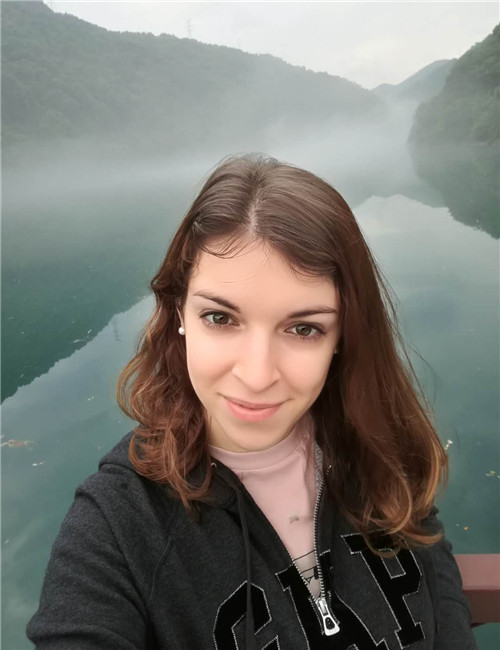 Cindy Didier
An old Chinese tradition says that a woman should stick with the man she marries, no matter what kind of man he is. In the case of Cindy Didier, a 24-year-old French woman who comes from Châteauroux, a city in the middle of France, she follows her Hunan-born husband no matter where he is.
Cindy came to study at Xiangtan University in Xiangtan City, Hunan Province in 2015 as an exchange student majoring in international trade. And the love story began when the couple first met each other at a Chinese calligraphy session. "I was interested in Chinese calligraphy and my husband is good at it, so I learned it from him, that's how we start our relationship. It was love at first sight," Cindy said.
As a woman coming from a small city in France, she always prefers living in small cities like Xiangtan. However, after graduating, the two decided to work in Shenzhen as the city offeres huge opportunities. "Shenzhen is quite a new city with fresh air and a nice environment. Plus, the city's economy is good so it has many possibilities compared with Xiangtan," she said, adding that she has adjusted well to her life in Shenzhen.
After she came to Shenzhen one year ago, Cindy landed a job at an e-commerce company for which she worked for six months, later quitting the job to look for something different. "The company and my colleagues were nice, but I don't like the nature of the job; it seemed to me as boring. So I want to become a teacher so that I could have more chances to deal with people," Cindy said.
Like other couples in international marriages, Cindy told the Shenzhen Daily that she has experienced cultural differences. "In France, children should be taken care of by their parents. But in China it's the grandparents' job to take care of them, which is quite different," she said. She also mentioned the different personalities between her and her husband were also something they need to cope with.
In her spare time, she likes to read, paint and hang out with friends. "I enjoy some alone time and social life besides spending time with my husband; I think it's very important for married life."
Cindy said she and her husband will settle in Shenzhen permanently and in the future she would like to become a volunteer for pet shelters or welfare homes to help those in need.