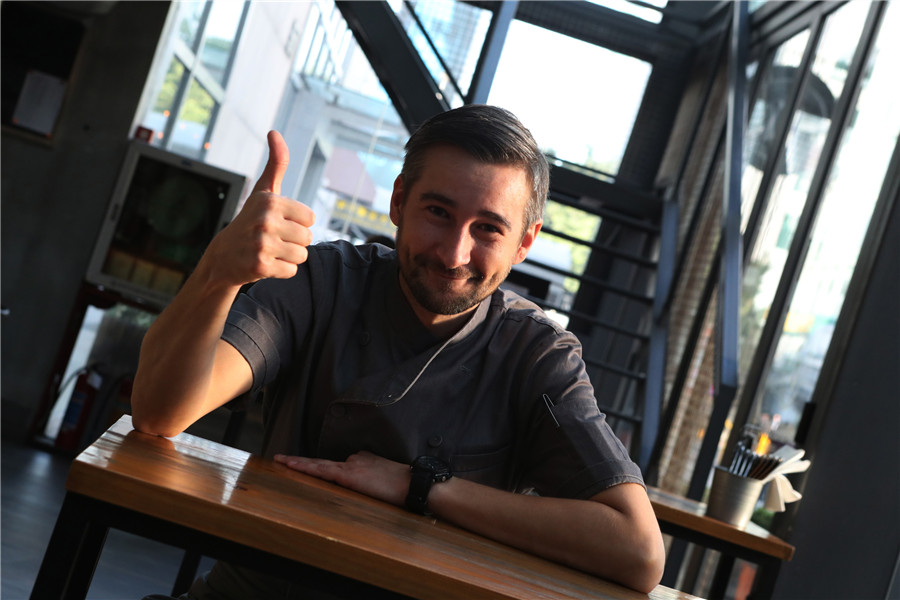 Ivakhnenko poses for a photo at BAIA Burger Concept.   Sun Yuchen
The 592.5-meter -tall Ping An International Financial Center (PAFC), towering over the concrete jungle of Futian CBD like a sharpened lance, perfectly portrays the Shenzhener's life abounding with challenges and opportunities. After striving for their dreams in the skyscraper the whole day, white-collars, often in bands of two or three, patronize international delis in COCO Park for a decent meal.
Denys Ivakhnenko, a Ukrainian chef, makes authentic American burgers at a restaurant named BAIA Burger Concept, which sits just opposite the cloud-capped building.
Following a night spent celebrating after being recognized with the award for "Burger of the Year" by That's Shenzhen Food and Drink Awards 2018, Ivakhnenko ate his lunch quietly at a club table in a silent corner of his restaurant. The 36-year-old, who is the quintessential Ukrainian with a tall stature and modest personality, told the Shenzhen Daily that he is not only a chef working in the kitchen, but also one of the major players in the brand's operations. "We have opened hamburger restaurants in both Futian and Shekou, and an Italian restaurant in Shekou. So, on my daily schedule is to commute between the two districts. We also have a branch in Thailand. I stayed there for two months last year," he said. "Being able to work in different types of restaurants adds many new experiences to my life."
Looking much younger than his age, Ivakhnenko is a veteran chef with 17 years of experience in the catering industry. After earning a culinary degree in Ukraine, he worked in an Italian restaurant before relocating to China.
Having lived in Shenzhen for four years, Ivakhnenko's memories mostly linger around Futian District and Shekou. "I feel that Futian is a place with bustling business and a fast-paced lifestyle," he said. "In Futian District, businesspeople often drop in quickly for their lunch or dinner, while in Shekou, people opt to chill at our restaurant with their families or friends over the weekends." To echo the idiosyncrasies of Futian as a business district abounding with office buildings, the restaurant offers a "90 minutes after work" meal deal during the peak evening hours, which includes a hamburger and a complimentary glass of beer or wine.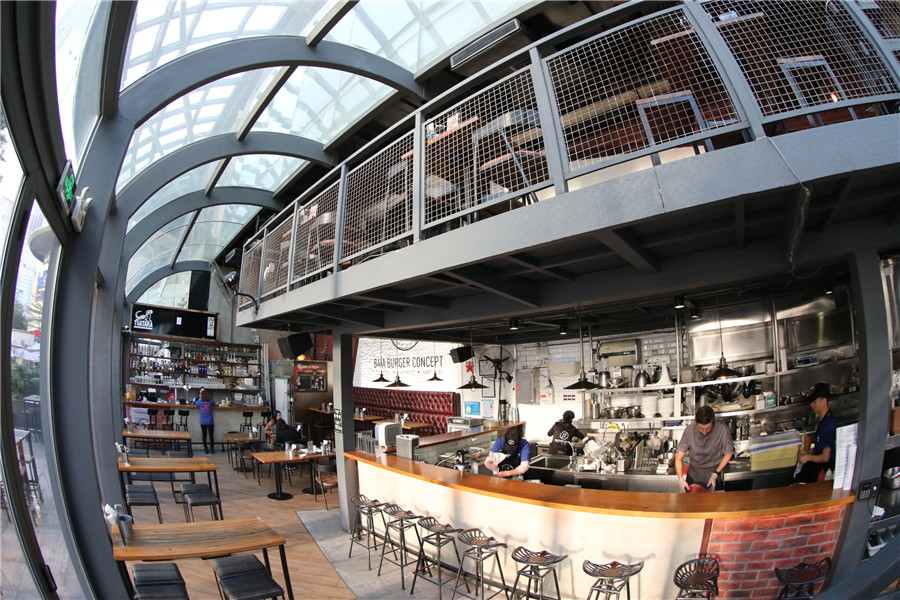 Ivakhnenko prepares burgers at the restaurant.  Sun Yuchen
In addition to blending in with the local community as an expat, Ivakhnenko has also set up a close-knit community revolving around authentic American burgers. The restaurant has gained kudos from gourmets on consumer review platforms like TripAdvisor and Dianping.com. It has also developed a large group of loyal customers. "Customers come here not only for the food. They come here to find company, to speak with others and to make new friends. We have long been trying to make coming to the restaurant into a social occasion with a friendly atmosphere," said Ivakhnenko. During the 2018 FIFA World Cup, the restaurant was besieged by frenetic fans, because it set up a big screen in the middle of the hall, broadcasting all of the matches from the group stage to the final. "The restaurant was really crowded during the match days," he said. "Not only expats gathered here for the match, but local football fans also had lots of fun."
Hamburgers have been no stranger to the Shenzhen people since the first McDonald's opened in Luohu District in the 1990s. After decades of assimilation, American-style burgers sold at popular fast-food restaurants may taste totally different from what they were meant to be. For Ivakhnenko, it's important to find a balance between the local tastes and authentic hamburgers. "As the restaurant was opened in China, our major customers are still Chinese, so we need to make the burgers local, like providing three kinds of spicy sauce made from Mexican chilies that cater to the Chinese taste," he said. "We also try not to lose the taste of authentic American burgers."
The Ukrainian chef gives a clear picture of the origins of his hamburgers: the Australian beef fillets are minced twice a day by the kitchen staff and then made into meat pies weighing more than 180 grams before finally being sandwiched between fresh-baked buns, resulting in a dish totally distinct from those sold at popular fast-food restaurants. "We make every part of the hamburger with all our heart. For instance, the staffer in charge of the bakery usually gets up at 4 a.m. to prepare the buns," said Ivakhnenko. "Another point that makes the hamburgers different from fast food is our service. On the menu, there are vegetarian and diet sections to satisfy special needs."
Like many other foreign chefs working in China, Ivakhnenko has a trilingual WeChat Moments, promoting his hamburgers in Chinese, English and Ukrainian. In addition to promoting via social media, the restaurant offers a collection of deals to its customers, like the after-work meal deal, a brunch deal and a special menu for students or visitors during public holidays.
When asked how a chef can succeed in a foreign country, Ivakhnenko stated that one should gain a thorough understanding of the target culture, especially in China, where an old saying has prevailed over thousands of years — food is the staff of life. "You need to understand the local culture clearly, know what the locals like to eat and cook from the heart to meet their taste," he said, adding that every chef should be ready to play an all-purpose role at a restaurant nowadays, from cooking in the kitchen to making cocktails as a bartender, from collecting feedback from the customers to taking charge of the operations. He also gave some suggestions on how to cope with complaints. "Of course, opinions on how a dish should look and taste may vary from person to person. However, nobody will turn up their nose at perfect food. So, the only thing you should do is work as hard as possible to make your dishes impeccable," said Ivakhnenko.
It's widely acknowledged that a chef is often a gourmet who feeds on delicacies. Since coming to China, Ivakhnenko, who has long been a big fan of Italian food, has also been intrigued by Chinese cuisine, especially Beijing Roast Duck. He has also tried to make some simple dishes like Chinese salad at home.
Interestingly, Ivakhnenko said that he has two families. In his spare time, he likes to hang out with his wife, reading books, watching movies and going to parks. "Shenzhen is a beautiful city for living. I like the sea views of the Meisha beaches and Shenzhen Bay Park," he said. When returning to work, he is also happy to collaborate with the warm family set up by the owners of the restaurant. "My bosses come from Italy and Germany. They are all very nice people with a lot of ideas to grow their business," he said. "The restaurant is like a big family. Staff parties are organized on a regular basis, where we can exchange our ideas."
As for his home family, Ivakhnenko and his wife are ready to have a baby. Regarding his work family, the Ukrainian has a big dream. "Hopefully our restaurants will become more recognizable in the future, so people will not only think of McDonald's when talking about hamburgers," he said. "We also want to open more restaurants outside of China."