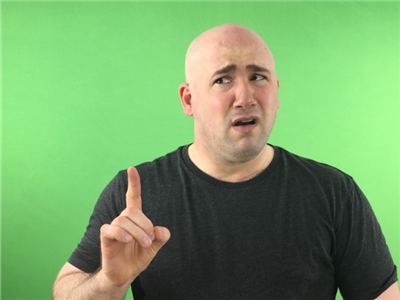 Steven Hawk
Steven Hawk, a 40-year-old Israeli, has been living and working in Shenzhen for nine years.
It's common to see many WeChat accounts providing detailed analyses of English grammar, words and sentences, but Hawk's "English88" is quite vivid, with funny self-made videos inserted into each day's learning material. Hawk is the main actor, scriptwriter and director of the videos.
"In the past few weeks, I've worried about my frequency (in posting learning materials in WeChat groups)," Hawk said. "Someone called me a spammer, it's ok, some people hate them and some people love them. I don't deny that I send a lot of stuff in a lot of groups, but I can tell you that I'm not a spammer, because I always post free English materials in English groups."
Hawk's main job is actually managing application development at a company. The only reason he keeps sharing these English materials is that he loves doing it.
"I've been sharing free English stuff and videos for over 10 years. I started with e-mails. Six months ago, my family and friends pushed me, they said, 'Listen, you have been doing this for many years, so you have to make a WeChat public account. You have to focus all your stuff on one channel and see what happens.'"
Hawk said that his WeChat public account has gained almost 5,000 followers since it was set up four months ago.
Hawk said his amusing videos are an important outlet for him.
"My job is so serious that I need an outlet and I need to let go somehow. I started because my friend said, 'you talk too much why don't you just talk in a car on your way to work.' So I started to make videos in the car," said Hawk.
"People made a lot of comments on 'English88' about my videos. People loved it," he said.
"Today, I got a comment from a mother that said, 'I'm watching this (video) with my little girl. We love it and we've watched it three times.' This type of comment makes me smile. Parents watch my videos with their kids, it's amazing!"
Hawk has also put his videos on other social media platforms, such as Sina Weibo, and Douyin, a popular video-sharing app, where he has almost 14,500 followers.
"I promise 'English88' will be free forever. The business model of 'English88' is to provide free English material and gradually place advertisements on the page or in another way."