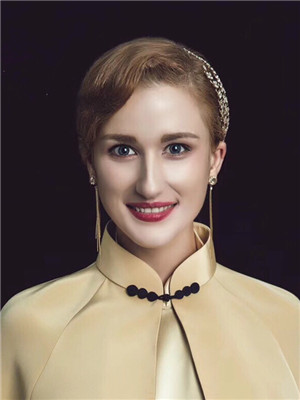 Selena Anikieva
Thanks to a resume of characters in Chinese and Russian movies and TV dramas, and years of hard work, Shenzhen-based Russian actress Selena Anikieva landed a role in acclaimed film director Stephen Chow's movie "The New King of Comedy," which is now being screened in China.
In the movie about a hard-working Chinese film extra's dream of stardom, Anikieva plays a film star who has the role of a witch in a Snow White parody. When the "witch" is about to be beaten by the "Seven Dwarfs," the film extra works as her double, getting beaten brutally. This poignant scene shows the cruelty of being a film extra.
Although Anikieva plays a very minor role in the movie, she successfully portrays a funny witch and an arrogant actress with her facial expressions and subtle movements.
"Stephen Chow was strict about every detail. Everyone, including the main cast, was under some pressure. It was a big challenge for me because he wanted me to do it his way," Anikieva told the Shenzhen Daily in an interview. "On the shooting set, Chow rehearsed with actors, read all the lines and showed every movement and facial expression to make sure we did exactly what he wanted. And in the film industry, everyone knows that he has his own unique way of making movies, which is known as 'Stephen Chow's style,'" she added.
Anikieva said she received a phone call from her agent last August, who told her that there was a comedy about Snow White casting a foreign actress, but she didn't know it was "The New King of Comedy." "Everything was confidential and my part in the script was just a few lines. Later I flew to Beijing to do special makeup preparation for my role. One month later, I returned to Shenzhen for shooting and then I found out it was Chow's movie.
"I was really excited because I had seen his 'Kung Fu Hustle' and 'The Mermaid' and I knew Chow always looks for the best actors for his movies. He had gone through many actresses' resumes and videos before casting me. Not everyone had a chance to participate in his movie, but I made it. It's like a new record in my career," said Anikieva.
Back in her school years in Russia, Anikieva studied painting, ballet, acting and Chinese. She always changed her mind about her career and even shifted to study business. However, acting continued to be her bread and butter and she continued acting in China and Russia. Some of her movies and TV series have been a success, such as "Marshal Peng Dehuai" and "The Ice Beauty." Most of her roles have been Soviet Union soldiers, spies or modern Russian ladies in China.
In Anikieva's eyes, the working conditions for film extras might not be as brutal as "The New King of Comedy" portrays, but extras really don't receive much attention compared with "real" actors. As for her, a foreign actress in China, she is always treated well.
"My biggest challenge in acting in China is the language barrier. Even if I can speak good Chinese, it's still a foreign language for me, so I'm trying not to lose my acting," she said.
Anikieva had read Konstantin Stanislavski's "An Actor Prepares," a classic acting-method book which Chow gives a special tribute in his "King of Comedy" and "The New King of Comedy" movies. "The book, which is still very popular in both China and Russia, tells you to act from your heart, from inside to outside," she said.
"The New King of Comedy" has the notions that never give up and be brave to pursue your dreams, and Anikieva's plan is to make her own movie. "I don't consider it a dream; I take it as a real long-term plan. I may write a script or make my own movie in the future."
Anikieva won the second prize in the first Shenzhen Expats Chinese Talent Competition organized by Shenzhen Daily in 2010 and became a judge for the annual event last year.