As the largest traditional temple fair in Shenzhen, the annual celebration of Sanyuesan will be held at the North Deity Ancient Temple in Bao'an District from April 1 to 13 this year.
Sanyuesan, the third day of the third month in the Chinese lunar calendar, is a festival during which ancient Chinese people worshipped gods or deities. This year, Sanyuesan falls on April 7.
As a routine, the statue of the North Deity will be moved outside for a parade, where visitors can watch piaose, folk dances, puppet shows, and lion and Kylin dances. A basin-dish feast will also be served during the festival.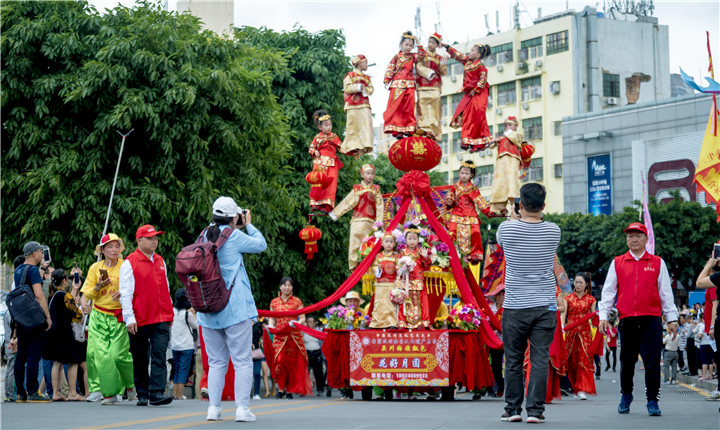 piaose
During piaose, child performers wearing heavy makeup and special costumes will be held aloft on hidden poles fixed on a decorated cart. The artists sometimes perform gestures that help identify the figures from folklore that they are representing.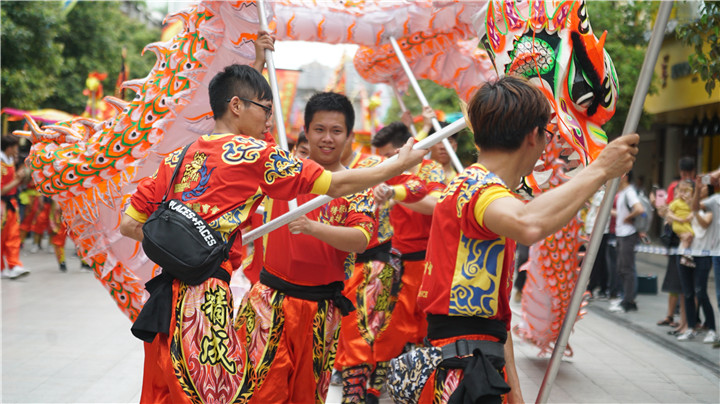 Li Jinyu, a member of the Party work committee of Xixiang Subdistrict, said this year's Sanyuesan is a splendid gathering of folk customs and a display of intangible cultural heritage. The subdistrict will make efforts to promote the traditional festival and turn this festival into a citywide cultural event, Li said.
While following the traditional folk customs and forms, this year's temple fair will also add a number of new activities.
On the day of the parade, which will take place April 2, a crowd of video bloggers will live broadcast the visit to the North Deity Ancient Temple and other local ancient structures. Foreigners will be invited to talk about the temple fair to netizens in Chinese.
At the press conference, Xixiang Subdistrict also unveiled a "10-minute cultural life circle" map, where ancient streets and buildings, as well as restaurants and bakeries offering traditional delicacies, are highlighted.
The temple fair, dating back to the Ming Dynasty (1368-1644), enjoys a history of nearly 500 years. It was listed as an intangible cultural heritage of Shenzhen in 2014.
Time: April 1-13
Venue: 24 Zhenli Street, Xixiang Subdistrict, Bao'an District (宝安区西乡街道真理街24号)
Metro: Line 1 to Pingzhou Station (坪洲站), Exit A