Tea, the most ordinary of beverages, was once so highly prized that traders, travelers and seafarers risked their lives to bring the precious cargo from China to the rest of the world.
Now, a small but growing band of tea aficionados is traveling across the country in pursuit of tea at its source, fueled by an appreciation of China's ancient tea culture and traditions.
For tea enthusiasts interested in taking a tea tour, here we introduce a list of tea plantations in Guangdong where you can see with your own eyes how tea is planted, plucked and made.
Sanzhou Tea Garden in OCT East, Shenzhen 深圳东部华侨城三洲茶田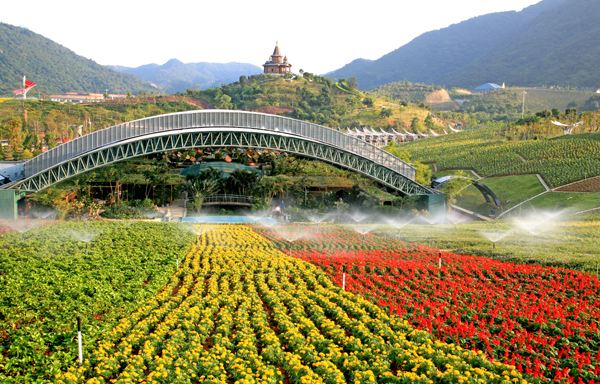 OCT East, located in Dameisha, covers an area of nine square kilometers. OCT East is the first domestic large-scale comprehensive national ecological tourism demonstration area that integrates various themes. It mainly consists of six parts, including Knight Valley and Tea Stream Valley.
In OCT East's Tea Stream Valley, you can make close contact with the fragrant tea plant and further understand the profound tea culture in the Ancient Tea Town and Sanzhou Tea Garden.
Sanzhou Tea Garden is based on the historical Lingnan tea gardens. Lush, green tea fields mesh together with bamboo, wooden bridges, and simple log cabins to transport you into a typical southern China tea garden. Among an eyeful of greenery, you may find brightly-dressed women picking fine tea leaves in the fields.
In March each year, you can come and hand-pluck the tea leaves yourself, sit in on a tea art workshop to experience the complete tea-making process and then taste the fragrant beverage at an antique-flavored tea house to fully take in the best of spring.
Add: Sanzhou Tea Garden, OCT East, Dashuikeng Highway, Yantian, Shenzhen 深圳市盐田区大水坑公路深圳东部华侨城三洲茶田
Yearning Tea Plantation in Meizhou 梅州市梅县区雁南飞茶园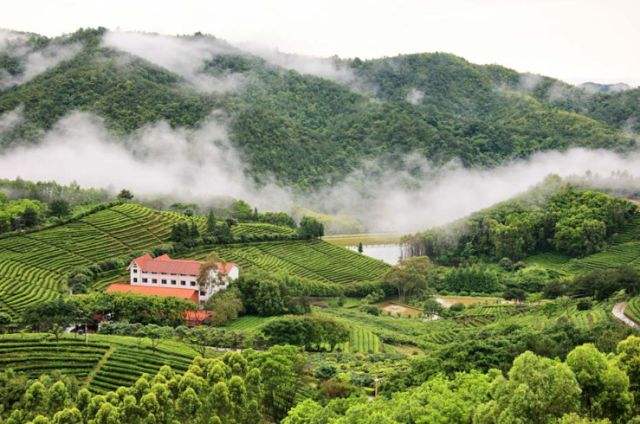 Yearning Tea Plantation, the first National 5A Tourism Destination in eastern Guangdong, is situated in Meizhou, the hometown of well-known Chinese communist general Ye Jianying. It is home to over 2,000 tea plants and 14 villas.
The green rows of tea plants stretching into the horizon are sure to win the hearts of shutterbugs. At plantations where these fields abide, you can check out how tea farmers pick tea leaves as well as stage countless picturesque photos.

Besides, you can also indulge yourself in Hakka culture. Inside the plantation you will find Weilong Hotel, Weilong Restaurant, food court, tea art house, Xiancha Pavilion, swimming pools and tennis courts. For its excellent construction work, Weilong Hotel was awarded the national construction engineering honor, the Luban Prize, by the Ministry of Construction of China in 2005.
Add: Changjiao Village, Yanyang Town, Meixian District, Meizhou 梅州市梅县区雁洋镇长教村
Phoenix Mountain in Chaozhou 潮州凤凰山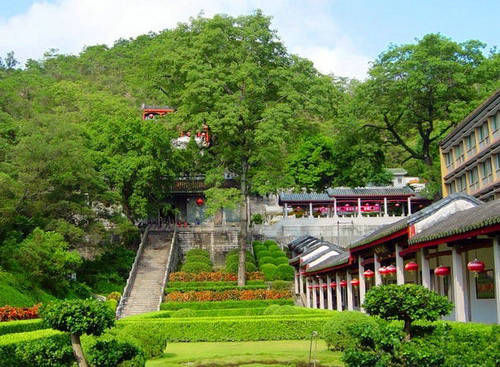 Chaozhou is recognized by some as the capital of gongfu tea, and tea ceremonies are very popular and well preserved here. Everywhere you go in the city, you will see local people serving tea to their guests or family members. The custom's ubiquity is strongly related to the fact that nearby Phoenix Mountain is abundant in famous tea plants.
Located in Chaozhou, Phoenix Mountain is famous for its rich resources of tea cultivars (strains of plant species with desirable characteristics). Up to date, there are more than 80 cultivars. Each cultivar can grow up to a few meters in height and produce tea with a distinctive flavor profile.
In April, especially near the sixth solar term called Guyu (Grain Rain), the mountain is dotted with women plucking tea leaves. You can easily encounter tea-leaf plucking women wearing a large bamboo hat and with a bamboo basket around her waist busy with her work.
During this time of the year, the mountain is enveloped by a unique tea fragrance. When the tea-making machine at every household starts to work, the fragrance is sure to inebriate tea lovers.
Like good wine, tea's final flavor is influenced heavily by terroir — the microclimate in which it's grown. Thanks to the large difference in temperature between day and night and the long sunshine duration on the top of the mountain, the tea produced on the mountain tastes highly agreeable.
Add: Phoenix Mountain, 37 kilometers to the downtown of Chaozhou City 潮州市北37公里处凤凰山
Jiqingli Black Tea Valley in Qingyuan 清远英德市积庆里红茶谷
Located in Hengshitang Town, Yingde City, the Jiqingli Black Tea Valley has been listed among the "Top 10 Beautiful Tea Gardens in China." Covering an area of over 15,000 mu, the valley mainly produces Yinghong No. 9 black tea.
The tea valley is sitting right next to the Shimentai National Natural Reserve where you can have close contact with nature while treating yourself to a luxurious rural feast with a bamboo forest, tea-covered mountain, bubbling brooks, and green rice terraces.
Apart from the lush tea shrubs, there is also a black tea exhibition hall where you can get to know more about black tea culture and related stories. Besides, you can also check out the ruins from the Song Dynasty (960-1279) in Jiqingli.
Add: Jiqingli Black Tea Valley, Hengshitang Town, Yingde City, Qingyuan 清远英德市横石塘镇积庆里红茶谷
Luowu Tea Garden in Shaoguan 韶关市曲江区罗坑镇罗屋茶园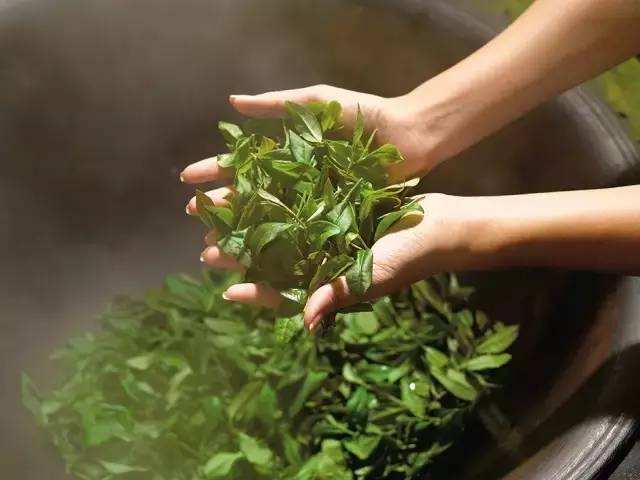 As one of the "top 10 tea villages in Guangdong," Luowu Tea Garden produces the black tea on its high mountains of Luokeng in Qujiang District, Shaoguan. The tea has been favored by many tea lovers thanks to its fragrant, sweet and mellow taste.
In spring, the tea garden turns into a fragrant green sea. Here, you can pluck the fresh tea leaves yourself, witness the whole tea-making process, and pick up eggs of resident chickens in the tea garden.

Luokeng is rich in local produce, including ecological tea, Huxu chicken and black fungus. After exploring the tea garden, you can bring back home some local delicacies to further satisfy your appetite.

Add: Luowu Tea Factory, Luokeng Town, Qujiang District, Shaoguan 韶关市曲江区罗坑镇罗屋茶叶厂
Chebaling Ecological Tea Garden in Shaoguan 韶关始兴县车八岭茶园
Chebaling National Nature Reserve is reputed as "the treasure house of species," "bright pearl of Nanling" and a "world-class biosphere reserve." It is endowed with rich biological resources and rare animals including the South China tiger, sambar, pangolin, and Sumen gazelle. There are over 2,000 kinds of plants, among which the "King of Spruce" — the largest spruce in Guangdong Province — is 44 meters high and over 180 years old.
Chebaling Ecological Tea Garden is located near the nature reserve, thus also endowed with an advantageous planting environment. The organic tea produced here enjoys a reputation for "its subtle and fragrant flavor, endless enjoyable after taste."
After the spring rain, the tea garden, shrouded by mist, turns into a mysterious fairy place. It will present a spring tea feast which is sure to enchant you.
Add: Chebaling National Nature Reserve, Shi-xing County, Shaoguan 韶关市始兴县车八岭国家级自然保护区
Xiangwo Tea Farm in Yunfu 云浮新兴县象窝茶园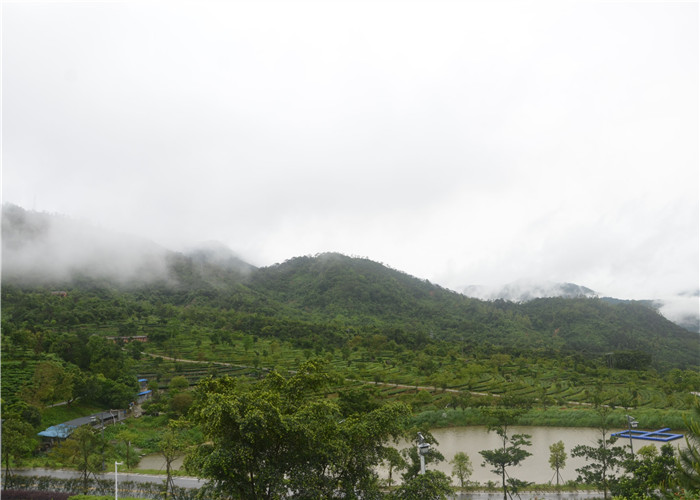 Located in Xinxing County of Yunfu, the Xiangwo Tea Farm is surrounded by mountains on its four sides. It stands at over 800 meters above sea level. With high mountains and lofty hills, the area is home to lush plantations. With the charming view of the tea farm and the natural landscape, a special tourism culture industry park with tea as its theme has been formed.

The warm and humid air current of the South China Sea is blocked by the mountains in the north, thus forming a warm and humid atmosphere. The tea area is full of rain and lingering fog. The high air humidity is conducive to the growth of new shoots of tea trees.

Named after the tea farms, Xiangwo Tea is a well-known specialty product which enjoys a long history. It is fresh and full of aroma. The taste is delicious and sweet, and once brewed it is green and bright. It is highly appreciated by famous artists.

Add: Xiangwo Tea Farm, southeast of Taiping Town, Xinxing County, Yunfu 云浮市新兴县太平镇东南部象窝茶园