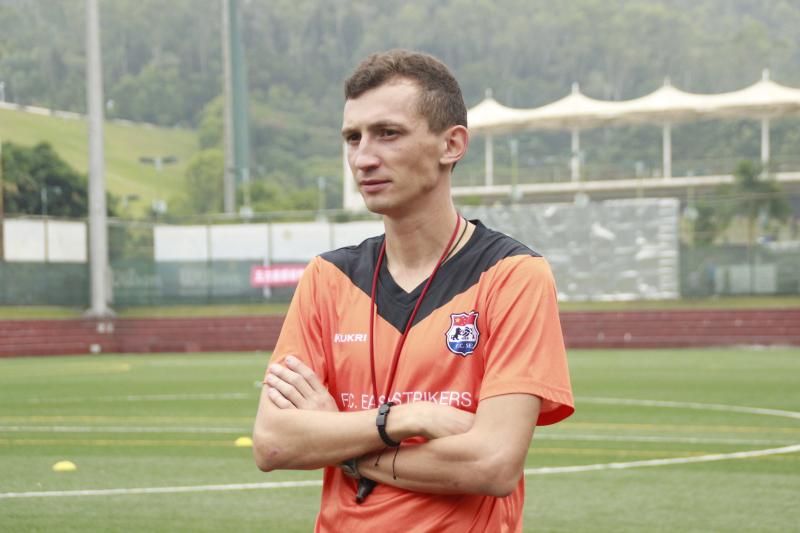 Eugene Bobrov
Having grown up in a Ukraine family eating, sleeping and breathing football, Eugene Bobrov says football is in his DNA.
A youth coach for a Dutch football academy in Shenzhen for the past five years, Bobrov, better known as JB — the initials of his first and last names in Ukrainian — has gained a profound understanding of the sport itself and the football training in the city.
It was football, the 31-year-old said, that helped him seamlessly integrate into Shenzhen's urban life after arriving five years ago. "Football has become my fourth 'language,' besides Ukrainian, Russian and English," he said.
"As far as I recall, already on my second day in Shenzhen I was looking for a football pitch near my apartment as there is nothing more useful and entertaining to keep myself fit than playing football."
JB jogged around his neighborhood in Nanshan District and spotted a pitch on a three-story building's rooftop, where some local folks were playing.
"By that time I could speak 'zero' Chinese and it turned out that my potential 'teammates' could speak 'zero' English as well," he said. "Somehow they understood my intentions and allowed me to join the match."
Later, they were so much fun and joyful which, JB said, proved again that football unites people. "No matter where you are from, whether you are young or old, poor or rich, the game makes everyone equal," he said.
In the following years, performing training sessions and playing football in different districts helped JB explore the entire city, from Bao'an to Longgang and from Guanlan to Futian, showing him how huge and unique this city really is.
"I have been fortunate to have numerous opportunities to meet a lot of people in the city who share my love for this game as well," he said. "Many of them have become my good friends. We've created lots of memories on and off the football pitch that I will never forget."
To JB, who has a coaching license from the Football Federation of Ukraine, football has always been a conduit for sharing moral principles and beliefs that he values the most in his life both as a person and as a coach.
"I'm free of doubts that this game instills important life lessons, such as teamwork, perseverance, discipline, self-sacrifice, handling success and failure, goal-setting and so on," he said. "From my perspective it's more than a sport, it is a passion. I don't consider coaching as a job, it's my calling!"
Despite that, JB admitted that over the years in Shenzhen he has been frustrated and disappointed dozens of times in his work.
He has found that despite the number of young footballers in China increasing every year, and having great football facilities, such as pitches, equipment and professional coaches, as well as suitable weather conditions, the level of performance still has not risen as high as everyone's expectations.
"My first impression about it was that in Ukraine it is relatively easy at first, in kindergarten and elementary school, and then gets more difficult, while in China education from the beginning focuses on the exams, which basically does not allow youngsters enough spare time to do what they like the most," he said.
"On top of that I'd say that instilling the passion for the game is one of the most difficult things I've chosen to do in my coaching career, but it is by far the most rewarding," JB said, adding that his love for the game has given him the drive to keep going and invest deeply into this sport to contribute to the success of Chinese football.