Most people may face a similar "crossroads" in their career path: staying at a job with good money and benefits or walking away to search for real happiness and fulfillment, even if it means only maintaining a basic living. For Hoss Preheim, 51, from California, he simply quit his 10-year position as general manager for a manufacturing company in Bao'an District in 2012 when he realized that he was not happy.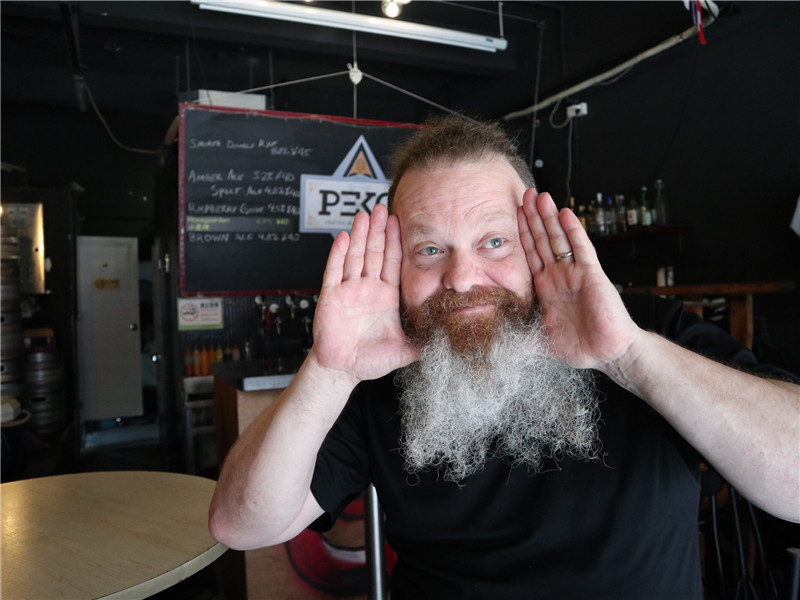 Hoss Preheim. Photos by Yang Mei
"I wasn't happy despite the good salary. Labor loss and a work-related injury posed me headaches and troubles," Preheim recalled, "Now I make little money but I'm happy."
Preheim's happiness lies in his great passion for making craft beer, which he says means everything to him. In the United States, so-called craft beer made by small, independent breweries has never been more popular.
Preheim and his Chinese wife are currently running a brewpub called Peko Brewing Co. in Baishizhou, Nanshan District, which they opened in 2016. A beer lover himself, Preheim has a high standard for good beer, which is part of the reason he decided to open the brewery. "When I first came to China, I found that there were limited options of beers, and mostly Tsingtao. It's good beer for that style of beer, but I like different styles which have more flavor, aroma and character. So I wanted to make beer again."
Hoss Preheim makes beer at his bar.
Preheim says he makes an average of 300 liters of craft beer at a time, which can serve 600 glasses.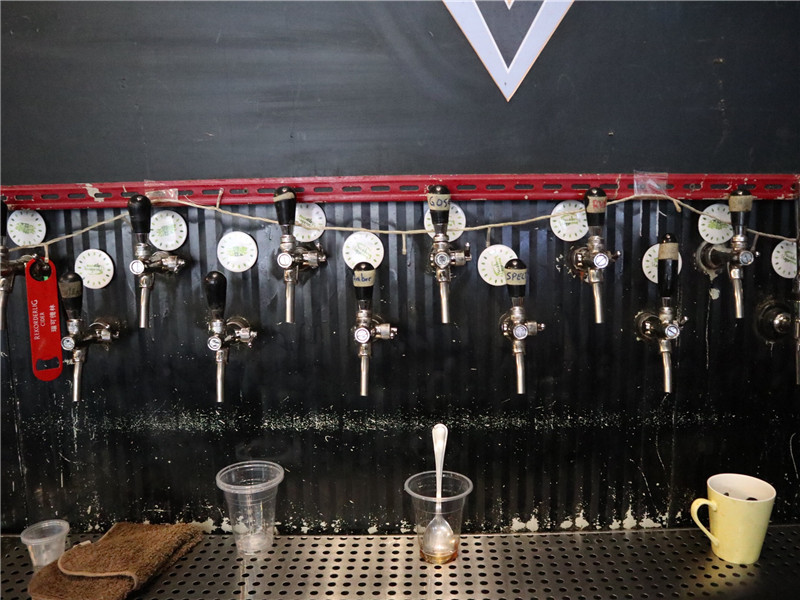 Preheim's brewery bar currently serves smoked double rye, amber ale, spelt ale, hossgaargen and brown ale.
According to Preheim, a member of the Craft Brewers Association of China, beer can usually be divided into craft beer and industrial beer according to the raw materials and fermentation process. The biggest difference between them is that regular beer is made by large corporations, whereas craft beer involves much more of a manual process, which Preheim believes makes craft beer more "forgiving." "Variables such as temperature and percentage of different grains make beers different in terms of flavors and clarity. So If you like change, go for craft beer!" Preheim said. Preheim's brewpub currently serves smoked double rye, amber ale, spelt ale, hossgaargen and brown ale, which are priced at around 40 yuan (US$ 6) per glass.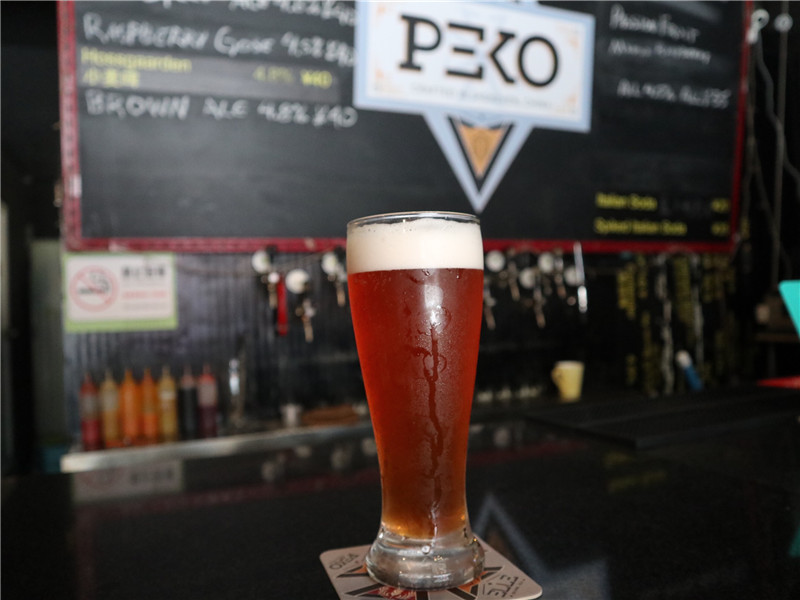 Raspberry Gose.
Preheim's passion for craft beer started in 1986 when he was 18. "I started to make beer with my father for the first time, but that was terrible!" However, the failure didn't stop the brewer's passion for craft beer. "I like the creative side of making beer, so I just continued and continued," he said. With a major in botany and minors in chemistry and microbiology, Preheim said he seems to have been born to be a brewer. When he was in college, he armed his passion with scientific knowledge by learning from a professor and mentor. After that, he spent four years volunteering at a brewpub in the U.S. to learn about the process, recipe development and how to fix problems until moving to China to become a general manager.
According to Preheim, Shenzhen currently has at least 12 breweries and the brewery landscape is continuing to expand. Claimed as a mentor by many beginner brewers in Shenzhen, Preheim is continuously learning and innovating. "I learn through books and websites, and by sharing experience with my fellow brewers through a WeChat group, so that we can grow together," he said.
Like many other business owners in Baishizhou, Preheim was lured by the low cost of the neighborhood. However, facing the fact that the urban village is being torn down, Preheim said frankly,"It's sad." But the brewer is hopeful for the future. "I will hire someone to help me with the marketing so as to make us more professional and to boost up the sales. We will also make our bar more classic and high-end when moving to places like the Oct-Loft, where people expect more," Preheim told Shenzhen Daily.
Shenzhen is the first and only Chinese city that Preheim has lived and it was love at first sight. "Shenzhen has a unique vibe with people from different parts of the country bringing their own cultures here. It's an exciting metropolis that is always changing," he said.