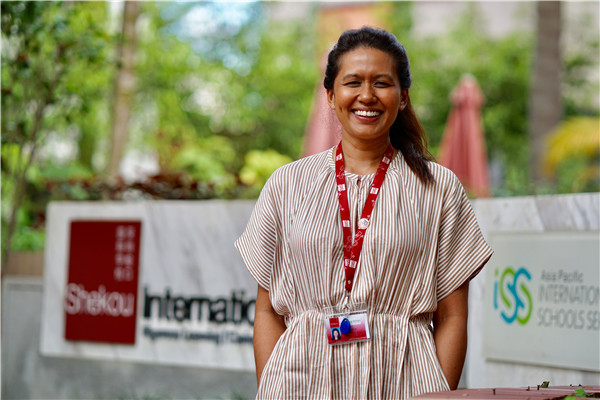 Michelle Collin (Photos by Wang Haolan)
Michelle Collin grew up traveling the globe with her family, boarding at a bunch of schools in Oman, England and Australia. Now she has come full circle to work at an international school, serving as the director of advancement at Shekou International School (SIS) in Shenzhen.
A brunette born to a Portuguese Indian father working for the Royal Dutch Shell company and a Chinese mother, Collin seemed destined to leave her footprints across the world. Since fetching a bachelor's degree in Asian Studies from the University of Sydney, she has pinned a variety of countries to her LinkedIn resume.
After serving as the marketing manager of SAP in Germany, the United States and Japan for six years, Collin embarked on her first job in China as the director of marketing and communications at Concordia International School Shanghai in 2004, where she met her Belgian husband Hendrik.
Collin relocated to Gent, her husband's hometown, with her daughter Hannah and son Remi in 2010, where she studied Dutch while her kids attended a local Flemish school, and Hendrik would visit them from China on a monthly basis, which meant the family was spending less time together than apart. Her third culture children also missed life in China, so in 2015 the couple decided to move to Shenzhen.
"I'd only heard of Shenzhen by word of mouth. My colleagues in Shanghai also recommended SIS to us. We found a house in the lovely compound Jingshan Villa and sent our two kids to the school," said Collin.
Drawing upon her Belgian connection and fluency in Dutch, she served as the general manager of Benelux Chamber of Commerce in China (BenCham) for one year starting in 2017.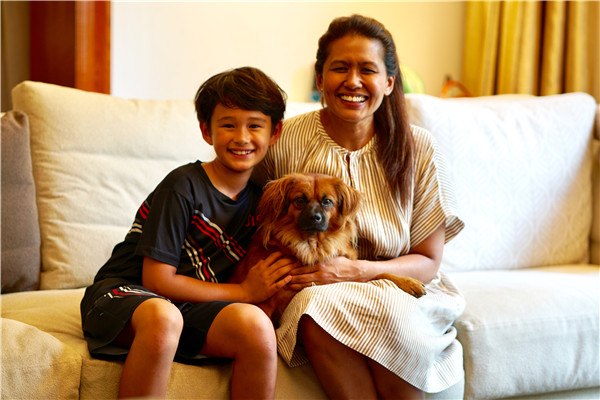 Collin and her son.

Like many other women having already broken the glass ceiling, Collin is a multi-tasking mother striving for a balance between work and family life. She uses her own experience to make a point in encouraging women in leadership.
"I really enjoyed my role at BenCham. Working in such a senior position helped me form a tie with consulate generals of Benelux countries, and currently I can still reap benefits from that job, as SIS is also connected with some European chambers of commerce," she said.
"It's always a matter of balance — the balance between work and life, the balance between husband and wife, and the balance between your personal time, working time and family time. No matter how busy you are with your work, remember to make time for yourself and never feel guilty for not spending that time with your family. Actually, I am not tied up too much with my kids. On weekends, I may spend an hour away from the family, playing tennis or climbing Nanshan Mountain, and come back home with more confidence in being a better wife, mother and employee. My children are also comfortable with not having me around in their spare time," said Collin, adding that a positive attitude is also a panacea for those "wonder women" weathering challenges in work and life.
Collin's task for the next semester at the school is to expand cooperation with local enterprises to develop internship programs for students. Before that, the family of four will head back to Belgium for a summer holiday.