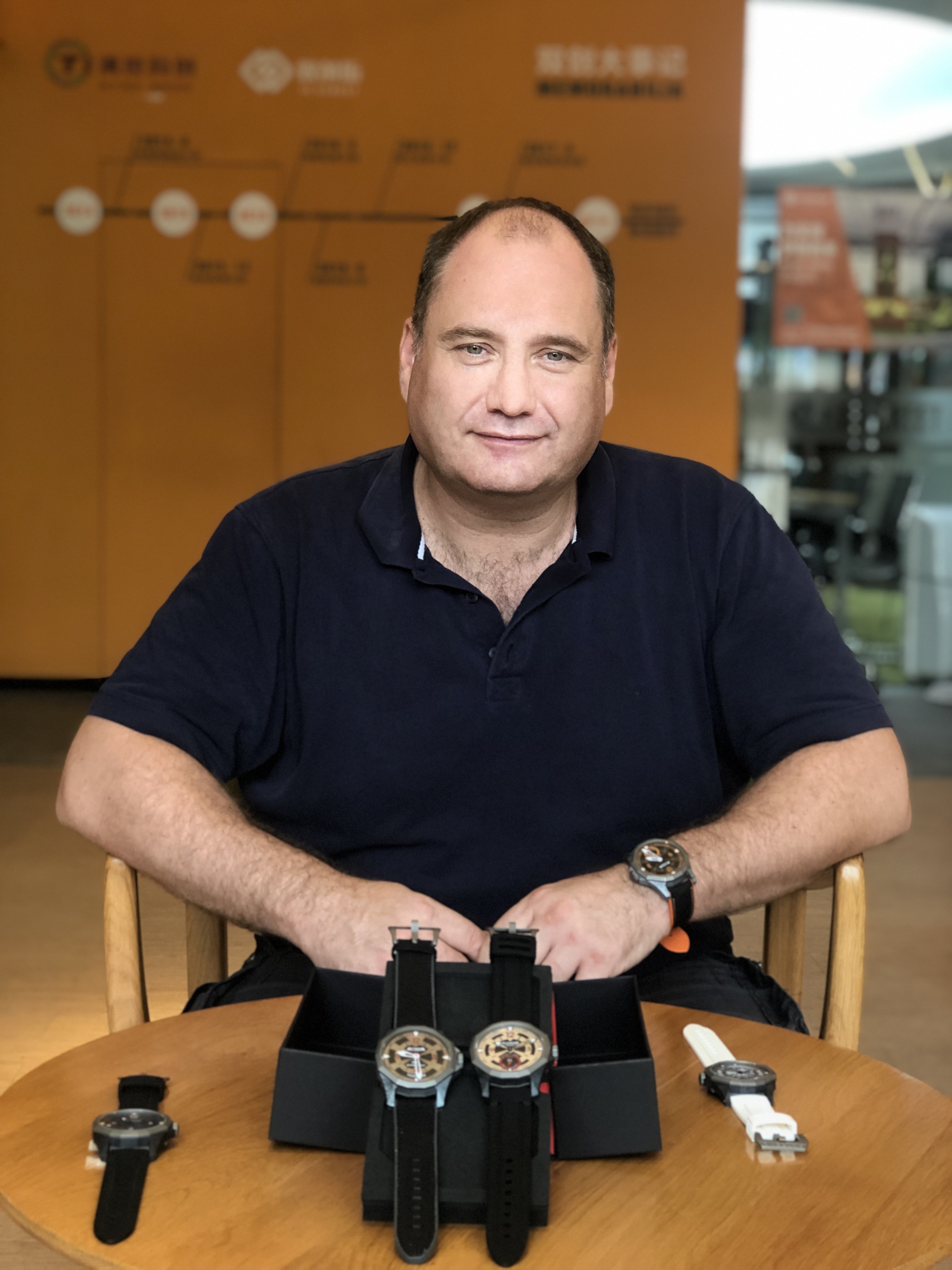 Torsten Nagengast
Drawn to China since his childhood because of his love for Bruce Lee, Torsten Nagengast finally decided to relocate to Shenzhen in 2017. The sheer volume of the business opportunities and the fast pace of life in the city were the biggest reasons for his move.
Nagengast's life can be described as legendary. Practicing kickboxing from a young age, he has obtained a black belt and fetched many championship titles at different international kickboxing tournaments. Professionally, he has worked as a technical engineer in the automotive industry but left this career to dig into the watch business, in which he has seen success, such as securing luxurious projects for palaces in the Middle East.
In his success in both sports and his career, the extreme-sports philosophy -- to work intensely, which matches the working spirit of Shenzhen -- has played a key role. "Don't look to other mistakes; look to yourself, improve yourself, get better, work harder and work faster," stressed Nagengast.
"If I do something, I do it really intensively. When I went into watches, I went deep into it."
Everything started with collecting wristwatches. Nagengast soon decided to establish his own watch business by trading his collection, later moving on to watch movements. "I dealt with modern movements, then unused old stocks, with some more than 100 years old," recalled Nagengast. However, during one of his trips to Switzerland, he had an epiphany and "the idea of producing unique handmade watches with historical elements was born at that time," Nagengast continued.
Apart from injecting a hard-working spirit into his work, Nagengast is quite innovative. He brought his knowledge of the automotive industry into the watch business and successfully found new ways to produce affordable quality watches.
Nagengast is a master at bringing together various people and resources. For his watch business, he has united experts from different fields including stonecutters, goldsmiths and watchmakers. Nowadays, he is taking a leap, attempting to unite the power of China with the quality of Germany.
"What is good about Germany? We have very precise engineering and very clear planning approaches. We are very strong on that, but we are also very slow, while in China we have very hard-working people, an incredible workforce like nowhere else in the world. We have strong power to progress, and I try to unite them," said Nagengast.
Nagengast first came to China for business in 2005 and was deeply impressed by what he saw. "I got out of the airplane and [saw] all these nice and active people, this moving energy, the Chinese way of behavior," he recalled. "Even if you go to a shop, people always try to do it as best as they can. One thing I realized very early was that everybody wants to progress. This is the real power of China."
According to Nagengast, the car brands in Germany need the production power of China to survive because they can make a lot of tools and parts in Germany, but when it comes to speed, power and all the price advantages, China is the top option.
However, cultural differences can impede communication between the two sides, at times leading to misunderstandings and unsuccessful cooperation.
"If you want to be successful in China, in these international projects, first of all, you need to understand how to transmit the information in a short and clear way to the Chinese side, right to the point, because the way of communicating and discussing, and even the information flow in China is different from Europe," said Nagengast.
Nagengast cited the example of email communication to illustrate his point. He said it's common to receive a two-page-long email from the German side. On the other hand, Chinese people express their ideas and views in a very efficient and clear way.
"The Chinese will sit in front of it and will have two hundred question marks, because the Chinese communicate very straight to the point. If you want them to take away one millimeter, just say that and they will do it," said Nagengast.
"Sometimes I get emails from Germany. I'm thinking whether they don't have anything else to do than to write emails. When I get emails from China, there's a picture and an arrow. This is exactly the big advantage of China. This is the base of speed and working power."
Nagengast works like the lubricant or bridge between automotive companies in Germany and China. He works for famous car brands, including BMW and Porsche, helping them with their projects in China.
"I subcontract the projects, take them to my companies in Hong Kong or Shenzhen, and then work it out. Now, I'm going into cooperation with a very big company in Germany. They asked me to set up the contact because they are planning to go to China. They said they tried it once but they had a horrible experience," said Nagengast.
Nagengast compares his career to a train with a variety of stops. "During these stops you have to make the right decisions. I have surrounded myself with extremely competent people and friends. To work with them is a very good school and a very important base for our successful business."