The Shenzhen Research Institute of Central China Normal University (CCNU) was inaugurated with a ceremony at Shenzhen Civic Center on Friday.
Shenzhen Vice Mayor Wang Lixin and Zhao Lingyun, CCNU president, attended the inaugural ceremony.
Wang gave a speech at the ceremony, saying the construction of the Guangdong-Hong Kong-Macao Greater Bay Area and a pilot demonstration area of socialism with Chinese characteristics requires Shenzhen to ensure students have equal opportunities for quality education.
"It's the best time for CCNU to set up its Shenzhen Research Institute, and I'm looking forward to more cooperation between the city and the university," said Wang. "I hope the university can help the city build a first-class and world-leading modern education system by making use of its resources and talents."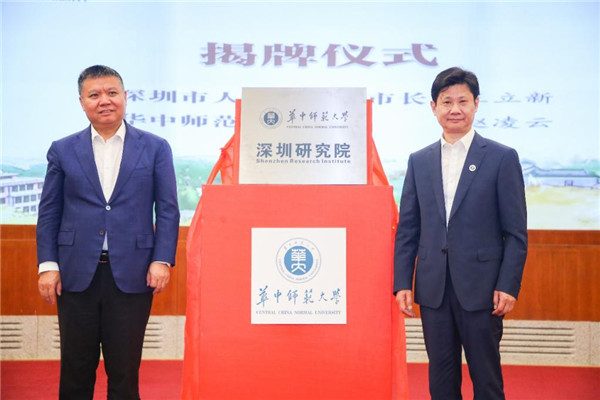 Zhao noted that CCNU is a key comprehensive university directly under the administration of the Ministry of Education.
"As one of the universities on the list of 211 National Education Priority Project, CCNU is recognized as an important base for cultivating brilliant talents for the country, as well as a superior training center for excellent teachers at higher learning institutions and high schools," said Zhao.
"The Shenzhen Research Institute boasts the university's discipline advantages, presents the university's unique schooling and pioneers the university's opening up and development," Zhao added.
Cai Hongsheng, head of the Shenzhen Research Institute and vice president of CCNU, said the institute will develop itself with self-reliance, open operation, integrated resources and more distinctive characteristics, and will focus on education and training, talent cultivation, the construction of a technology innovation center of AI and smart education, and consulting services.
The research institute will be settled in Shenzhen Virtual University Park in Nanshan District. It is the first teachers' university to settle in the virtual university park.
At the ceremony, the university signed cooperation agreements with Shenzhen Polytechnic, Shenzhen South International Human Resources Group and Hainan Sanyin Co. Ltd.