At 9 a.m., Dec. 5, MSC Splendida made her first appearance in Shenzhen, berthing at the terminal of Shenzhen Shekou Cruise Homeport, which is operated by China Merchants Group.
The first arrival of MSC Splendida at the cruise homeport marks the start of her first season in South China.
During MSC Splendida's first Shenzhen homeporting season, cruise lovers and travelers will have opportunities to depart from Shekou for Okinawa, Japan, on Dec. 9, 14 and 19.
MSC Splendida's gross tonnage is 138,000 tons. With 1,637 rooms, there are various accommodations available for different preferences and budgets.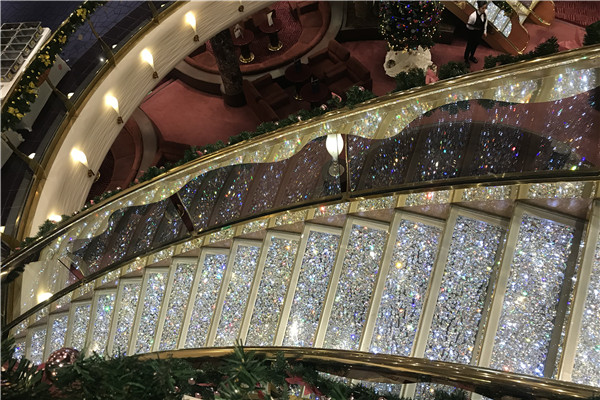 The crystal staircases in the main atrium, which have gone viral online, are a must-see. The three-tier sweeping staircases are overlaid with real Swarovski crystals.
At a ceremony celebrating her maiden voyage, with more than 300 guests in attendance, China Merchants Shekou Industrial Zone Holdings Co. Ltd. (CMSK) and MSC Cruises — the world's largest privately owned cruise line with a 300-year seafaring heritage — officially signed a Memorandum of Understanding on Cruise Industry Cooperation to establish a strategic cooperative partnership that will further expand China's cruise industry. The partnership will begin with cruise cooperation in the Guangdong-Hong Kong-Macao Greater Bay Area, and the intended scope in the future will cover the whole industry chain, including the establishment of the fleet, ports, shipbuilding and repairs, cruise destination development and financial services for the cruise industry.
At the ceremony, MSC Cruises also revealed for the first time the Shenzhen season schedule of flagship MSC Bellissima, the largest cruise ship in Asia, which will kick off her first China season in 2020. The 172,000-ton MSC Bellissima will sail along the Maritime Silk Road and arrive in Shenzhen with nearly 5,000 international tourists on April 10, 2020, marking her debut visit to a Chinese port. On Nov. 30, 2020, MSC Bellissima will officially start her first Shenzhen homeporting season. She will operate 21 cruises with an estimated 100,000 passengers traveling on this flagship cruise ship from Shenzhen Shekou Cruise Homeport to several popular destinations in Japan, Vietnam, the Philippines and more.