March is here just in time for the blooming of cherry blossoms, the flowering tree famous for its romantic scent that rides the fresh spring wind and its soft, snow-like petals. There are plenty of choice places across the country for having a gander at the pink-and-white heralds of spring. Thankfully, one does not have to venture too far to appreciate a cherry blossom grove. Find the place closest to you to see cherry blossoms while keeping virus-free.
Juyongguan Pass, Great Wall, Beijing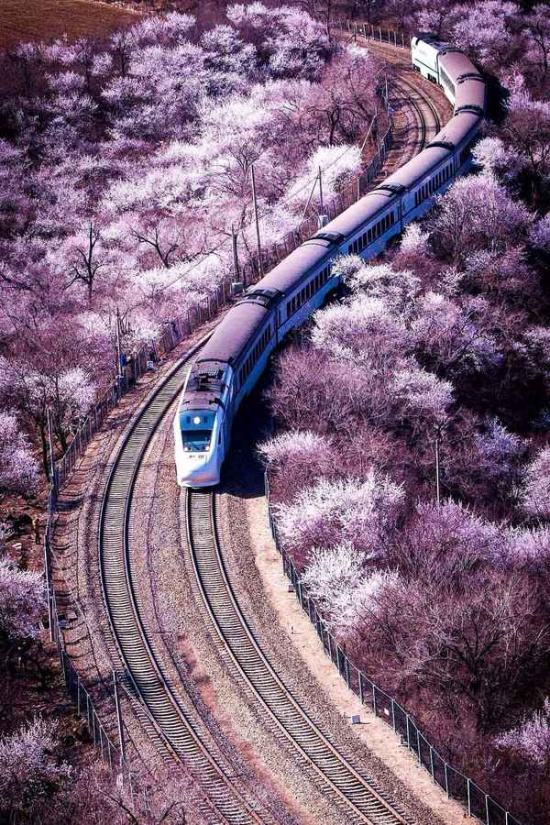 There is a train near Beijing that runs through a mountain pass where cherry blossoms are in full bloom: Juyongguan Pass of the Great Wall in Beijing. Beijing Suburban Railway Line S2 takes travelers through cherry blossom groves that awaken from the end of March and stay till early April, and at the cost of only 6 yuan (US$0.89) a ride.
Hop on "the train to Spring" and you will pass through a pink flower sea including apricot blossoms, peach blossoms, pear blossoms as well as cherry blossoms. The train also passes through many tourist sites including the Badaling section of the Great Wall, Badaling Water Pass (Shuiguan) Great Wall, Badaling National Forest Park, Longqing Gorge and Baili Landscape Painting Gallery.
Grab your cameras and go shooting at Juyongguan Pass. This particular train route is known for showcasing some of Beijing's most stunning springtime scenery.
Qinglong Temple, Xi'an
Qinglong Temple (Green Dragon Temple) is a famous temple built in the Tang Dynasty (618-907). It was known as a training ground for Buddhist monks and a favorite destination for Japanese monks learning Buddhist ways.
In the middle of the Tang Dynasty, master Huiguo taught Vajrayana at this temple, and his Japanese disciple Kukai introduced it to Japan. Since then, Qinglong Temple became the cradle of Vajrayana in both the Chinese and Japanese Buddhist traditions.
Also in this thousand-year-old temple lies a stunning view of cherry blossom trees that are no less beautiful than those in Kyoto. In 1986, when a monument to Kukai was being built, Japanese friends and Buddhist associations donated cherry trees to the temple as a gift of friendship and peace. Since then, every time spring comes, the garden in the temple is filled with the blossoms and their delicate fragrance.
Pingba, Guizhou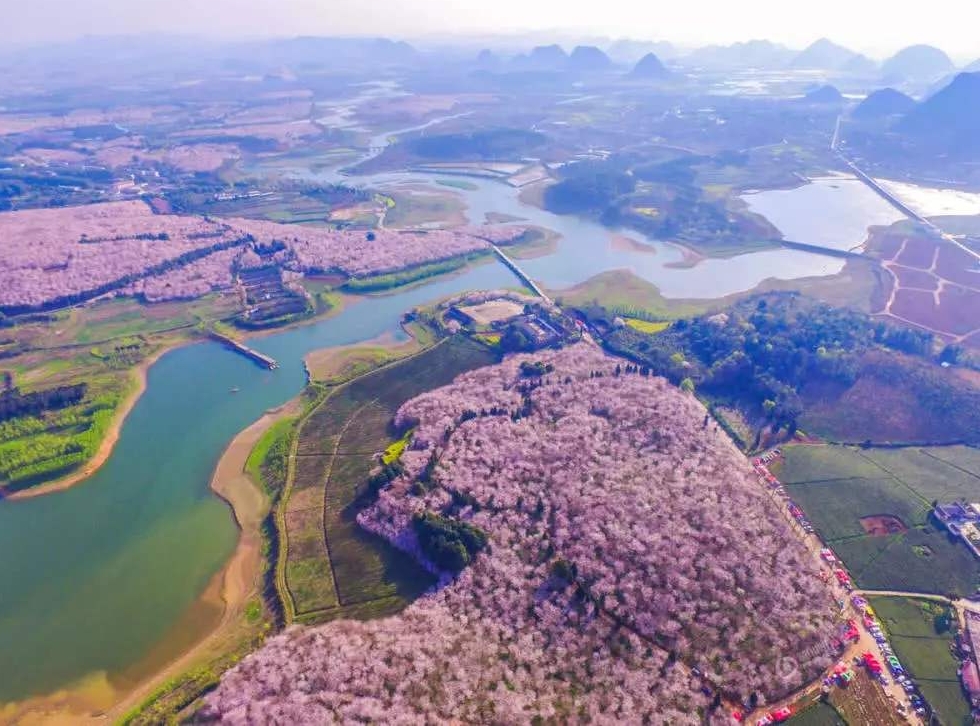 Guizhou is known for landmarks like Huangguoshu Waterfall and Fanjing Mountain, but there is another lesser-known scenic site hidden here: the cherry blossom park at Pingba Farm.
Pingba Farm in Southwest China's Guizhou Province covers an area of over 15,984,000 square meters. It's the largest flower and plant cultivation base in Guizhou. Apart from cherry trees, there are also tea tress and peach trees.
The garden is home to more than 700,000 cherry trees. Every year from March to early April when the cherry flowers are in full bloom, the garden turns into one of the most beautiful cherry blossom gardens on the planet.
Yongfu, Fujian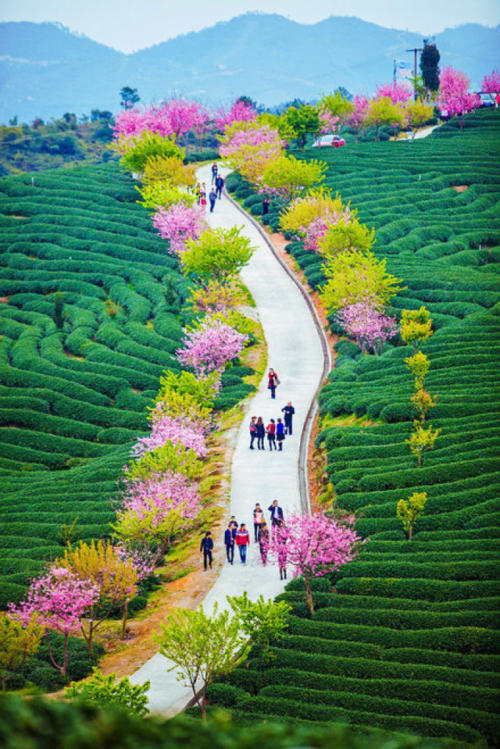 Yongfu, dubbed "the Alishan Mountain of the mainland" after the famous mountain in Taiwan, is located in Zhangping City, Southeast China's Fujian Province and is a lookout on the area's breathtaking scenery. While snow still falls in North China, the cherry blossoms here have already bloomed and await visitors.
Different varieties of cherry blossoms bloom at different times. The blooming of the first blossoms takes place in January, and the last of the blossoms will remain till the end of March. To take in a mountain of cherry blossoms, go to Yongfu.
With the bright sunshine of South China overhead, these cherry blossoms add an extra touch of happiness to a great spring day.
Yuantouzhu, Wuxi
In the low-key water town of Wuxi in Zhejiang Province lies one of the best places for appreciating cherry blossoms: Yuantouzhu (Turtle Head Isle). Called "the paradise of cherry blossoms," it's home to 30,000 cherry blossom trees of 68 varieties.
To admire the beauty of a variety of cherry blossom species, you can walk through many distinctive areas within the scenic spot, such as Cherry Blossom Valley, Changchun Bridge and Luding Mountain, to enjoy the colorful and unique scenery.