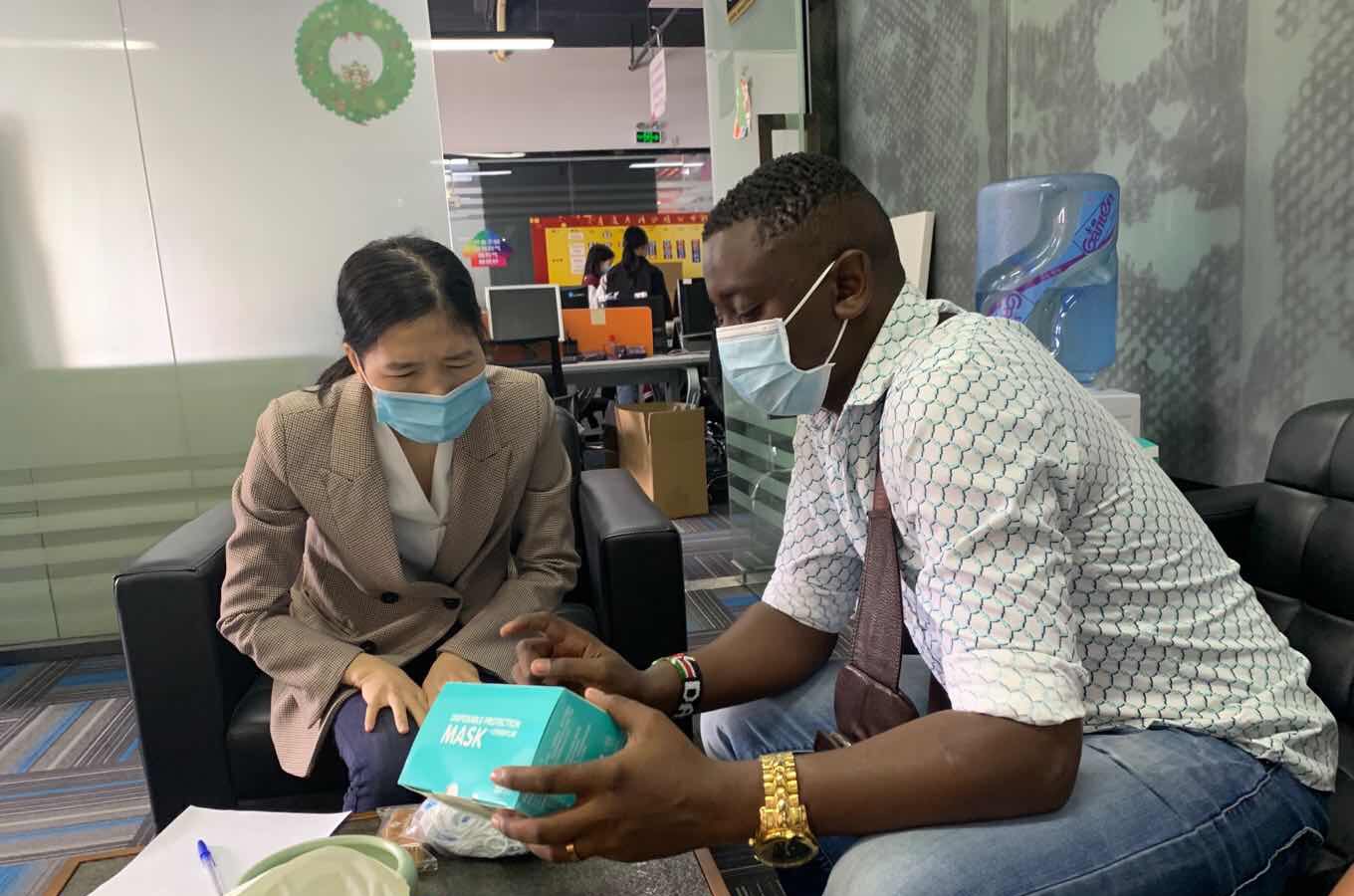 David Jim visits a mask manufacturer in Minzhi, Longhua District, in this undated photo. Courtesy of Jim
As we are all aware, the COVID-19 pandemic has been a great challenge for humankind and all countries around the world. David Jim, a Kenyan national running a business in Shenzhen, said there should be no discrimination and all people all over the world should join hands to get through the difficulty.
"In facing the pandemic, we are all the same. It is a challenge for all the people in the world. We should follow the rules in pandemic prevention and control," said Jim, a businessman who sources products for his home country Kenya, at an interview Thursday.
When coming back to Shenzhen on March 21, he was met with a well laid-out process of quarantine and nucleic acid tests.
"From my own experience, the measures taken by Chinese authorities were good and medics were helpful. After two days in a hotel waiting for a nucleic acid test, I spent the rest of the time in my apartment in Longhua [District] in a quarantine that conducted temperature checks three times a day, then I acquired a community pass and a clearance letter after a 14-day isolation," said Jim.
Back in Kenya, there were less than 10 cases reported when he left in March, subsequently the number has increased to almost 300.
"The Kenyan Government is doing its best and makes rules for people to follow, though the number is still rising. The measures are similar to that of the Chinese authorities, including dissuading people from going outside and telling people to wash hands and wear masks when going outside, and a 14-day isolation," said Jim.
There are a lot of masks from China and local factories in Kenya have also started to produce masks to ensure supplies, according to Jim.
As a businessman sourcing Chinese products for Kenyan companies, Jim, who has stayed in China for almost eight years, decided to return to China in March, but his trip back was not easy.
Jim flew to Addis Ababa in Ethiopia before taking a flight to Hong Kong.
On arriving in Hong Kong, the new 14-day quarantine rule for international arrivals had taken effect. Jim had to make a transfer to Shanghai and took a flight back to Shenzhen.
Despite the challenges, Jim feels that life in Shenzhen is welcoming, as Chinese people are friendly. Huaqiangbei in Futian District, known as "No.1 Electronic Street in China," is a place that he frequently visits.
Jim said his business has been greatly affected due to the outbreak, but he is hopeful the situation will improve with time, considering that daily life is getting back to normal in Shenzhen and most parts of China.
"Trade is hurt all over the world and we can only hope that the pandemic will be contained soon," said Jim.