Paintings by artist Huang Xishun and caricatures by Shenzhen art editor Zhuang Xilong are on display at Guan Shanyue Art Museum. Entry is free but visitors are required to book their visit in advance on the museum's WeChat account "gsyart."
The exhibits are selected from the museum's collection. Huang donated 392 oil paintings, water-color paintings and sketches and Zhuang donated 141 caricatures to the museum.
Both artists who moved to Shenzhen in the early 1980s have contributed remarkably to Shenzhen's fine arts and recorded the city's development through it.
Born in 1938 and raised in a coastal city in Guangdong, Huang said he is "a son of the sea," a theme which was also the main subject of his early paintings. Huang later worked at Shenzhen Cultural Hall and has painted landscapes in Xinjiang, Tibet, Inner Mongolia and Yunnan during his trips across China. His sketches of people portray various persons in different careers and reflect the changes that have taken place in society.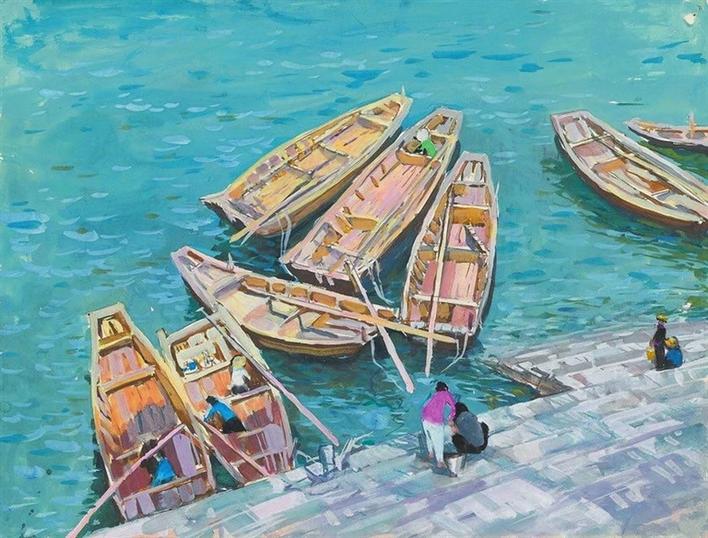 Huang Xishun's painting "Dock" (1989). Photos courtesy of Guan Shanyue Art Museum
Zhuang was an art editor at the Shenzhen Press Group before retirement, and since the 1980s his caricatures reflecting social issues in China have been published in countless newspapers and magazines. He has won numerous national and provincial journalism awards, and his caricature "Amputation on Wrong Leg" was used in the Chinese subject examination in the 1996 National College Entrance Examination.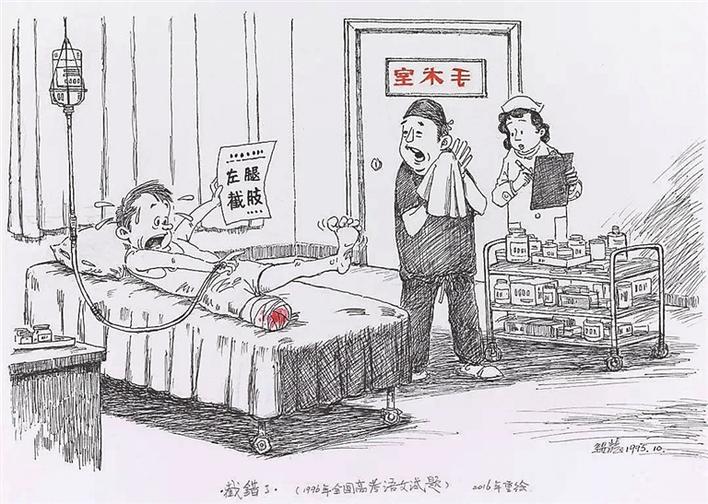 Zhuang Xilong's caricature "Amputation on Wrong Leg" (1995).
Dates: Until June 7
Hours: 9 a.m.-12 p.m., 2-4:30 p.m., closed Mondays
Venue: Guan Shanyue Art Museum, Futian District (福田区关山月美术馆)
Metro: Line 3 or 4 to Children's Palace Station (少年宫站), Exit B