An archive exhibition reviewing contemporary performances in China is being held at OCAT Shenzhen. Entry is free.
Curated by Zhang Yuan and Liu Chao, the exhibition "2020: Twenty Years Towards a World Theater" is part of the ongoing "Waiting for Testing — Rewriting Theater History" event, which also includes talks and performances at the art museum.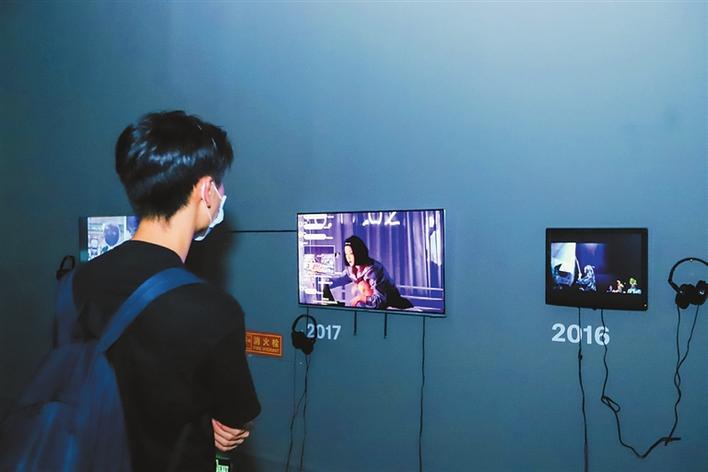 A visitor watches a video at the exhibition. Photos courtesy of OCAT Shenzhen
At the opening talk held July 3, dancers, critics, directors, curators and choreographers discussed contemporary performance art in China, trying to sum up concepts and exploit new perspectives.
"The frenzy of performance art, or a contemporary visual art practice, at art museums in Shanghai started around 2014 and 2015, especially in private art museums," said Zhang, a performance art curator of Ming Contemporary Art Museum in Shanghai.
"On a theater stage, there's only one focus, while in an art museum, dancers can move anywhere and the focuses are dispersed. In recent years, some experimental theaters have been influenced by art museums and remove theater seats to open other possibilities of ways to present a performance," he added.
"For audience members, their feelings at an art museum are also different from in a theater. They buy a ticket in a theater for entertainment but at an art museum, where usually a performance is incorporated with installations, paintings, sculptures, video, sound or poems, they would focus more on exploring and communicating," said Zhang.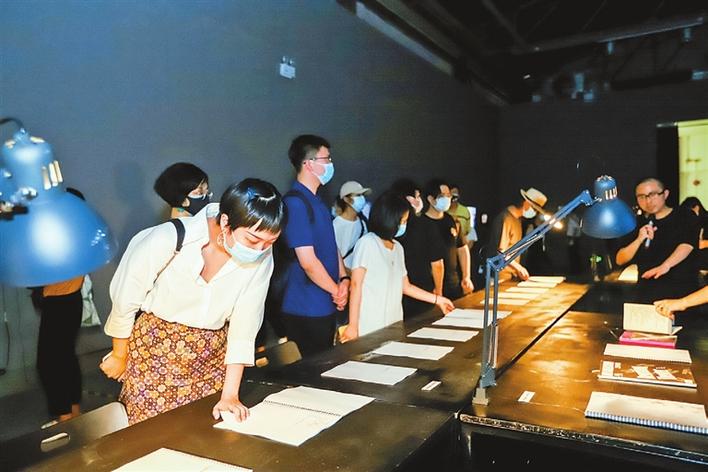 Visitors read documents at the exhibition in OCAT Shenzhen's Hall B.
Yang Meiqi, founding director of Guangdong Modern Dance Troupe, recalled that when her troupe was founded in 1992, dancers in China knew little about modern dance. So she organized the second Guangdong Modern Arts Experimental Theater Festival in 1998, inviting crossover and avant-garde dancers from Japan, the United States and South Korea, as well as Chinese modern dancer Wen Hui and choreographer and theater director Zhang Xian. The festival had the result of influencing modern dancers and performance artists in China.
Yang said that when she visited the United States in 1986 and 1996, she was awed by the versatile forms of modern dance in the United States. And some Japanese and South Korean artists mixed Asian elements with Western modern dance, which was unbelievable to her at that time.
From 2005 to 2010, the Crossing Festival Beijing, the Shanghai Fringe and many artist-led performance events emerged and changed the game of the performing arts. In 2008 the "OCAT Performs" project in Shenzhen made some early experiments on performance at art museums in China. This period saw a rapid increase in international exchanges.
On the nights of July 3 and 4, "Infection, State of Emergency, Beethoven" was performed by Paper Tiger, Passive Strategy Theater at OCAT Shenzhen's Hall A. The dance relates the 250th anniversary of Beethoven's birth this year with the unexpected pandemic. This weekend, some of the crew member of contemporary dance "Red" (2015) will talk about "Red," which is derived from the nationally renowned revolution-themed ballet, "The Red Detachment of Women" (1964). Video clips of the dance and interviews will also be shown at the talk at 8-10 p.m. July 11-12.
Exhibition: Until Aug. 9
Hours: 10 a.m.-5:30 p.m., closed Mondays
Venue: Hall B, OCAT Shenzhen, South Area, OCT-LOFT, Nanshan District (南山区华侨城创意文化园南区OCAT深圳馆B展馆)
Metro: Line 1 to Qiaocheng East Station (侨城东站), Exit A