The Leifeng Pagoda in Hangzhou is no stranger to many tourists as it is associated with a touching Chinese legend love story between a mortal man and a white snake who takes on the appearance of a beautiful woman. Now Shenzheners can admire rare relics from this and other pagodas in Zhejiang and Jiangsu provinces in a new exhibition at the Shenzhen Museum. Entry is free and booking is required.
"The Splendor of Southeast China: Leifeng Pagoda and Buddhist Art of Wuyue State," presented by the Shenzhen Museum, the National Museum of China, the Zhejiang Provincial Museum, the Suzhou Museum and the Huzhou Museum, features 78 pieces/sets of Wuyue State (907-978) relics, including Buddhist statues, bronze mirrors, Buddhist scrolls, stone containers and small bronze pagodas.
Visitors at the exhibition at the Shenzhen Museum. Photos by Sun Yuchen
The Leifeng Pagoda was originally constructed in the year 977 as ordered by Wuyue king Qian Chu to worship Buddhist relics. Since the Southern Song Dynasty (1127-1279), it has been a popular tourist attraction along with the West Lake. The pagoda collapsed in 1924 but its original base has been kept in good condition as well as the artifacts discovered in 2001 in an underground chamber. A new pagoda was rebuilt in 2002.
Visitors will encounter the outstanding beauty of Buddhist artworks at the exhibition. According to Huang Yangxing, a researcher of the Shenzhen Museum's ancient art department, the "Gilt Bronze Statue of Seated Buddha on a Coiled Dragon Stage" is a rarely seen Buddha statue, because the Buddha's lotus seat is supported by a dragon. A ring with three flames decorated on the "Gilt Bronze Statue of Water-Moon Avalokiteshvara" or the "Bronze Statue of Sitting Ksitigarbha Bodhisattva" is also unique to Wuyue's Buddhist art.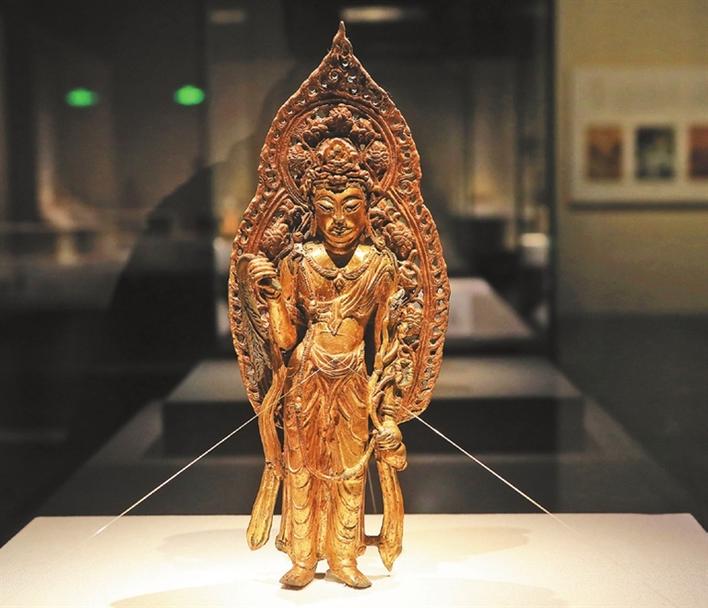 "Gilt Bronze Statue of Standing Avalokiteshvara."
Colorful decorations of peonies, apsaras and lotus seedpods on the "Gilded Stone Container With Painted Decorations" are typical designs of Buddhist items of that era. Visitors can lean forward to observe the container which has a relief depicting a monk on a white horse in his pilgrimage.
And the delicately carved "Jade Statue of a Child" is the earliest greenish white jade child statue discovered so far in China. Rubbings of "The Casket Seal Dharani Sutra" show the superior quality of paper, ink and printing at that time.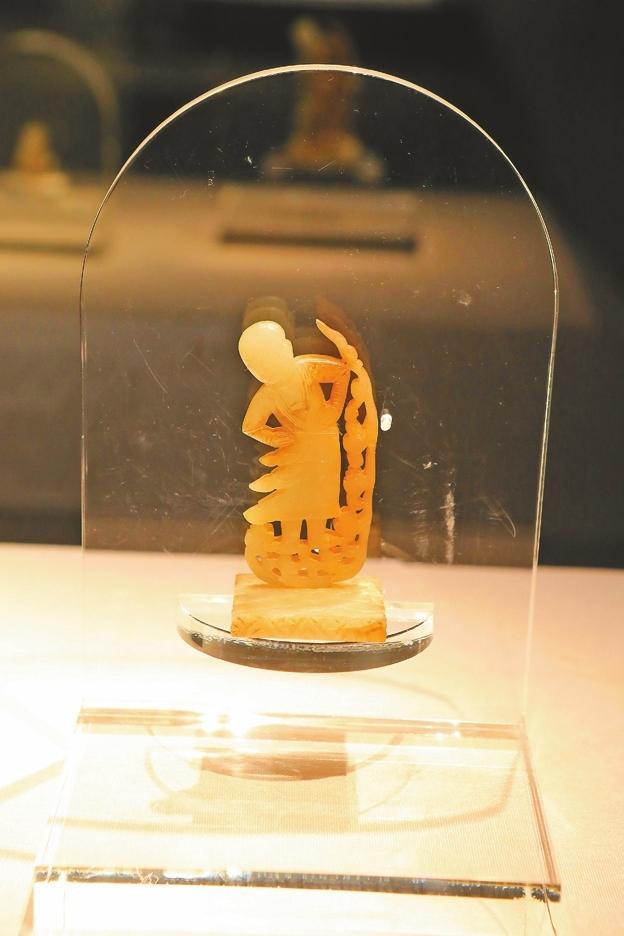 "Jade Statue of a Child"
Wuyue was an independent coastal kingdom during the Five Dynasties and Ten Kingdoms period (907-979), a critical period of dynastic change between the Tang (618-907) and the Song (960-1279) dynasties. During that brief era when China was disunited, five short-lived regimes succeeded one another in attempts to gain control of the old imperial heartland in northern China. And 10 relatively stable regimes occupied sections of southern and western China although none attained enough strength to successfully unify China.
With its capital in Hangzhou, the territory of Wuyue used to cover the present Zhejiang Province, Shanghai, the southeastern part of Jiangsu Province and the northeastern part of Fujian Province. Wuyue's prosperity owes much to its founder Qian Liu, who kept the area in peace for a long time when a great part of China was still in turmoil.
According to the exhibition profile, as the longest-lived kingdom of the 10 kingdoms, Wuyue had accomplished various achievements in political, economic, cultural, technological and diplomatic areas. The kingdom promoted Buddhism by building numerous temples, pagodas, sculptures and spreading Buddhist sutras. As a result, Buddhist art and ideology proceeded with developments, leading to a distinctive advancement in printing technology as well. The cultural and economic exchanges between Wuyue and Japan and Korea brought more opportunities for the spread of Buddhism in East Asia. Additionally, celadon of Yue ware and the tea culture which were closely related to Buddhist culture also reached a new peak in the time of Wuyue.
Dates: Until Oct. 11
Hours: 10 a.m.-6 p.m., closed Mondays
Booking: Follow WeChat account "iszbwg" and then follow menu instructions
Venue: Shenzhen Museum, Futian District (福田区深圳博物馆)
Metro: Line 2 or 4 to Civic Center Station (市民中心站), Exit B