Maria Fang from New Zealand was a visitor to the opening ceremony of the Mission Hills Intangible Cultural Heritage Festival in Longhua District on July 18 when she was interviewed by Shenzhen Daily.
She painted her name with a traditional Chinese brush and her calligraphy is better than many Chinese in this computer era.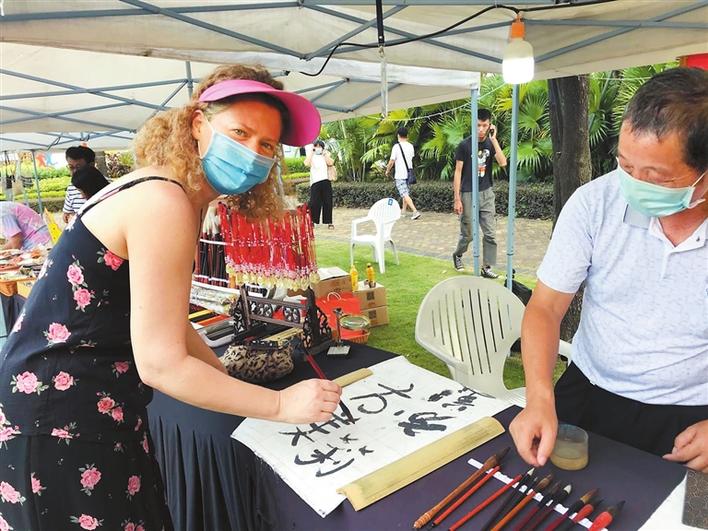 Maria Fang from New Zealand writes down her Chinese name at the festival Saturday. Windy Shao
"I like Chinese calligraphy, and I am skilled in writing my name (方美莉), which is now my legal name in Chinese," she told Shenzhen Daily.
Maria came to Shenzhen 15 years ago, not for a career, but for love.
She married her husband, Fang Shulin, in Hong Kong 25 years ago and they moved to the city 15 years ago.
"We decided to move here as we like the life style here more. It is quiet, free and open," she said.
They live at Mission Hills Golf Club and often stop by the MH Maker arts and crafts buildings nearby.
"I like the cultural festival a lot, not only the festival itself, but the buildings here too. They are more than buildings. They encourage children to use their hands and eyes, getting their brains to think. I like the whole area.
"I like all the culture heritage items at the festival. In particular, it's great to see children and families creating art together, such as painting the large white dishes."
She had her portrait painted at the festival and planned to visit the festival with her husband again to look around and support different artists there.
The couple have asked another artist at MH Maker to paint an oil painting of the two of them, using a photo taken during their wedding at City Hall in Hong Kong in 1995 to mark their 25th wedding anniversary.
Maria likes the cultural atmosphere here, too.
"Shenzhen has a strong cultural atmosphere and the local government is nurturing and proactive in encouraging a cultural atmosphere. Shenzhen is the future," she said.
When being asked about what she likes most here. Her answer is: "The people, good, decent people. Shenzhen people also read a lot of books and are very active in volunteer work."
In her spare time, Maria enjoys reading non-fiction books, especially books on China, Chinese culture and Chinese history.
The couple enjoy taking care of plants and animals and often come to the rescue of animals, birds, insects and plants in distress.
"We have many plants, two rabbits, two red-ear slider turtles, Gui Gui of an unknown turtle species, many goldfish and two bottom feeder fish."