"I'm in my 30s, and still not totally sure what I want to do. I always have 10+ hobbies but running has been the longest one I've kept doing."
As Joe Bowen says this, he is also bouncing his baby girl on his lap. This new dad has found something else entirely to fill up his time.
Bowen and his wife have a beautiful new baby girl, just 5 months old. Before his daughter came along, Joe spent much of his time teaching English and getting in some running, organizing "club races" around Talent Park in Nanshan District through a group, the Bay Runners.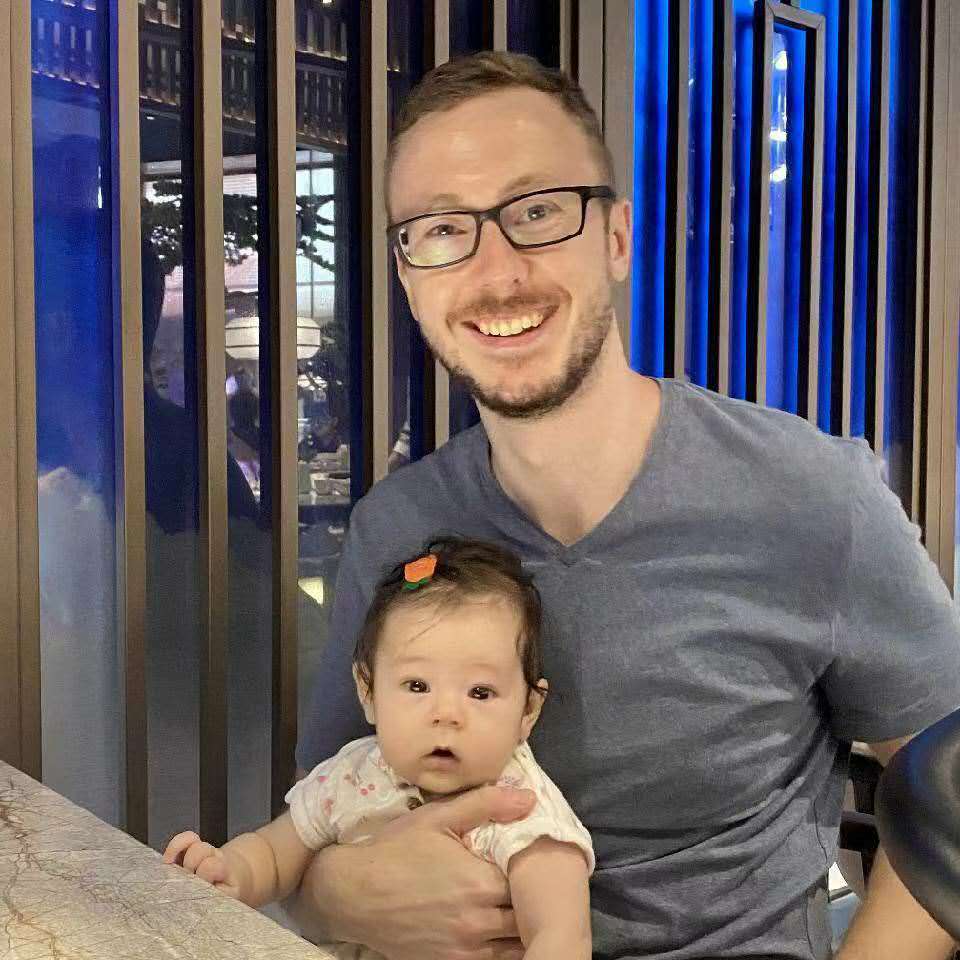 Joe Bowen and his daughter.
Although not every person is a fan of running, let alone running fast, Bowen certainly is, and comes from a family of runners – his father ran in the very first London Marathon. As with any hobby he has, Bowen likes to analyze it as much as he can. "Sometimes getting more technical can make a hobby more fun. I like to geek out on any new hobby, even if there is no significant improvement. It's about trying to use the knowledge you pick up." Along with studying his own running, he also wanted to get together with others that enjoy a good run.
"I originally started the Bay Runners group simply because there was nothing else like it around the city. There are some big runs, like the marathon (42km), but there didn't seem to be any short races, like 5- or 10-kilometer ones."
Bowen began organizing his own club runs, as a chance to meet up and race. In each of the four seasons (yes, even summer) Bowen would announce on the WeChat group about the upcoming series of races that would take place on Tuesday nights, around the bay in Houhai. Though called a race, anyone is welcome, even if they just wanted to come out and enjoy fellow runner company.
"Club runs are very common in the U.K., so I felt like I could organize something like that here in Shenzhen. You can call it a race, but it just provides a chance to meet up and run with like-minded individuals. It's not so formal, it's much more community based and you can choose if you are just there to have fun or if you want to push yourself and go for a 'PB' (personal best)."
There is no big prize to the fastest runner, though there are usually bananas for those that want them. Instead, the race is to help the casual runner to be a bit more focused and encourage them to get off the couch.
"If I don't have something like a race coming up, it's hard to stay motivated and keep going," Bowen admits.
Thinking back on the friends he has made, and the many runners that have come out, it is a varied mix of nationalities, much like the city of Shenzhen itself. Runners have included Chinese, Germans, French, Russians, South Africans and people from the U.K. and U.S., and the speeds and pace of the runners are all as different as their nationalities. "Lots of people have bonded and some have even been able to see themselves get PBs."
Bowen speaks highly of being able to help organize club runs in the city and hopes he will get the chance to do the same when he leaves China. After two years in Northeast China, a brief time in Chengdu, and living in Shenzhen since 2016, it seems it is time for Bowen to head back home with his little family to England. Although he does not have a strict plan for what he will do, his experience here has him hopeful he will find something similar. Before he leaves, he wants to get in a few more runs and perhaps find someone to pass on the baton for the Bay Runners as well.