Fifty-year-old Italian Diego Signor is a "sunflower" cultivator. He runs Helianthus — which means sunflower — a shop specializing in gelato and pastry in Shenzhen.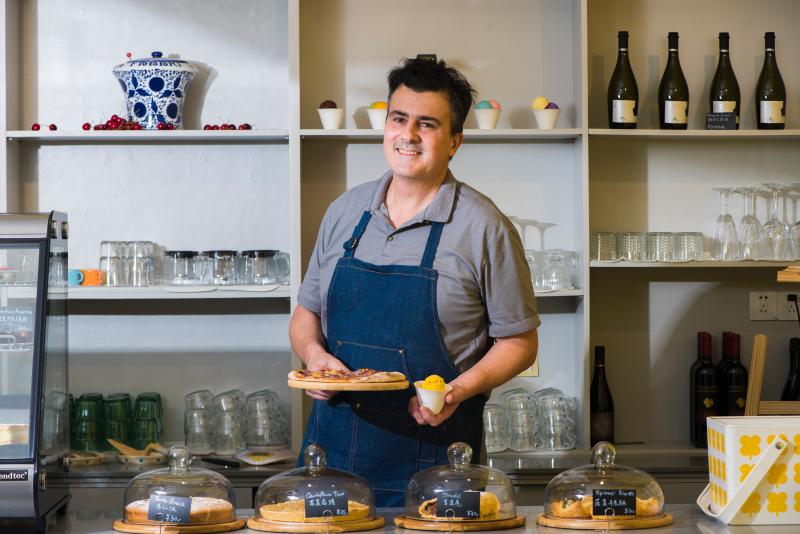 Diego Signor
Born in a small town near Venice, Signor began learning gelato and pastry making at the age of 15. He opened his first shop in his hometown in 2000. At the end of 2019, Helianthus, jointly presented by the seasoned chef and his business partner Maggie Liang, took root in Lianhuabei, Futian District, to satisfy the sweet tooth of Shenzhen foodies.
Signor's aim is to bring local enthusiasts the most authentic Italian food. From gelato to pastries and pizzas, he makes all the food using original Italian recipes. He also maintains strict serving conditions, too — take gelato, the signature dessert of the shop, as an example: in order to maintain its creamy texture, the gelato is served between 7 and 8 degrees Fahrenheit (-13.8 and -13.3 degrees Celsius) instead of closer to 0 degrees Fahrenheit, like ice cream is.
"Authenticity is our shop's identity," Signor told Shenzhen Daily. "My point of view is that if you want your business to last long, you should never lose identity."
Promoting authentic Italian food in a market where customers are accustomed to seeing borscht, curry, fried rice and pizza on the same menu is no easy task. What Signor and Liang usually do is to take a few minutes to introduce their menu to customers, and make recommendations for them according to their preference. This, according to Signor, is part of the reasons why they chose to open shop in a residential area instead of a bustling shopping mall.
"If our shop is in a shopping mall, we'll have to follow the rules of the mall, open when it opens and close when it closes, seven days a week," said Signor. "We started with two people and we prefer to do everything by ourselves, including explaining our menu to customers. This will become difficult if we are in a mall unless we have more people to do the shift, which we don't want, because at this stage we want to have control of every single minute."
Signor said he is happy to see many customers keep coming back.
"I can't say I'm very satisfied with the current customer flow, but the good thing is that if we have 10 new customers, six are coming back, and many of them are willing to share our shop with their friends. So things have been improving."
Signor's weekly day off is Monday. The first thing he does on his day off is to sleep in, as for the other six days of the week he will have to arrive at the shop before 7 a.m. to prepare everything. He likes to visit other restaurants to taste different cuisines. His favorite Chinese culinary style is from Yunnan, and he is avidly learning the Chinese methods of cooking vegetables.
"After spending years here, when I'm at home cooking for myself, I'm cooking more like a Chinese than an Italian!" Signor said.