Japanese engineer and maker-culture advocate Masakazu Takasu, who moved to Shenzhen in 2018, published a Japanese book "Prototype City: Global Innovation Taking Place in Shenzhen," co-written with five other contributing authors in August.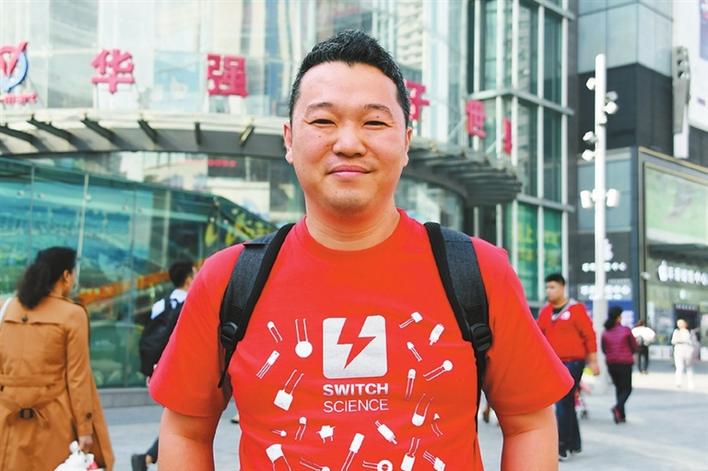 Masakazu Takasu
As one of the book's two editors, he put together the 264-page book with journalist Kota Takaguchi, software engineer and entrepreneur Sho Sawada, businessman Jerald Fu who owns a company in Bao'an, economist and author Hiroo Yamagata, and University of Tokyo social science associate professor Asei Ito.
The six writers have all spent a long time researching China's science and technological development. "We formed the Nico-Tech Shenzhen Community and want to explore and learn about technology and Shenzhen's ecosystem. We are all Shenzheners," said Takasu, who is also an associate researcher of Waseda University.
Takasu's company, Switch Science, distributes open-source hardware tools and components, partnering with startups and communities in Shenzhen. He has visited more than 100 Maker Faires around the world since 2014. "The Shenzhen Maker Faire is very unique, where many startups meet maker customers. The fair focused on DIY and community in 2019. We Japanese makers really love Maker Faire Shenzhen," he said.
Takasu majored in cultural anthropology and sociology in university but later shifted his career to engineering because he believes that DIY hardware production and the democratization of technology could bring tons of opportunities to society. In "Prototype City," the authors also stress the importance of DIY hardware production, which has grown rapidly in Japan since 2014.
Takasu explained further that indie hardware products are for a small number of customers, and their makers should have unique ideas but be without investors. The new book is about prototype drives in Shenzhen that the authors have observed over the past five years.
"Shenzhen is a great place for manufacturing and innovation. How you make achievements here is a model for everyone. So we recommend Shenzhen to everyone, not just to find opportunities, or not just to be amazed, but to discover who it really is," he said.
Since the pandemic, Takasu has been in Japan, but will return to Shenzhen next month. He always said that he is a Shenzhener. "'You are a Shenzhener once you come to Shenzhen' is a very famous sentence in our makers' community. We know Shenzhen is an immigrant city and many people come to Shenzhen with a dream. It has been, and still is, an amazing city of change and innovation, which can be a model for the rest of the world. Not just seeing it from the outside, but being a part of it, is a privilege," he said.