What do you do when you fall in love with someone? 32-year-old Rafael Saavedra from Venezuela is "love drunk," but with the city of Shenzhen. And the way he shows his love for his favorite city in the world is by recording and presenting this unique city through his videos.
Though a beginner in video making who started just seven months ago, he has over 9,400 subscribers on his YouTube channel "Rafa Goes Around!" and over 4,000 followers on his bilibili channel "Rafa的环游记."

Most of his videos about life in China, especially those of Shenzhen, have gone viral. For example, the video "Living in China | How is it like living in Shenzhen in 2020," has over 100,000 views on YouTube.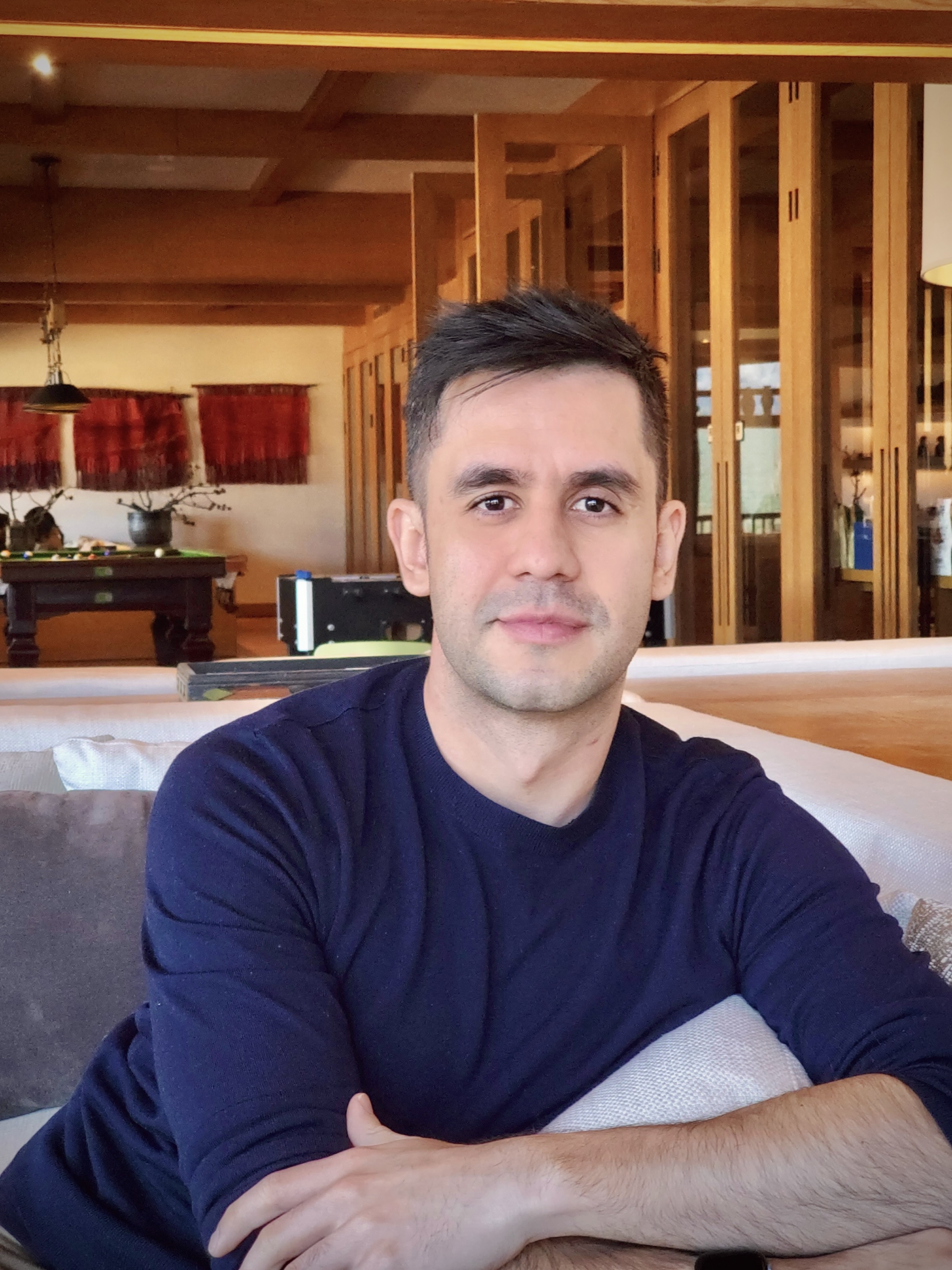 Rafael Saavedra
Saavedra came to Shenzhen in March 2015. Before that, he was living in the Dominican Republic and was looking for something related to his major in hotel management, far away from home.
"So I applied in different places, like the Middle East and Asia. I said to myself, whoever calls me first, I will go there and give it a try to see how it goes. The first call I got was from Shenzhen, China. They offered me a good package for a one-year contract as a guest relations officer for Shenzhen Nanshan L'Hermitage Hotel," Saavedra told Shenzhen Daily, adding that he didn't expect to stay so long.

He came, and immediately fell in love with the city. "I was living in Qianhaiwan, Nanshan District, an area which is going through a huge transformation. I love modernity and architecture a lot. I saw this area changing from the very beginning. All these skyscrapers are rising up from zero."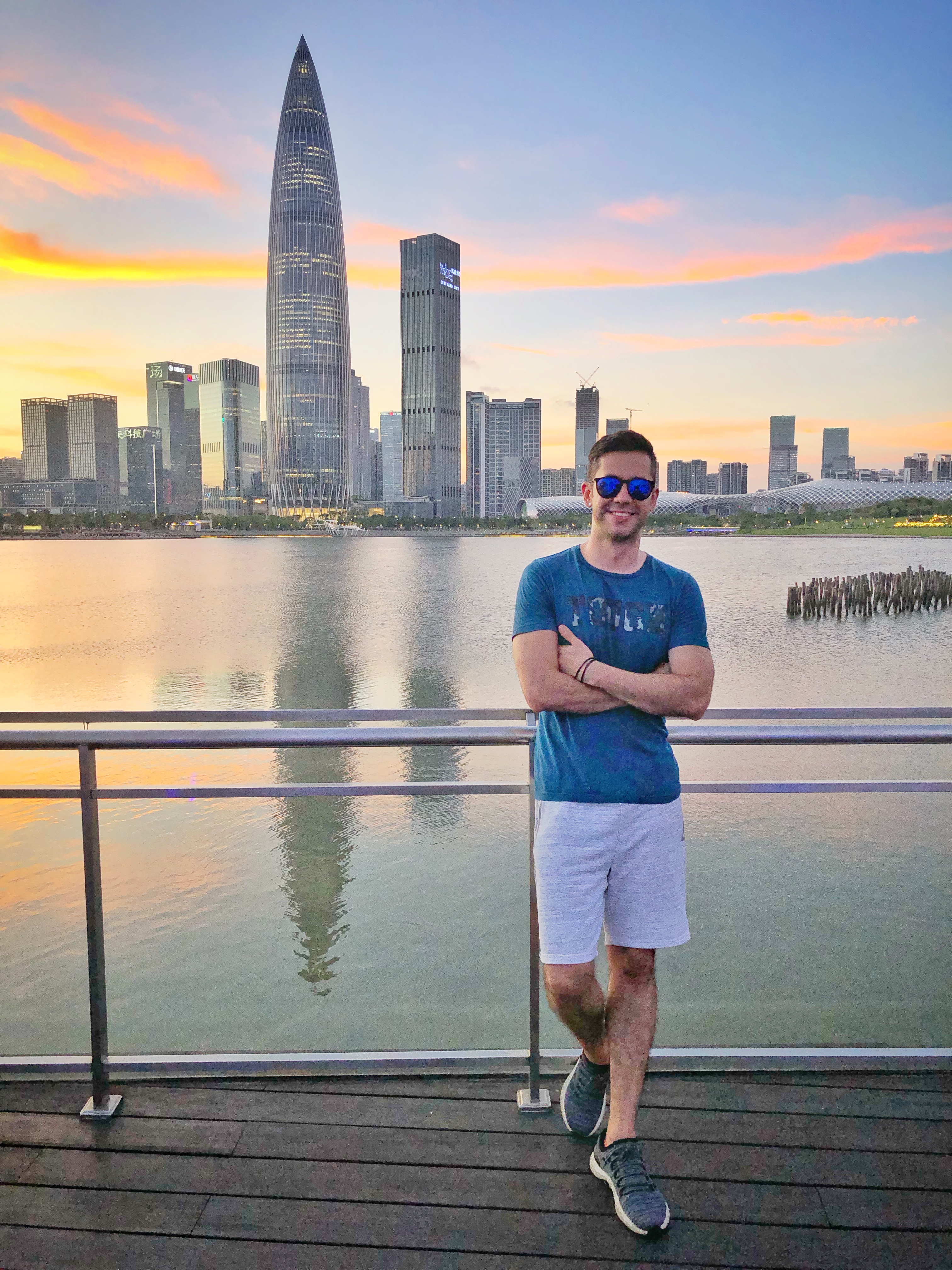 Saavedra pose for a photo at Shenzhen Talent Park in Nanshan District
For Saavedra, currently the guest relations manager of the hotel, there are many reasons that make Shenzhen a unique city and his favorite city in the world. The city sets an example for many others globally, such as the way it is planned, and the way it blends and mixes modernity with greenery.
"That makes Shenzhen a city to live in and enjoy every day. We have trees and parks everywhere. We have these beautiful roads with flowers," said Saavedra.

Lured by the amazing things that Shenzhen has to offer, Saavedra makes good use of his free time by going around and exploring the city, taking pictures and sharing a lot of information about the city on social networks like Instagram and Facebook.

"People outside were like: 'Where are you living? Is it real China? Are you kidding me? You are not in Dubai? New York? Barcelona? What is this place?' People didn't know that Shenzhen looks like this. They were very impressed because Shenzhen is not widely known outside of China, not to the same level as Shanghai, Beijing or Hong Kong," Saavedra explained.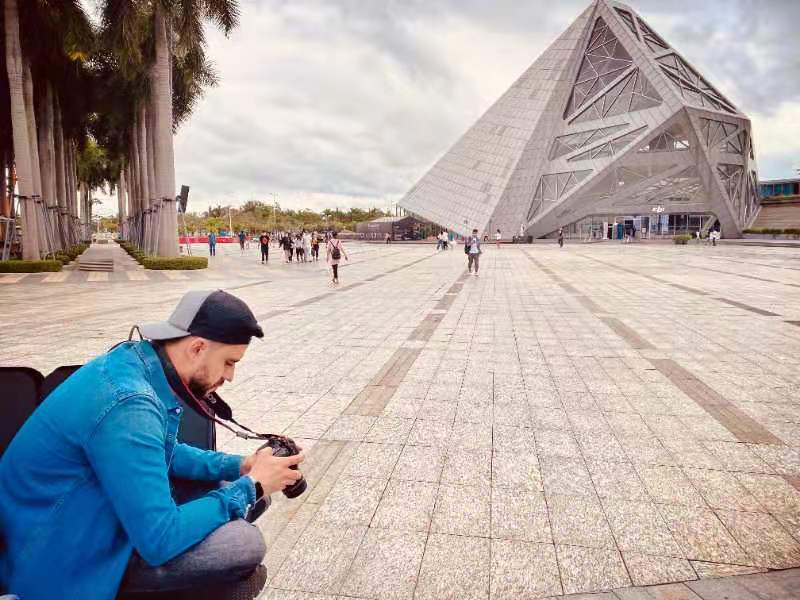 Saavedra takes photos at OCT Harbour in Nanshan District
Around seven months ago, upon requests by some of his friends, he started making videos about his trips around China and about Shenzhen, which have gained in popularity not only among people outside China, but also among local Chinese.
"Something that happened when I was making these videos is that a lot of people told me Shenzhen is like an empty city without culture. I am not sure about that and decided to check about it. I started exploring and found tons of temples, museums, and places with a lot of culture. Actually I have made a series of videos about the culture in Shenzhen," said Saavedra.

He is surprised that Chinese people that live here don't know many of the places that he shares. "So it's a big satisfaction, because I am a foreigner and I can show the beauty of their own country. And they enjoy and appreciate that. That's very nice," he said.

In addition to culture videos, he has also made videos about the beautiful parks, transportation and daily life in Shenzhen.

Saavedra feels very lucky to live in the city. "I am living in Shenzhen and I feel somehow part of it. There are so many reasons for me to love and feel passionate about the city and the transformation process that it's going through," he said.