Enthusiastic antique collectors in Shenzhen and from surrounding cities packed the southern plaza of the Shenzhen Book City CBD Store on the afternoon of March 10 for the much-anticipated "Cultural Heritage of Golden Ages" antique appraisal event.
The event, featuring antique experts appraising participants' antique collections and answering their questions for free, is part of a regular series of antique appraisal events being rolled out across the country to help collectors enhance their knowledge on their own collections.
Antique collectors wait in line for experts' review on their collections March 10 at Shenzhen Book City CBD Store. Photos by Wu Guanpu
The four experts present at the day's event were He Feng, vice head of the Institute of Cultural Heritage of Guangdong Province, Ren Zhilu, former head of the Shenzhen Institute of Cultural Heritage, Liu Tao, former analyst at the Shenzhen Cultural Heritage Management Office, and Guo Xuelei, former vice curator of the Shenzhen Museum.
Among the vast collections presented by participants, porcelains stood out as the most eye-catching. With their lustrous glaze and delicately enameled motifs, wares dating back decades or centuries captured the attention of both experts and collectors.
A bowl owned by a collector surnamed Chen was a highlight of the day's event. The bowl, which is pale in color, has a slogan-like pattern on its exterior.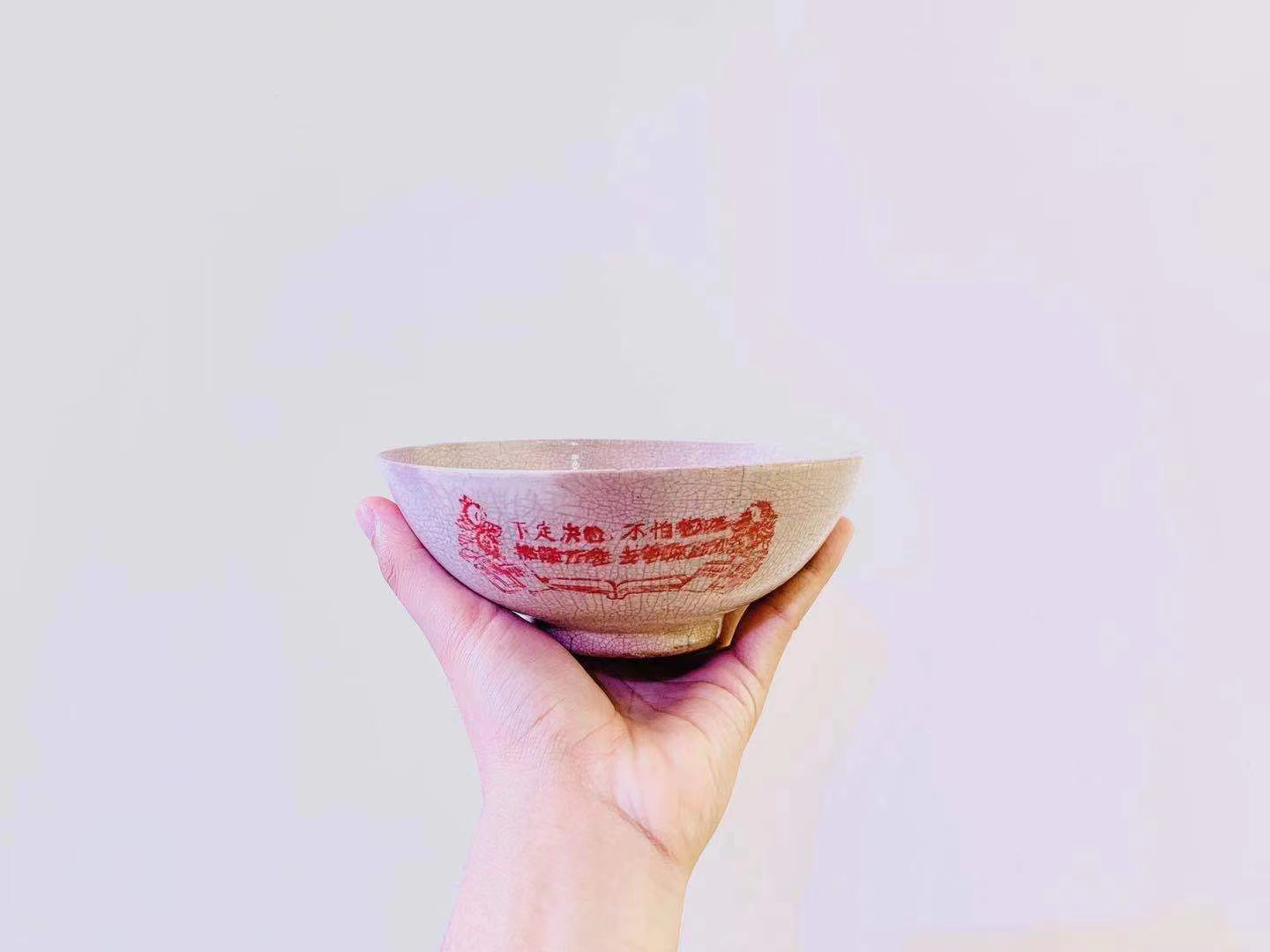 A bowl dating back to the late Qing Dynasty (1644-1911) period with a slogan-like pattern on it is the highlight of the antique appraisal event March 10 in Shenzhen.
"This bowl is special because while it dates back to the late Qing Dynasty (1644-1911), the pattern on it, which is a quotation from Chairman Mao Zedong, was added during the Cultural Revolution (1966-1976)," commented Ren Zhilu. "On a single piece of antique, we see the traces of two important time periods. It's indeed a witness of history."
Another collector surnamed Xu brought with him his collection of porcelains made in the Republic of China (1912-1949) period, which consisted of a coral-red incense burner, a coral-ground gilt-decorated cup used as a tool in traditional Chinese study rooms, a pair of gilt-decorated familie-rose tea cups, and a pair of familie-rose tea cups painted with sanduo (three abundances, referring to the three fruits of Buddha's hand citron, peach and pomegranate) motifs. The elegance of these utensils was easily reminiscent of the aesthetic taste of the Chinese people who lived nearly a century ago.
According to Ren, porcelains of the Republic of China period are relatively common in today's antique market. The porcelains for daily use in that time were dominated by blue and white porcelains and familie-rose porcelains that had simple style, which were similar to the Qing Dynasty ones.
He went on to explain that familie-rose porcelains of the Republic of China period were distinct in China's porcelain making history. While they inherited many of the traditional porcelain making techniques of the Qing Dynasty, the influence of modern techniques allowed the patterns on them to be more seamlessly integrated.
Representative porcelain artists of the Republic of China period include Pan Taoyu, Wang Xiaotang, and members of Zhushan Bayou, an artistic and literary group led by Wang Qi.
The "Cultural Heritage of Golden Ages" event was jointly held by the Shenzhen Institute of Cultural Heritage, the Shenzhen Collection Association, the Shenzhen Publishing Group Assets Operation Branch and the Shenzhen Economic Daily.