"Resplendent Sky," an exhibition of foreign bookplates collected by artist Dong Xiaozhuang, is being held at the China Printmaking Museum. Entry is free.
The bookplates on display show the constellations that make up of the 12 astrological zodiac signs. Ancient astrologers believed that the world was composed of four elements: fire, earth, wind and water, and the 12 constellations could be divided into four signs. Based on this mythology, the exhibition is divided into four parts: "Fiery Combustion" (fire signs: Aries, Leo, Sagittarius), "Immutable Samsara" (earth signs: Capricorn, Taurus, Virgo), "Unintentional Wandering" (wind signs: Libra, Aquarius, Gemini) and "Flowing Whirlpools" (water signs: Cancer, Scorpio, Pisces).
"Cancer" by Hristo Naidenov. Photos from China Printmaking Museum's WeChat account

A bookplate, also known as an ex libris, appeared in the 1400s and was usually seen as a small printed or decorative label pasted onto a book, often on the front endpaper, to indicate ownership. Bookplates typically bear a name, motto, and a symbol such as a coat-of-arms, crest, badge, or another motif that relates to the book owner, or one that the owner commissions an artist or designer. The art of printed ex libris began in Europe in the 15th century, and appeared in China at the beginning of the 20th century.
Until the advent of bookplate collectors and their frenzy for exchange, the devising of bookplates was almost invariably left to the heraldic-stationery salesmen. Near the turn of the 20th century, the composition of personal book tokens became recognized as a minor branch of a higher art, and thus had come into fashion.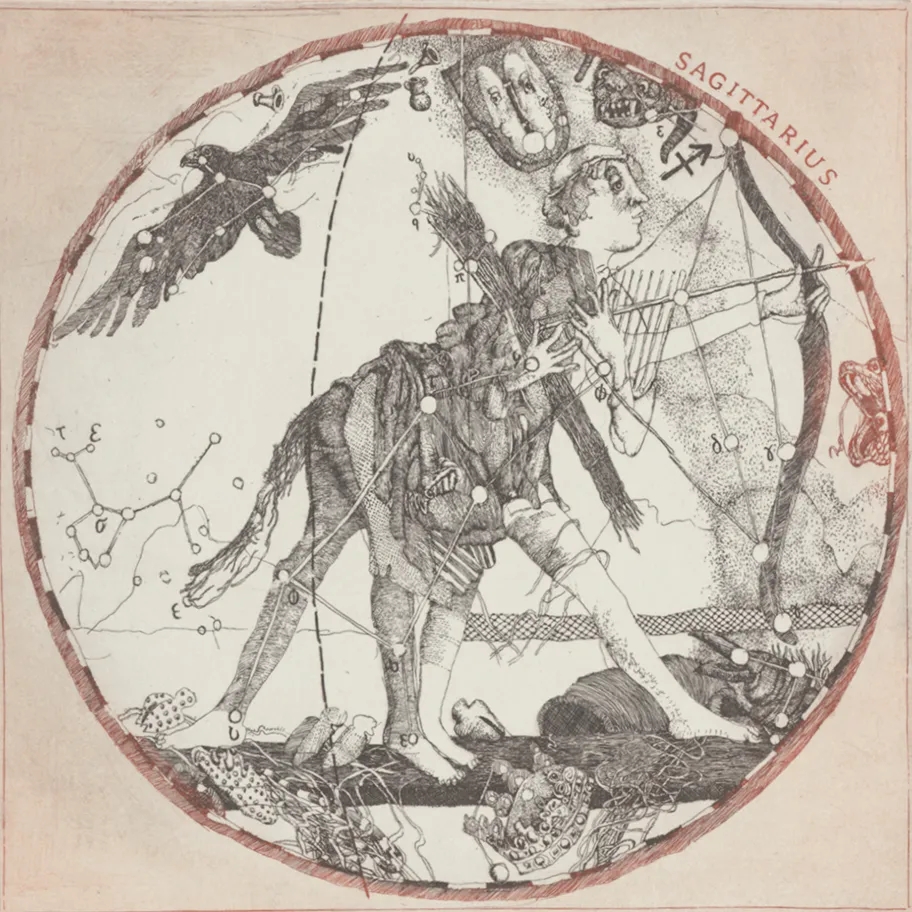 "Sagittarius" by Dusan Kallay.
Bookplates are very often of high interest and of a value often far greater than the odd volume in which they are found affixed, either as specimens of bygone decorative fashion or as personal relics of well-known people. However, the value attached to bookplates, besides as an object of purely personal interest, is relatively modern.
Since the 1950s, there has been a renewed interest in the collection of bookplates and in many ways a revival of this interest. There is still a large number of collectors for whom the study of this 500-year-old craft is a fascinating source of historical, artistic and socio-cultural interest. They have, however, been joined by a dominant group of new collectors whose interest is primarily the creating of a miniature, personalized art-print collection.
Dates: Until April 30
Hours: 10 a.m.-5 p.m., closed Tuesdays
Booking: WeChat account "GL_PRINTS"
Venue: China Printmaking Museum, Yuxin Road, Longhua District (龙华区裕新路中国版画博物馆)
Metro: Line 4 to Niuhu Station (牛湖站), Exit A and then take a taxi