In less than two months after its opening, JoJo's Café & Souvenirs topped the list of Shekou's cafes on the Dazhong Dianping review platform in January. Many customers left reviews on its page, saying that they felt invigorated after a visit to the cafe.
Such a magical power is created by its owner Gokhan Bukmus, an amiable Turkish national who looks like Albert Einstein. For Bukmus, who more often goes by his nickname JoJo, the cafe not only sells Turkish coffee and handicrafts, but also spreads a good mood with his customers.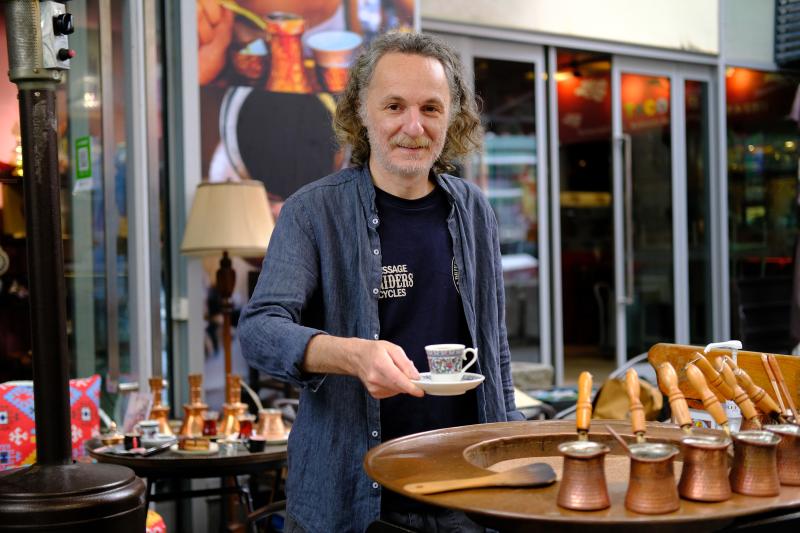 Gokhan Bukmus
Located in an alley at Sea World in Nanshan District's Shekou area, the cafe is adorned with cheerful, brightly colored ceramics and fabrics from Turkey. A big copper sand heater standing in front of the cafe is where JoJo brews his coffee. Unlike many other coffee shops where tables are arranged separately, JoJo places the tables closely to allow "people to talk to each other."
"Coffee is a cultural thing in Turkey," said JoJo. "You meet your friends and you have Turkish coffee. It's a very social item. Opening the cafe here helps me to meet lots of people and people meet each other here as well."
One thing that makes the cafe so popular is the fortunetelling service it offers. JoJo brought this tradition to his cafe. Since Turkish coffee is not filtered, it has become a tradition in Turkey to tell one's fortune by reading the coffee grounds left in the cup. When some people visit the shop, they not only look for a nice cup of coffee, they also seek for a little clarity about their future.
"I don't believe in fortunetelling, but something has been nagging me recently, so I came here to try coffee reading," a customer named "karin" commented on Dazhong Dianping. "JoJo's interpretations did resonate with what I've been thinking about. I would like to trust the craft for this one time."
"If you're looking for some emotional healing, this is the place to be," she added.
In JoJo's view, coffee reading is all about bringing people "good moods" and "good wishes." It's a social activity in Turkish culture. Before interpreting for customers, JoJo would tell them that the results of coffee reading can't be used for making important decisions.
"Coffee reading is always positive. It gives positive energy to people. They go and leave with smiles. This is what I do. There are some negative signs maybe, but it's very rare," said JoJo. "Some signs may have similarities with your ideas or with something happening around you. This is the fun part of it. But it's usually for enjoying."
Growing up in a culture where coffee has a special place, JoJo wasn't involved in the coffee business until a few years ago when he was still running a Turkish handicraft shop in neighboring Dongguan. Back then, he met some friends in the coffee industry and learned how to grind and roast different beans. Then he started to attend vendor markets, especially those in Shenzhen, and that was how he moved to the city four months ago.
Though a newcomer in Shenzhen, JoJo has been in China for 19 years. In 2002, he came to the country as a tour guide, met his wife in the same year and now made China his home.