Last week, photos and videos of Qing-hai Lake thawing stunned netizens, showing nature's vitality as spring arrives. Qinghai, in northwestern China, has not only picturesque landscapes but also a long history and diverse culture.
The newly opened "Qinghai in the Belt and Road" exhibition at the Shenzhen Museum's ancient art outlet on Tongxin Road in Futian takes visitors on a journey of Qinghai's splendid history and culture. On display are 373 ancient artifacts selected from 14 cultural organizations in Qinghai. These antiques, with a distinct regional style, highlight Qinghai as an important transportation hub of the ancient Silk Road.
A Tang-Dynasty gold accessory in the shape of a goose. Photos by Cao Zhen
The exhibition is divided into five parts in historical order. The first part shows Qinghai's prehistoric civilization and its exchanges with other regions. The second part focuses on the Qinghai life during the Han Dynasty (202 B.C.-A.D. 220). The third and fourth parts show the rise and fall of the Tuyuhun (313-663) and Tubo (618-842) kingdoms, two local regimes established by ethnic minorities. The final part demonstrates the coexistence of multiple ethnic groups and religions in Qinghai after the 12th century.
Located mostly on the Qinghai-Tibet Plateau, the province has long been a melting pot for a number of ethnic groups. The Yellow River originates in the southern part of the province, while the Yangtze and Lancang rivers have their sources in the southwestern part. Qinghai is separated by the Riyue Mountain into pastoral and agricultural zones in the west and east. These unique geographical conditions have nurtured distinctive cultural features over the centuries.
Colored pottery at the exhibition with designs of frogs and deer represent agricultural and pastoral cultures in Qinghai. Frog designs are typical Majiayao culture, a group of Neolithic communities who lived primarily in the upper Yellow River region in eastern Gansu, eastern Qinghai and northern Sichuan from 3300 to 2000 B.C. The Majiayao culture represents the first time that the upper Yellow River region was widely occupied by agricultural communities and is famous for its painted pottery, which is regarded as a peak of pottery manufacturing at that time.
Deer are widely featured in ancient rock art in northwestern China. A 60cm-tall pottery with vivid deer designs, dating back 3,500-2,900 years ago, stands out from other exhibited items and earns a title, "the pottery king of Yellow River," from archaeologists.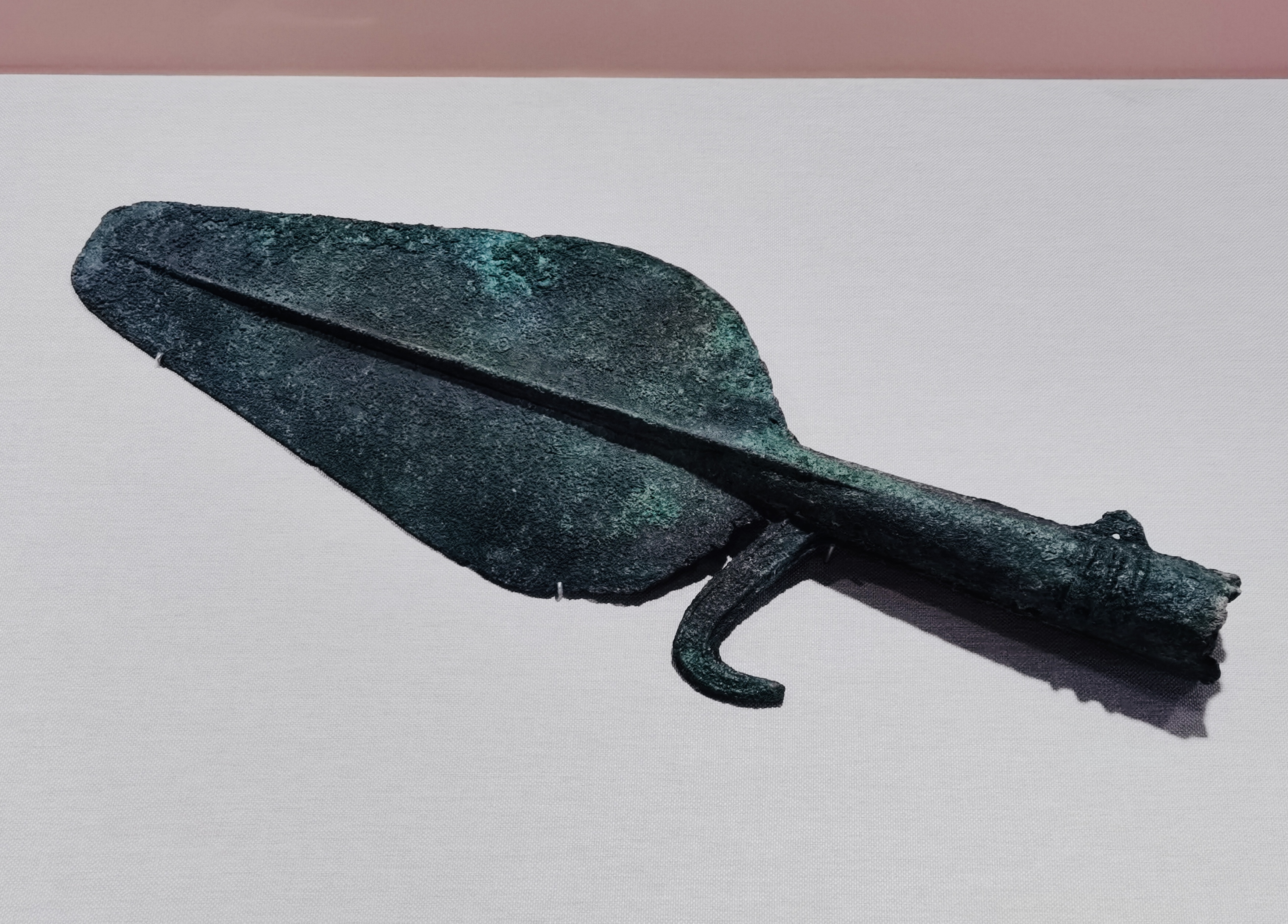 A leaf-like bronze spearhead with a side hook.
A leaf-like bronze spearhead with a side hook, dating back 4,200-3,800 years ago, is an iconic item of the Seima-Turbino phenomenon across northern Eurasian steppes. This weapon unearthed from the Shenna site in Qinghai's capital city Xining suggests that Xining was an important place when the Seima-Turbino metallurgical technique spread to China.
A bronze cooking vessel, dating back 3,600-2,600 years ago, is a typical Shang Dynasty (1600-1046 B.C.) item, which proves the bronze-casting method in Qinghai was also influenced by that in the middle and lower Yellow River regions in the Shang period.
A Tang-Dynasty fabric cloth with horse designs.
The exhibition also displays religious crafts, fabrics with exotic designs and gold treasures. One item is a Han-Dynasty gold accessory with carvings of a wolf attacking a bull in a forest. The accessory was believed to be used by the nomadic Xiongnu tribe to indicate social status. A brightly colored fabric from the Tang Dynasty (618-907) with a pair of horses designed on it shows Central Asian style. A copper license plate coated with gold issued in the Ming Dynasty (1368-1644) was used for trading on the ancient Tea Horse Road, a network of caravan paths in West China.
Dates: Until June 10
Hours: 10 a.m.-6 p.m., closed Mondays
Booking: WeChat account "iszbwg"
Venue: Shenzhen Museum (of Ancient Art), 6 Tongxin Road, Futian District (福田区同心路6号深圳博物馆古代艺术馆)
Metro: Line 9 to Hongling South Station (红岭南站), Exit A