Pollyanna Koh was introducing a new attendee to the weekly coffee gathering held every Tuesday for the Shenzhen Women's International Club (SWIC), an expat group with a 34-year history, when the Shenzhen Daily reporter arrived at Shekou Hilton Nanhai Hotel on Tuesday.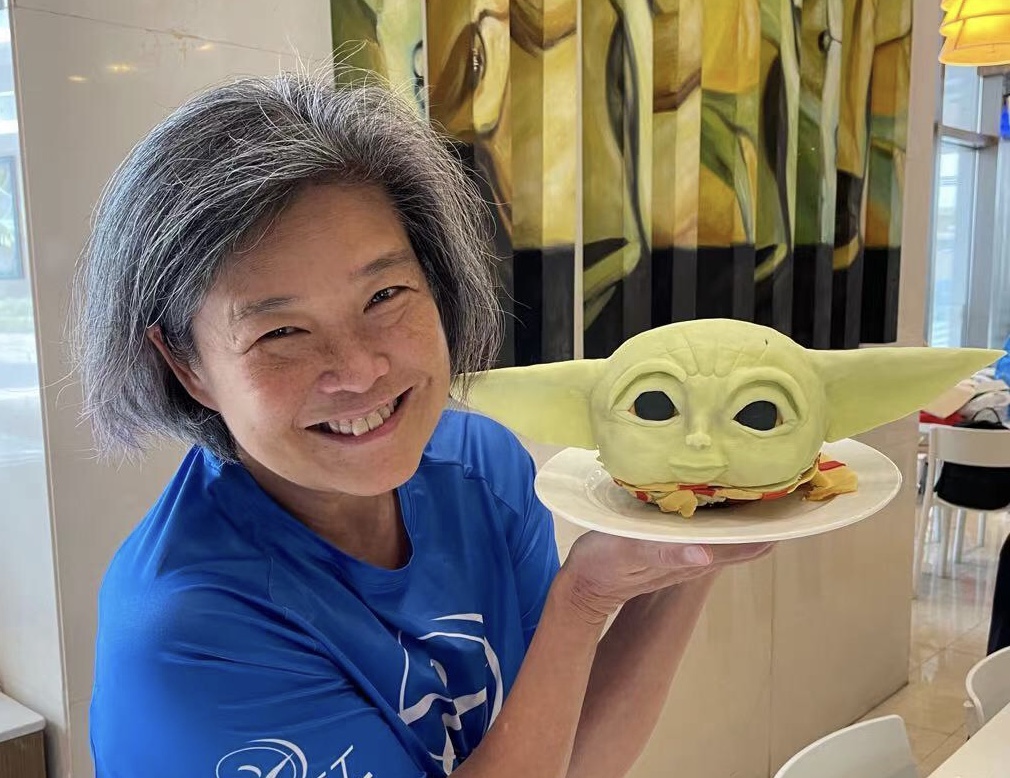 Wearing a pair of glasses, white T-shirt and red shorts, the 59-year-old Singaporean, current SWIC president, was actively providing information to newcomers, having casual talks with members about topics like traveling together.
Koh came to Shenzhen in 2007, one year after her husband, Albert Lam, opened his dental laboratory in the city. In her first few years in Shenzhen, Koh has befriended mostly Chinese people with her Chinese and English skills.
One of Koh's friends inspiringly invited her to join SWIC four years ago, intending to advertise Koh's homemade Western-style desserts like pies and brownies to its members. Dessert orders didn't take off at first, but Koh had a pleasant experience getting acquainted with people from all over the world and speaking more English.
Koh described SWIC as a social club where members can meet people of different nationalities and join various events and activities, including tennis, mahjong, archery, hiking and book clubs, plus some occasional theme parties.
"Through SWIC, you meet people from around the world, and establish global friendships," said Koh.
"SWIC's mission is to help expats assimilate into the local communities," Koh said. Members share helpful information about where to find resources in the city. "SWIC also provides a friendly environment for members to share their experiences through cultural exchanges," she added.
SWIC, which initially stood for Shekou Women's International Club, was renamed in 2012 as Shenzhen Women's International Club. From a small group of mostly women expats from Shekou, Nanshan District, the club has expanded its membership to other districts like Futian, Luohu, and Bao'an. Before the pandemic, the club had an average of around 200 members. Currently, the club has more than 180 members. "Now, we go beyond Shekou, we go to Futian, Luohu, and Bao'an. With the Metro, it's very convenient," Koh said.
Over the past three decades, the expat group has made transformation and changes and are adapting to Shenzhen's rapid development.
Since 2020, posts on SWIC's WeChat account, SWIC2020, have taken the place of its quarterly printed magazines to offer information on fun activities, travel destinations and the best restaurants in the city. They update their WeChat posts once a week, informing members with current local news, especially COVID-related updates.
"Everything in Shenzhen is very dynamic, very modern. Everybody learns how to adapt to the new technology. So that's why for the year of 2020, we decided to transform SWIC to become digital," Koh said.
During Koh's term, the president registered SWIC as a legal organization which gives the club better relationships with other public entities.
Koh spends her downtime baking desserts while her husband runs a dental clinic, Dentists United. "I sometimes provide baked treats to his patients and staff," Koh said. She had added delicious cakes to her menu with her improved cake decorating skills. Her custom designs make her cakes attractive and best-sellers among her growing clientele. "I usually need about 10 days in advance to create a cake," Koh said. She takes time to discuss with the customers about the flavors, colors and designs before she starts making the cakes.