This year, celebrity restaurants, high-end hotels and other five-star luxuries that occupied last-year's WeChat Moments seem to have quietly faded away. Instead, hitting the road and camping at different places has come into fashion.
With the pandemic, more and more tourists, who have more desire to get outdoors, are opting to experience something different and choose to unlock their travel dreams by planning a camping trip. Lying under the starry sky, enjoying a picnic at the lakeside, listening to the natural melodies performed by birds and other wildlife … this is no doubt one of the best options for leaving behind the bustling city life and emptying oneself of the hassles of daily routines.
But where to go? In this article, we will introduce the most scenic places to camp across China.
Kruger Camps, Xinjiang
Taking a road trip to camp is nothing new, but have you ever tried hopping onboard a helicopter and enjoying the view on the way to the camping site?
Located in Wenquan County, Bortala Mongolian Autonomous Prefecture in Xinjiang, the Kruger Camps lies alongside Sayram Lake and is among mountains at an altitude of 2,000 meters.
Once you reach the Bole Alashankou Airport, which is only a 75-minute flight from Urumchi, you can take a 50-minute flight on helicopter to the campsite. During the flight, you will see stunning views like snow-capped mountains, cloud seas and forests.
The helicopter trip costs around 20,000 yuan (US$3,087) and can accommodate four people. If you want a more economic transport, you can consider the car service which costs 1,000 yuan and can carry three people. The car trip takes around two hours.
The Kruger Camps, with 18 wooden villas built in the mountain forests of Wenquan, has welcomed guests from around the world, all impressed by the stunning scenery. The special location of the campsite not only gives it a unique tranquility, but also endows it with a mild climate of warm winters and cool summers.
Once you set foot on this land, you will feel the wonder of entering a secluded world hidden in the mountains. The wildly growing pine forest adds a touch of freshness to the campsite. Sit down anywhere, and you will be able to take in splendid views including rainbows, the sunset glow, the vast starry sky, snow-capped mountains and the cloud sea.
Ami Gonghong Pasture, Gansu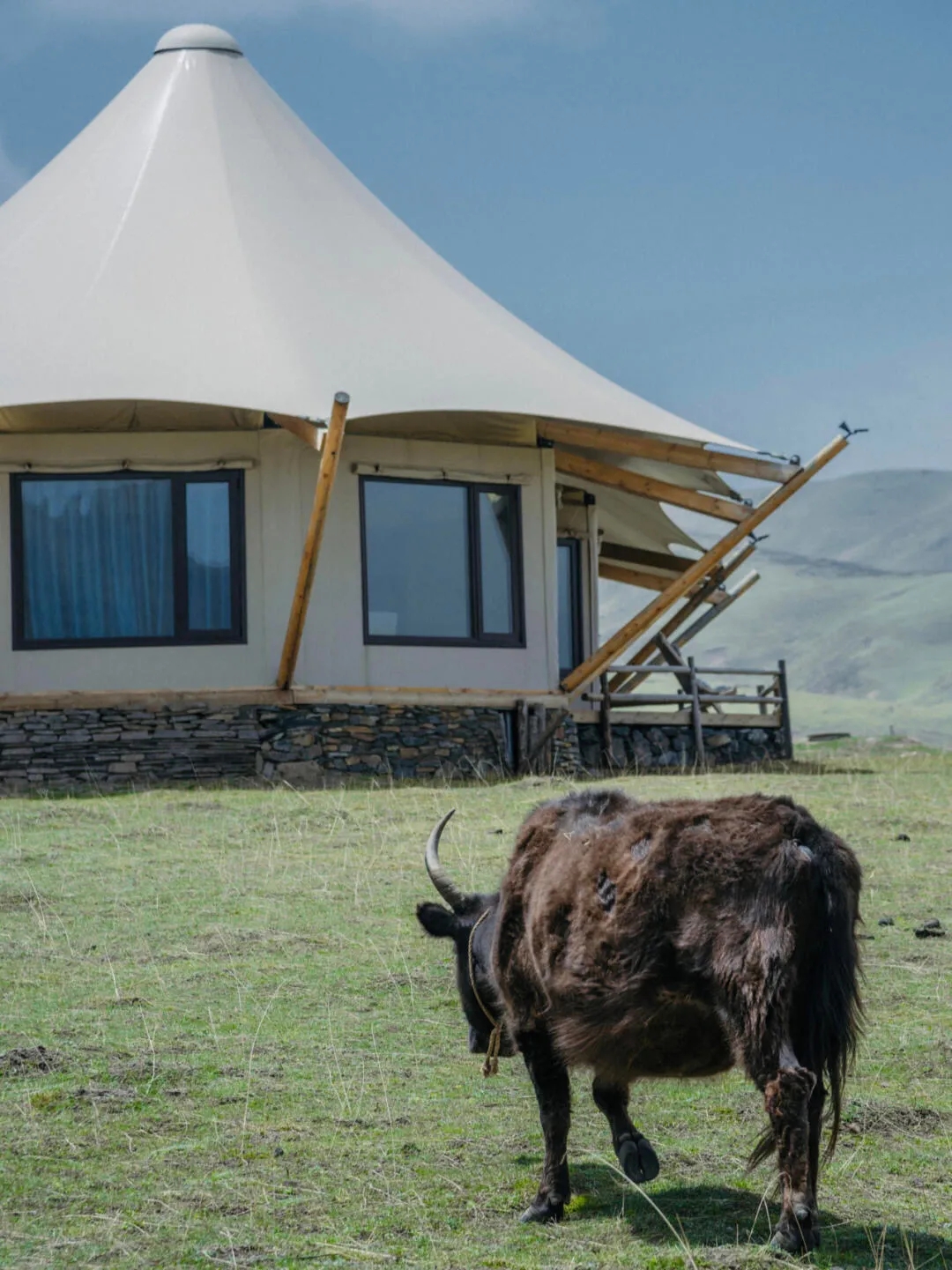 Many people have watched the animations of Miyazaki Hayao, but have you ever seen a pasture as beautiful as those in the animations? Rated as one of the "50 places that you must visit in your life" by Chinese National Geography, Ami Gonghong Pasture, located in the Gannan Tibetan Autonomous Prefecture, Gansu Province, is a niche campsite that is beautiful from every angle.
It only takes a 10 minutes' drive from Gannan Xiahe Airport or a three hours' drive from Lanzhou Zhongchuan International Airport to reach the pasture. Different from the dessert in northern Gansu and the vast greenness in Inner Mongolia, Ami Gonghong Pasture has more colors, with yellow in May, pink in July and white in December.
The renowned Nine-Color Flower Stream, nurtured by the snowmelt, has a long flower season of six months. Ami Gonghong Pasture has 20 tents, each with a special design to offer you an awesome view of the snow-capped mountains in the distance.
The weather in Gannan in June has a big temperature difference between day and night. It may range from 20 to 2 degrees Celsius on the same day, so you need to be well equipped with appropriate clothes.
Here you can breathe in fresh air every moment and be embraced by clouds and mists at any time, which gives you the illusion of being in a fairyland.
Nomanland, Zhejiang
When talking about islands, people in Jiangsu, Zhejiang and Shanghai always think about Huaniao Island, Dongji Island and Zhoushan Island. Compared with these popular and crowded destinations, Cishan Island may sound unfamiliar even to old Zhoushan natives.
Every month there are only a total of six boats heading toward this little-known island. As a result, tourists can enjoy the landscape tranquilly without encountering massive crowds. When you reach the port, staffers with Nomanland will drive their tutu boat to take you to the island and the trip only takes around 20 minutes.
On the island, you can savor the tea while chatting away with your good friends in a tent. You can also go fishing in the sea to catch seafood for a mouthwatering fresh food barbecue.