"Unless I made some kinds of serious mistakes, I would not leave Shenzhen," said American artist Ken Malson at his studio in New Who Art Village, Guanlan, Longhua District.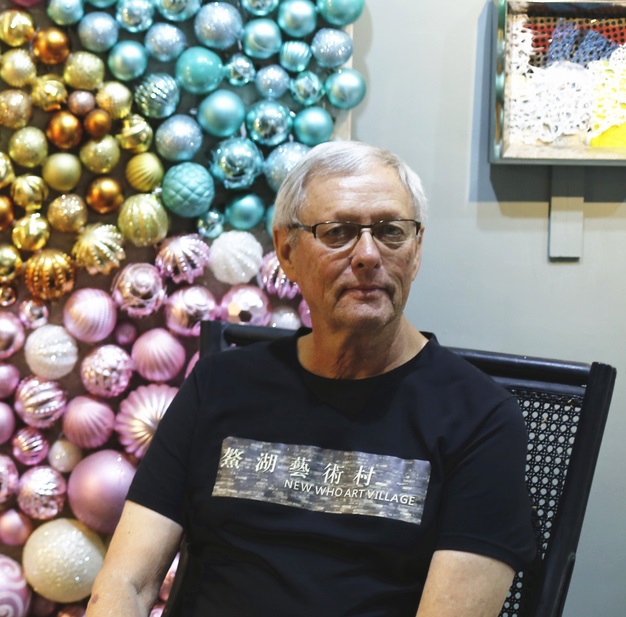 Ken Malson
"As I have been a Shenzhener for about 13 years," Malson said of the famous saying of Shenzhen welcoming talents from all over the world in its modernization drive.
He said he did check out the meaning of "Everybody in Shenzhen is a Shenzhener," and is really proud to be a Shenzhener, a resident of the city known worldwide for its miraculous development in four decades.
Malson said he has noticed that Shenzhen has spent several years to ban indoor smoking, which took the United States, his home country, 30 years to do so. "And so is the banning of driving under the influence. I think it is the advantage of strict legislation and implementation."
He said this also explained why China was able to contain the COVID-19 epidemic in a few months, while it is rampaging in many other countries.
Malson has been known in the local art circle for his artworks coming from recyclable materials he finds in the garbage.
He said when he first moved here, he found that many local people would throw away their tables, chairs and clothes when they moved to another apartment. "They weren't broken, but just they weren't wanted anymore." Malson would usually take home these discarded items and used them in his artworks, "or I would buy them at a very low price."
He said he had spent only 15 yuan (US$2.31) for the three legs of a steel-wood table, which is among a lot of other things he has made from recycled materials after his redesigns. Malson is particularly happy with the two high-back wood chairs he picked up at a garbage dump near his studio. "A similar chair costs more than 10,000 yuan," he said. "Isn't it nice to have them here in my studio?"
Other stuff, such as armless plastic models, deserted sculpture and even keyboards abandoned by nearby factories are seen stocked in his studio, which he calls Malson Art, to be redesigned. And outside his studio are flowerpots illuminated with little colored LED lights, which he brought home after being abandoned by an LED firm in Futian District.
Malson works as a manager at the LED firm to financially support his artistic pursuits and he drives a 2,010-yuan secondhand Dongfeng minivan to commute between Futian and Guanlan every day. "This is a reward from my employer," he said. "It works for me well."
Although Malson has lived in Shenzhen since 2008, he doesn't have a lick of Chinese. But he survives when hanging out with his Chinese neighbors at local bars by using the body language and sometimes through translation apps.
Malson recalled a funny encounter two years ago when he tried everything he could to talk a middle-aged Chinese woman to help him run a garden he built on a piece of deserted land parcel he rented in the village. "She kept shaking her head and said 'ting bu dong, ting bu dong (I don't understand),' when I tried to explain to her what I wanted," he said. "But I tried, and tried, and in the end, with the help of a translation app, she understood."
Malson said he enjoys chilling out in this border village between Shenzhen and Dongguan when he doesn't work. He said he doesn't expect to make money with his artworks at "Malson Art."