VISUAL artist Marcin Porebski from Poland has found his path to joy and freedom long ago, and he has been sharing it with people, first with his students and now with a larger audience in Shenzhen.
"I feel free when I am creating. When I immerse myself in the art world, I feel connected to myself, which is the greatest source of joy of life to me," he says.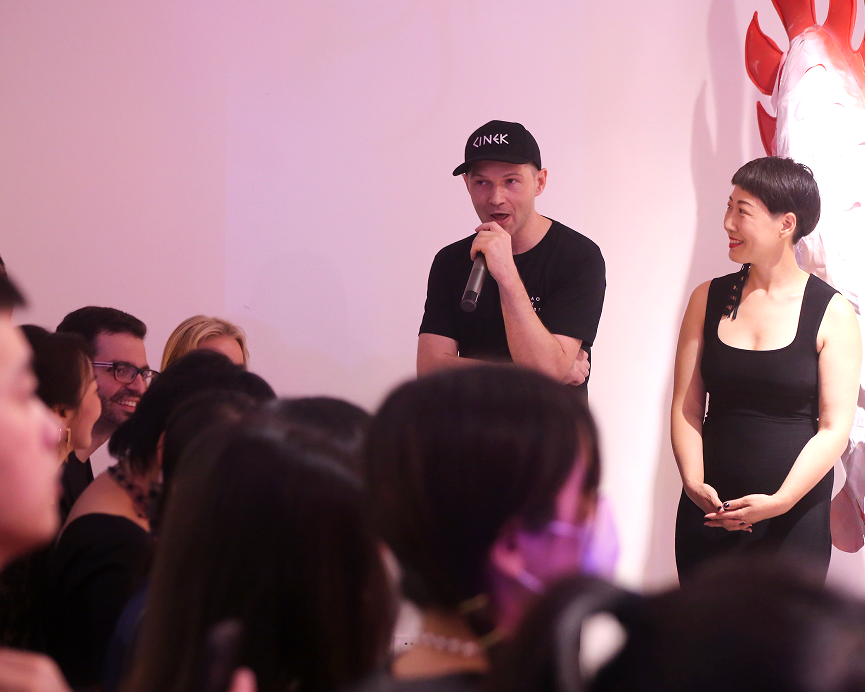 Marcin Porebski
The 37-year-old artist, who spent the last three years mainly as an art teacher in Shenzhen, just last week concluded his eco art exhibition "CINECK — Connect with Yourself" at the AN+ Art & Design Center at PAFC Mall in Futian. Presented in the forms of collages, paintings, sculptures and installations, dozens of environmental artworks made of recycled plastics, paper, metal and even trash were on display. The 36-day exhibition attracted more than 3,000 visitors and drew the attention of over 200 key opinion leaders, whose rave reviews and recommendations helped spread the artist's name to a wider range of audiences on the internet.
Agnes Bao, curator of the exhibition as well as Porebski's wife who is also a fashion designer, described the exhibition as "a journey of the artist."
The exhibition began with paintings of Porebski's cartoon images as a child, with the most eye-catching one being a massive printing on the floor that depicted a smiling blond boy wearing an astronaut's helmet, floating in the air, eyes closed and a hand holding tight to a koi-fish kite. "That's me when I was a boy, always full of imagination, dreams and passions, as every child would be," Porebski said. But as he grew up, he found these characters slowly fading away. "I was fortunate enough to find that art is the bridge to connect me with my inner child, which can set my mind free and reignite my passions," the artist said. One of the messages of the exhibition, named after Porebski's childhood nickname Cineck, is to share with the audience his reflections on the choices of responses to the delicate body-and-mind balance in this rapidly changing world.
Jokingly calling himself "a small-town boy," Porebski lived in a quiet city bordering Germany in Poland before he met his future wife Bao in a trip to Thailand in 2014. Attracted by the charm of this Oriental girl from Shenzhen, he followed Bao to Shenzhen after she finished her study in Polimoda Fashion School in Florence, Italy. Porebski described his first impression on Shenzhen as "shocking" and confessed that life in Shenzhen was challenging. "I was shocked by the huge crowd of people I saw, and I am still learning to adjust to the chaotic and busy life here," he laughed.
But the artist soon sought out artistic inspirations from his new experiences. Disturbed by the overuse of plastic products he saw during the nationwide lockdown in early 2020, Porebski, trained as a professional in creative art education, set out to make art pieces that delved into his feelings about the fragile human-nature relationships.
As Spanish artist Salvador Dali said, a true artist is not one who is inspired, but one who inspires others. Bao made sure that Porebski's and her considerations on the social responsibilities as artists were appropriately presented in the exhibition. "We want to remind people of a serious issue the world is facing today: pollution. And here we try to encourage creative ideas that turn trash into art," Porebski said. In his eyes, Shenzhen is a good place for art education: "The cutting-edge technology industry here offers plenty ideas of solutions to the problems we are facing today. I see a lot of opportunities and much room for growth here."
The exhibition ended with a giant dragon, a 22-meter-long installation made with cloths that are sprayed to look like the colors of the rainbow, sprawling in the air against the backdrop of a red-and-yellow cloth. The artist painted the dragon's head and tail with white and red colors. "This is a work in which I show my respect to China and my nostalgic feelings for my home country Poland," Poresbski said in a low voice, explaining that while red and yellow colors are symbolic in China, red and white are the de facto national colors of Poland. His plan to visit home has been disrupted by the ongoing COVID-19 pandemic. "It's a long journey away from home, but I am lucky to have my wife with me along the journey," he said, attributing much of the credit of the exhibition to Bao. "This exhibition, held in the fourth-highest building in the world, would have been a dream to me without her as well as the openness of the city."
The eco exhibition was the couple's second public show in Shenzhen. Other than showcasing their own works, the couple is also keen on the idea of bringing in more avant-garde art events as well as promising young artists to push the boundaries of ideas and creativity in Shenzhen's art scene.