If you attend Ushakova Anna's Latin dance classes, you will definitely be lured by her beautiful, expressive and attractive movements and may wish that you could dance like her one day.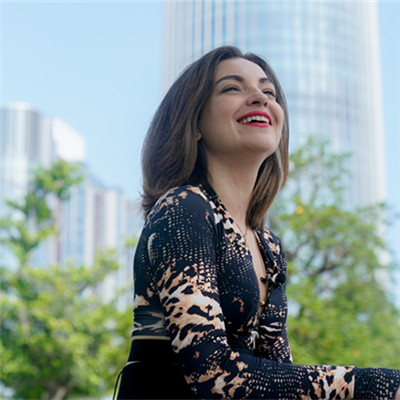 Ushakova Anna
"They say that a person lives while he moves. Dancing is not just a simple movement, but a movement of the soul and body in their harmony. I love dancing because dance for me is an opportunity to be in harmony with myself ... and even with those who are next to me," said the 32-year-old Ukrainian Latin dancer, who teaches five dances — Cha Cha, rumba, samba, jive and paso doble — at Gang Long Dance.
Ushakova moved to China in 2016 with her husband Zarudniev Ievgen, who is also a Latin dance teacher, and they settled down in Shenzhen in 2019.
Unlike other dancers who usually start learning dancing when they were kids, Ushakova began to learn Latin dances when she was already an adult. At that time, she was dating her husband Zarudniev who started learning dancing at the age of 8.
As an adult, it was not easy for Ushakova to learn dancing compared with kids. But after intensive learning day by day, she picked up quickly and after one or two years, she already joined couples' dance competitions with Zarudniev.
The "late learner" has garnered many prizes with her partner, including the third place at First Capital competition in Kharkov, Ukraine in 2010, first place at Yalta Cup in Yalta, Ukraine in 2013, first place in professional Latin category at 2016 China Wuhan World Dance Open and third place at 2016 Asia Pacific Latin Championship in Ningbo.
As an inherently active person, Ushakova loves her job as a dance teacher. "Dance teachers have a very busy life. They don't sit in the office. Their job is about constant communication, rehearsals, training and trips. I am a person who always needs to be active, so I decided to become a dance teacher. Communication with children inspires me and makes me happier."
"Every teacher has a different way of teaching. Anna uses more body movements, and kids can quickly understand," said Zarudniev.
Not only kids love her classes, adults also appreciate her meticulous way of teaching.
"She pays attention to all the details, correcting our foot and leg movements and teaching us how to move our hip and head, as well as adjust the facial expressions. Students like her very much. She has attracted many students to come here. Students from Nanshan and Futian all come to join her class," said Li Weihong, who has been taking Anna's classes for three years.
At the beginning, the couple worked in other cities in China and had opportunities to travel to many other cities across the country. After visiting Guangdong a couple of times including Guangzhou, Shenzhen and Dongguan, they were attracted to the place and waited for an opportunity to come and work here.
"We liked this place and decided we must work here if we got an opportunity. It's a beautiful place," said Ushakova.
However, it's not very easy for Latin dancers to find a job here as in Shenzhen this field is quite competitive. "More foreigners try to come to Shenzhen. It's more competitive than many other cities in China," said Zarudniev.
"Chinese dance teachers are also at high levels. So, it's difficult to find a job in the field of Latin dances here," Ushakova told Shenzhen Daily.
In Latin dances, apart from the competitiveness, the couple said that Shenzhen is different in other aspects as well. Here, not only kids learn Latin dances, but also adults. "They not only take dancing as a hobby, but also go for competitions, dancing together with teachers in competitions," said Ushakova.
According to the couple, Latin dancing has developed quickly in China over the past 10 years and now there are many high-level Chinese Latin dancers on the world stage.