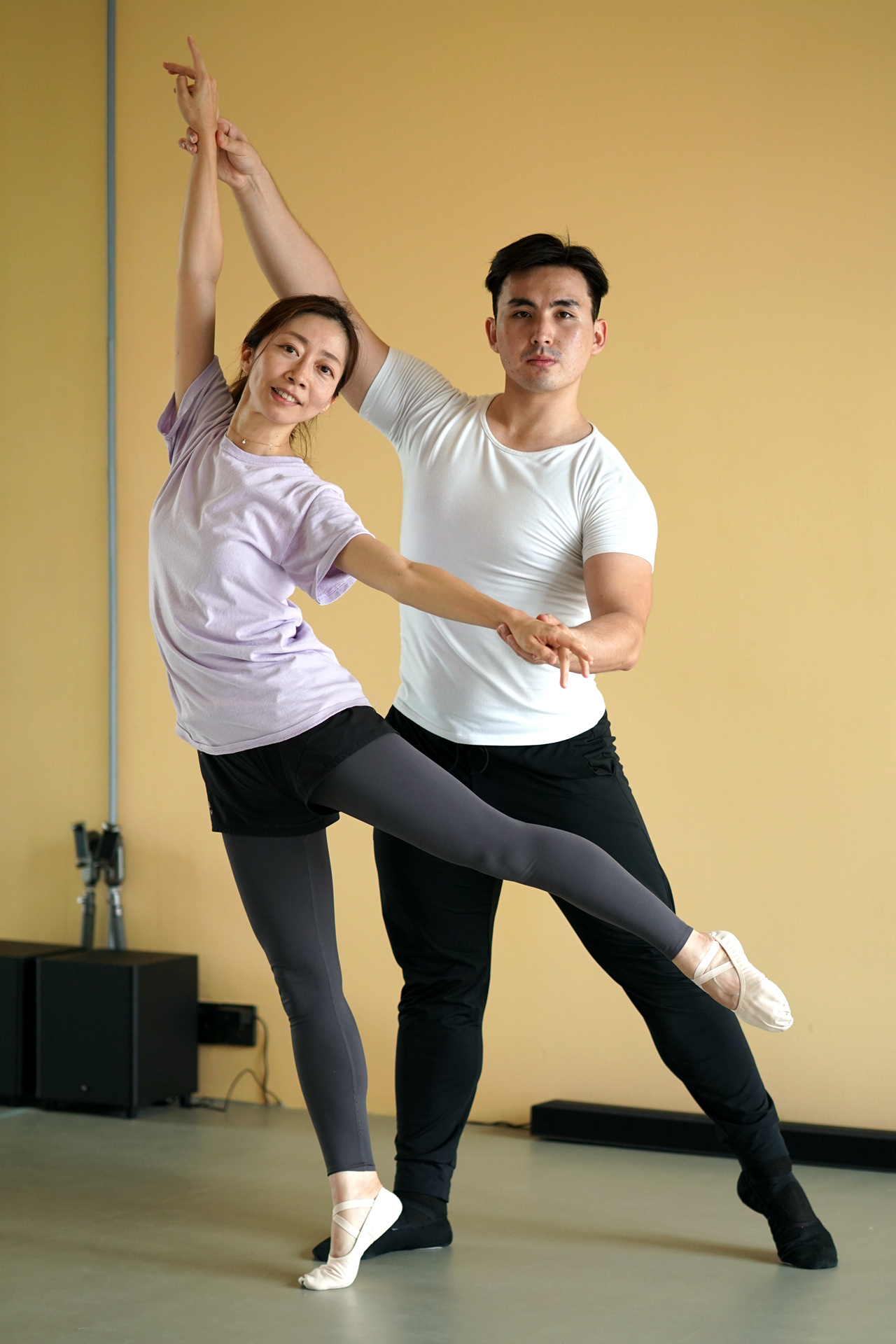 Keneshbek Abdiev (L) poses with his Japanese student Ryoko Nakamura at Bravo Ballet studio in the Shekou Net Valley area in Nanshan District. Wang Haolan
At an office building in Shekou Net Valley in Nanshan District, visitors would be surprised to discover a ballet school, called Bravo Ballet, nestling among high-tech enterprises.
Walking through a short corridor, they would be dazzled by a sunlit dance studio with floor-to-ceiling windows. Under the teacher's instructions in French, a group of students with their upright postures and elegant movements were casting silhouettes on the floor as they practiced to classical music.
The bijou studio is where Kyrgyzstan ballet dancer Keneshbek Abdiev's dream took off: starting a business to teach authentic Russian Classical Ballet and planting seeds for the art of ballet in Shenzhen.
"Russian Ballet is a mixture of three ballet styles: Italian, French and Danish," Abdiev explained. "Our lessons are based on the Vaganova method, which is the most widely used training system to teach students from basic to advanced levels step by step."
Talking about why he chose Shenzhen to set up a company, Abdiev told Shenzhen Daily that the idea originated from a trip, saying that "I was then impressed with the city's youth, which is like me."
"Shenzhen is the only Chinese city where you don't need social connections. Even nobodies can make a big difference here with their intelligence and capacity," he added.
The 24-year-old young ballet dancer was born to an ordinary family in the rural areas of Bishkek and when he was 14 he started learning ballet at the Bishkek choreographic school of Bazarbaev.
Abdiev described how the learning process was filled with sweat and tears. "The school doubted my capacities for ballet at first, saying that I was fat, unfit and too old to learn ballet," he recalled. "It took me seven years to develop the suppleness, shape, and strength of bones and muscles necessary to handle the physical demands."
Eventually, the one without the ideal ballet body proved himself. Abdiev won first prizes in many international competitions and also serves as the principal dancer for two Russian ballet companies: the Moscow State Ballet Theater and Saint Petersburg Ballet Theater.
As a soloist for a world tour organized by the Moscow State Ballet, Abdiev visited China in 2018 and fell in love with the country. He moved from Moscow to China in 2019 and settled down in Shenzhen last year as the city is still a virgin land for Russian Ballet.
Besides teaching lessons to both children and adults, beginners and ballet enthusiasts with some dance background, the professional dancer planned to organize a Swan Lake show and international ballet competitions in Shenzhen in the future.
"I am doing my best to help Shenzhen people understand, feel and love ballet. Shenzhen needs ballet. By experiencing the art, they can discover the beauty of Russian Ballet," the promising danseur explained.