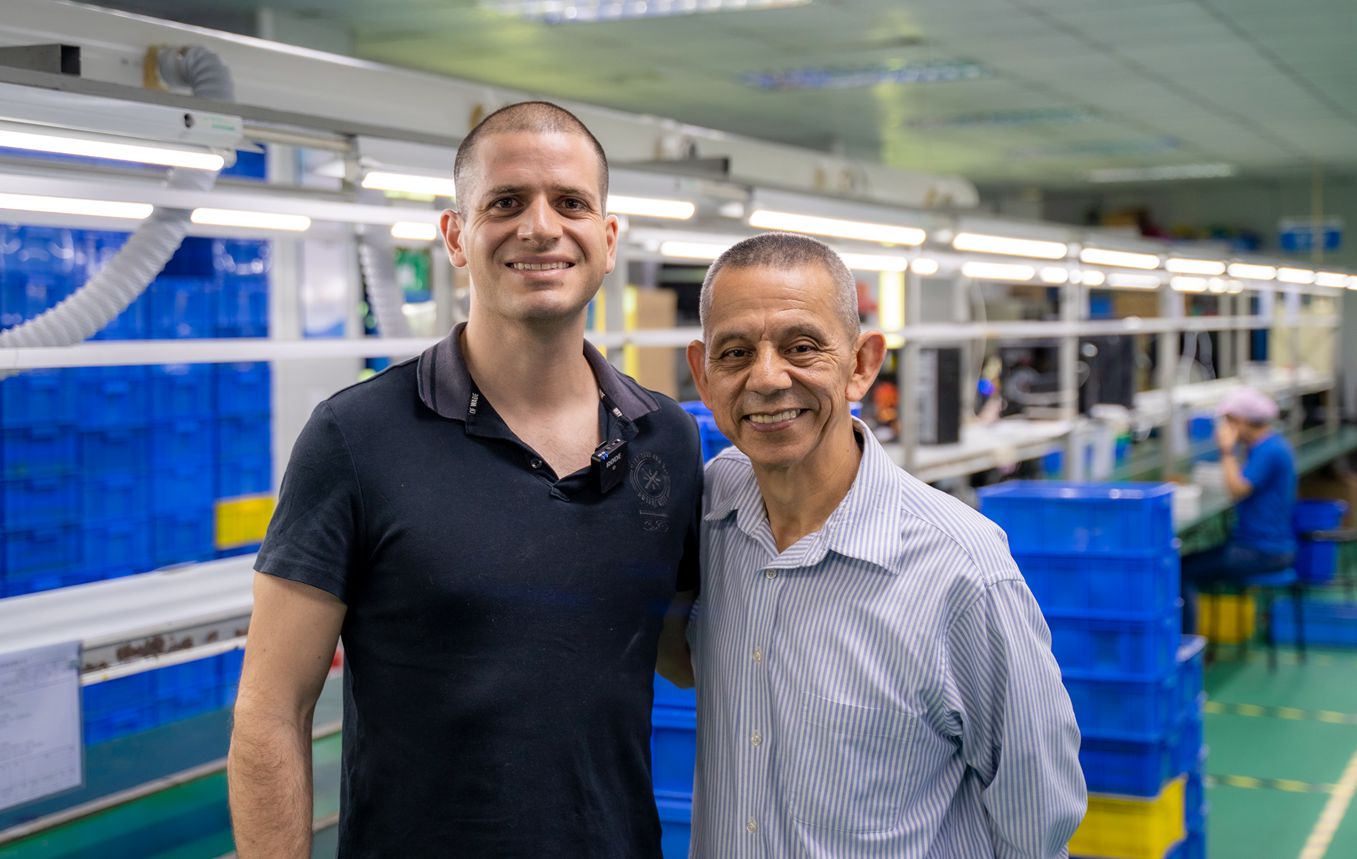 Carlos Enrique Berreondo Quezada (R) and Néstor Quispez-Asin
THOUGH they come from two different Latin American countries, 62-year-old Carlos Enrique Berreondo Quezada from Guatemala and 36-year-old Néstor Quispez-Asin from Peru ended up in Shenzhen because of the same dream: establishing a company in China to develop their own brands.
And their dream came true. They established their company in Bao'an District under the auspices of the prestigious Peruvian company and leading computer equipment wholesaler Grupo Deltron Perú. Their company, Shenzhen MicroSource Electronics Co. Ltd., is dedicated to the production of tablet computers and other electronic products. In recent years, the company has exported many products from its own brands.
The two entrepreneurs have one thing in common: both came from families whose business is distributing electronic products, one in Guatemala and the other in Peru.
"Our company was born from our experience as distributors. Mr. Carlos' family runs the same business in Guatemala. They distribute computer products, so it's very interesting because both Mr. Carlos' and my family have similar experiences through the years and we have shared one dream to have a company here in China and develop our own brands," said Néstor Quispez-Asin, the company's managing director, who came to Shenzhen in 2016 to work for his family's business.
Berreondo Quezada, the company's CFO, was previously a public accountant and auditor. He graduated from the University of San Carlos of Guatemala, where he also once worked as a professor. After that, he devoted himself to business.
"In 1986, my brothers and I founded our first business, a family business in computers. The company is still running and has a history of over 30 years in our country. It can be said we are pioneers in computers in Guatemala," said Berreondo Quezada.
As electronic equipment importers in Guatemala, they used to import products from the U.S. "At that time, we decided to take a leap to come directly to the place of production. So, we started to come to China in 1996. Since then, we came to attend the Canton Fair in Guangzhou [, the provincial capital of Guangdong,] every year. That was how I got to know more about Shenzhen," the Guatemalan entrepreneur recalled.
In 2013, Berreondo Quezada had some discussions with his friend Néstor Andrés Quispez-Asin Serna, father of the young Néstor Quispez-Asin and CEO of Grupo Deltron Perú and its Shenzhen company. And they decided to open a factory in Shenzhen.
"Micro-components such as chips, motherboards, LCD screens ... everything that makes up tablet computers, the core of our work, are easier to find here. In addition, it is close to the ports, may it be the port in Hong Kong or Yantian, for convenient cargo transport. Banking is also convenient and efficient, which promotes trade development. It's easy to do business in the Greater Bay Area," Berreondo Quezada commented.
Grupo Deltron Perú is a distributor of third-party brands such as Lenovo, Hewlett-Packard and Toshiba. At the same time, it's also developing its own brands. "But since I started working, our dream is to create our own brands with competitive costs and excellent quality. So, we always wanted to come to China to achieve this goal," Néstor Quispez-Asin said.
The company in Shenzhen develops its own brands and also makes products for other Latin American brands. The company is committed to the design and production of tablet computers. "We have produced many different products for various entities including governments, retail products, educational products and branded OEM products for other countries," Néstor Quispez-Asin said.
The factory in Bao'an mainly produces tablet computers, but it also entrusts other factories in China to produce other products. "For example, we entrust other suppliers to produce all these laptops, monitors and phones — whether they are smartphones or feature phones. So, we have two business types: one is in trading, and quality control and quality assurance for products of our own brands not produced here, and the other is producing tablets in this factory," Néstor Quispez-Asin said.
As time passes, the company continues to grow and has become a leader in several products in Latin America, especially in Peru.
"The realization of our dream is a continuous process," the Peruvian entrepreneur said.
They are selling their own brands mainly in Peru, but since last year, they have already started selling in other Latin American countries such as Ecuador, Guatemala, Nicaragua and Colombia. "We are gradually expanding our own brands to the rest of Latin America," Néstor Quispez-Asin added proudly.