Classical music has its beauty in precision, order and structure. Romantic music, on the other hand, often features more improvisation, is more expressive and often focuses on emotion. It can also be more melodic and harmonious than Classical-era music.
This Friday night, the Shenzhen Symphony Orchestra (SZSO) will perform a concert titled "Rhythm vs. Tone," presenting masterpieces from both Classical and Romantic eras. Under the baton of Lin Musen, the resident conductor of the Chengdu Symphony Orchestra, the concert will feature SZSO flutist Rao Dan and harpist Peng Jia as soloists.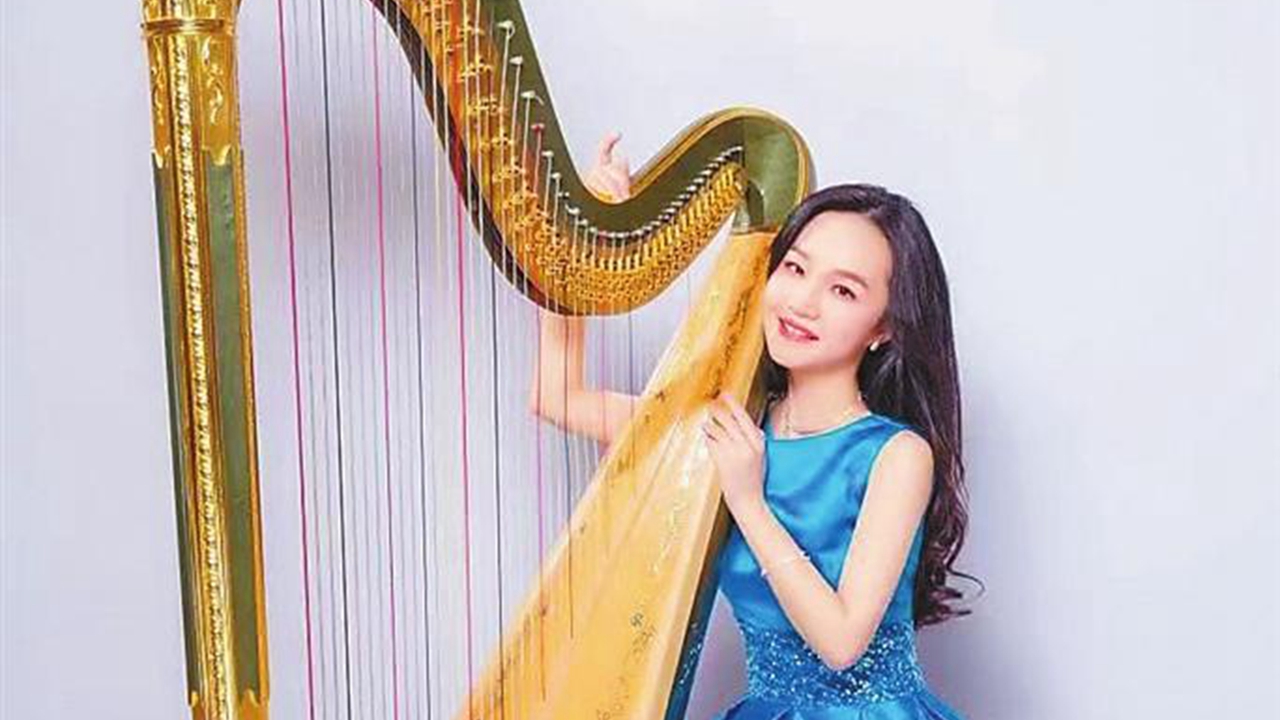 Peng Jia File photo

The program will include "Academic Festival Overture, Op. 80" by Brahms, "Symphony No. 4 in D Minor, Op. 120" by Schumann and Mozart's "Flute and Harp Concerto in C Major, K. 299/297c."
Composed by Brahms for the occasion of his receiving an honorary doctorate of music from the University of Breslau, the work was first performed in 1881. Brahms, one of the greatest living composers at the time, however, had not attended college. Instead of a solemn piece suitable for the ceremony, Brahms crafted what he described as a "rollicking potpourri of student songs."
To the amusement of the assembled students at the ceremony, and perhaps reflecting the delight of the composer himself, the overture showcases four beer-hall songs well known to German college students.
In a wonderful scene from the 1984 Milos Forman film "Amadeus," the jealous Salieri sees the score of Mozart's "Flute and Harp Concerto" and is simply bowled over, incredulous at how divine the melody and orchestration are. He's right.
The central slow movement must surely be one of the most glorious melodies not just in Mozart's output but, perhaps, in all music. Originally written for a performance by Duc de Guines and his daughter, it represents the only time Mozart ventured to write for the unwieldy harp. The piece composed in 1778 is one of only two double concertos.
Despite his lifelong struggle with depression, Schumann wrote "Symphony No. 4 in D Minor, Op. 120" in the happy years after his marriage to Clara Wieck, the gifted pianist daughter of his piano teacher.
In 1840, the year of the marriage, he wrote some 120 beautiful songs. Then he wrote a symphony in B-flat that he named "Spring," and started work on a second symphony, which was not completed until 10 years later and became his fourth.
Written in D minor, this is thought of as the most romantic of all Schumann's symphonies. This piece set an excellent precedent of theme variation and two motifs can be heard from beginning to end.
Time: 8 p.m., June 24
Tickets: 50-880 yuan
Booking: WeChat account "szyyt_piao"
Venue: Shenzhen Concert Hall, Futian District (福田区深圳音乐厅)
Metro: Line 3 or 4 to Children's Palace Station (少年宫站), Exit D