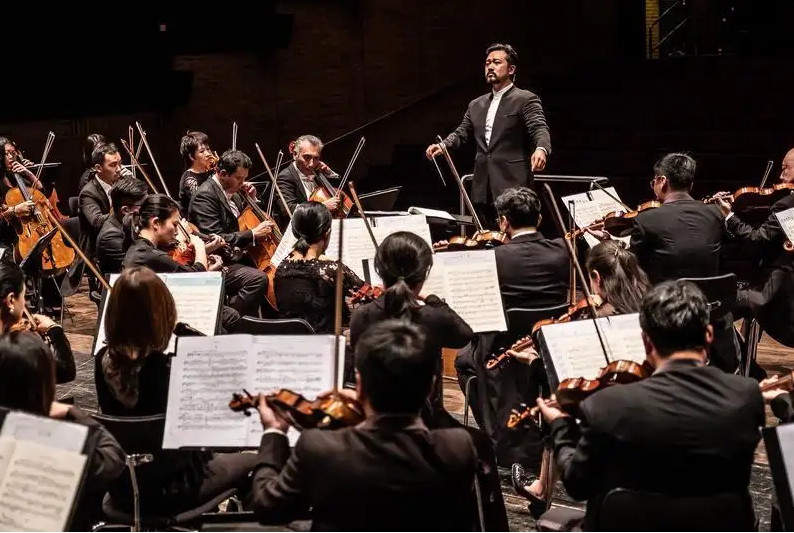 Lin Daye conducts Shenzhen Symphony Orchestra (SZSO). Courtesy of SZSO
This coming Saturday, under the baton of Shenzhen Symphony Orchestra (SZSO) artistic director Lin Daye, the orchestra will perform the closing concert of their 2021-2022 music season.
The program, consisting of Mahler's "Symphony No. 7 in E Minor," will be repeated at Guangzhou's Xinghai Concert Hall the following night.
Noted for his 10 symphonies and various songs with orchestra, Mahler drew together many different strands of Romanticism and had huge influence on such composers as Schoenberg and Shostakovich that came after him.
Mahler's "Symphony No. 7," also called "Song of the Night," is probably the least performed of all his symphonies, perhaps because of its widely recognized "elusiveness." Zubin Mehta called it "the most difficult piece I've ever conducted," and Valery Gergiev, who received rave reviews for his rendition of the piece with the London Symphony Orchestra, said he had hesitations about conducting it.
"Symphony No. 7" is often regarded as Mahler's "Cinderella" symphony. After the tragic theme of "Symphony No. 6," it proves far more enigmatic. The funereal march of the opening movement gives way to the serene Nachtmusik (night music) movements, and a ghostly scherzo before culminating in a feverishly joyful finale.
It is a tough choice for conductors because few could create excellent yet tightly controlled and coherent renditions of this sprawling five-movement piece that runs for 80 minutes.
It would hardly seem as direct and powerful as its predecessor, the "Symphony No. 6" ("Tragic"), which most conductors take at face value and frequently present satisfactory results.
Mahler himself conducted the premiere of "Symphony No. 7" in Prague in 1908 to an audience that was confused by the work. The piece remained unpopular for a while because of its incoherence. More recently conductors have experimented with a range of interpretations of the work, especially of the tempo of the finale, and the work has thrilled more audiences worldwide and has become more popular.
It is possible to appreciate the work in a straightforward way, if one is open to discovering that this big-hearted post-Romantic masterpiece, moving from darkness to light, illustrates the pure exhilaration of life on Earth.
Time: 8 p.m., July 16
Tickets: 50-880 yuan
Venue: Shenzhen Concert Hall, Futian District (福田区深圳音乐厅)
Metro: Line 3 or 4 to Children's Palace Station (少年宫站), Exit D