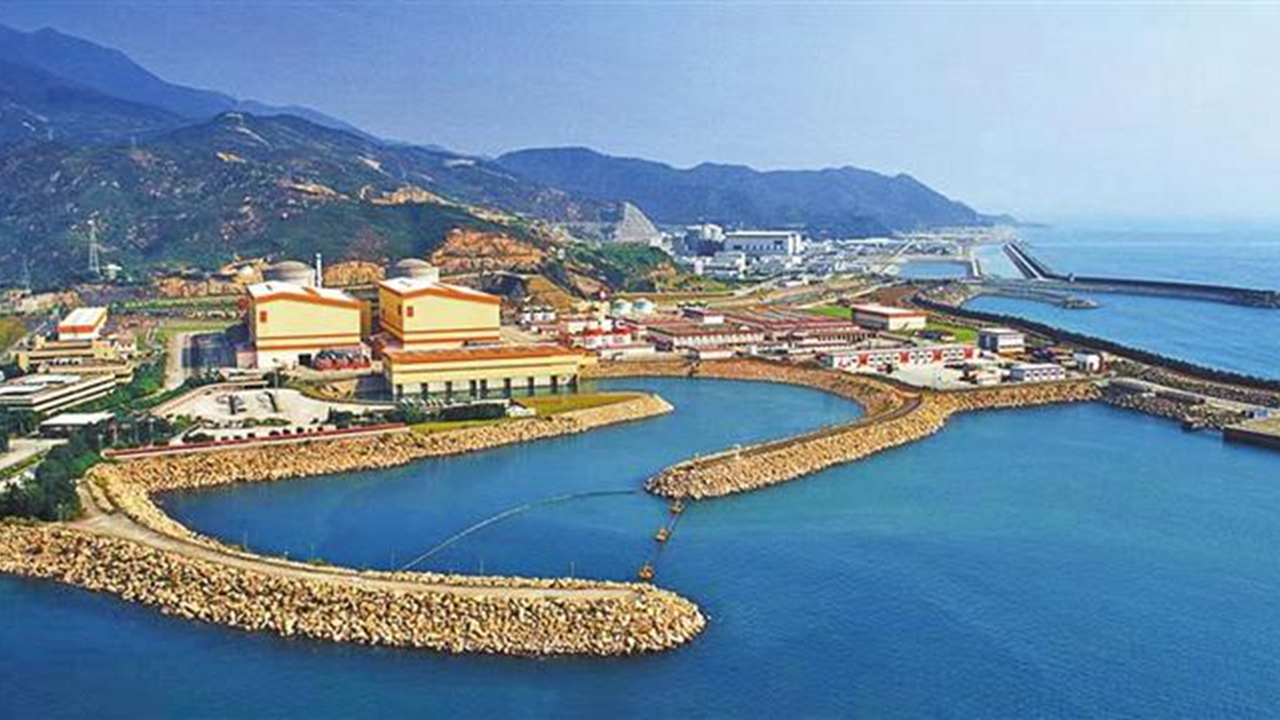 An aerial view of Daya Bay Nuclear Power Base. Courtesy of Daya Bay Nuclear Power Operations and Management Co. Ltd.
The set of data is impressive and makes all Daya Bay Nuclear Power Base staffers proud.

As of June 30, 2022, the six gigawatt-level units of Daya Bay Nuclear Power Base including Daya Bay Nuclear Power Plant and Ling'ao Nuclear Power Plant (Phase I and Phase II) had produced 868.6 billion kWh of electricity, of which 292.4 billion kWh of electricity had been sent to Hong Kong, accounting for a quarter of Hong Kong's power consumption.
Since the first unit was put into commercial operation in 1994, the base has maintained a safe and stable operation, a performance that is better than the international advanced level.
In 2021, in the 72 WANO (World Association of Nuclear Operators) performance indicators, 60 indicators of the base's six units delivered top quartile performance among its international peers and 58 indicators reached the excellence level of the world's top one-tenth.
As of July 14, 2022, Unit 1 of Ling'ao Phase I had been operated safely for 5,755 days. It kept breaking the international record of safe operation days of similar units, nearly 60 months more than its French counterpart that ranked second in the world. At present, the record is still continuing.
The set of data was shared to reporters in a media research tour July 14. The tour covered two core assets of the Shenzhen-based China General Nuclear Power Corp. (CGN) — Daya Bay Nuclear Power Base and China Nuclear Power Technology Research Institute.
"Behind these stellar figures are the unremitting efforts of generations of Daya Bay Nuclear Power Base staffers, who regard safety as their top priority and are dedicated to providing clean, efficient and reliable nuclear power to meet the power supply and energy structure improvement of the Guangdong-Hong Kong-Macao Greater Bay Area," said Zuo Yuxuan, deputy general manager of Daya Bay Nuclear Power Operations and Management Co. Ltd.
The story began from Daya Bay Nuclear Power Plant, the first large-scale commercial nuclear power plant on the Chinese mainland operated by CGN and a landmark project of reform and opening up. It is also the first nuclear power plant on the mainland built with foreign technology, equipment and funds.
On Dec. 4, 1978, after meeting with the foreign trade minister of France, Comrade Deng Xiaoping announced that China would purchase two nuclear power units from France. The Daya Bay Nuclear Power Plant project in Shenzhen was then launched.
"Shenzhen should do two things well, one is nuclear power plant, the other is Shenzhen University," Deng, the chief architect of China's reform and opening up, pointed out during his inspection of Shenzhen Special Economic Zone in January 1984.
Fast forward to almost four decades, CGN has been striving to live up to Deng's first expectation with its pioneering spirit. It has blazed a path of nuclear power independent development featuring "introduction, assimilation and innovation" and explored a safe, economical and scientific nuclear power operation plan, effectively promoting the sustained innovation of nuclear power technology and management in China.
As an important symbol of Shenzhen's reform and opening up, Daya Bay Nuclear Power Base has been growing along with the city, shouldering the important historical mission of Guangdong and Hong Kong's economic development, and continues to go from strength to strength.
Since the introduction of M310 technology into Daya Bay Nuclear Power Plant, CGN has successively developed its own nuclear power technology CPR1000 and its upgraded version CPR1000+, nuclear power technology ACPR1000 and HPR1000, a third-generation pressurized water nuclear reactor technology independently developed by China and with independent intellectual property rights.
HPR1000 is one of the most widely received third-generation nuclear power models currently on the market, adopting a single reactor layout and having a capacity to produce 1.15 GW of electricity. It has become the preferred reactor technology for China's nuclear power industry's "going global" strategy.
In the R&D and design of HPR1000, China Nuclear Power Technology Research Institute Co. Ltd. has a key role to play in technological breakthroughs. According to the institute, it has undertaken core R&D and design work such as the reactor core and fuel design, operation control and protection system design, safety analysis and serious accident mitigation, nuclear-related special design software package development and test verification.
At present, CGN is still investing heavily in the optimization and improvement of HPR1000 nuclear reactor type. The R&D and testing of related special technologies are steadily advancing.
While consistently strengthening its own technological innovation, the institute said it is also coordinating competitive resources to drive the high-quality development of the nuclear power industry, such as leading the establishment of nearly 20 industry organizations, national R&D platforms, and jointly built laboratories and fully opening and sharing high-level scientific and technological innovation facilities like Laboratory of Comprehensive Thermal-Hydraulic and Safety Research, CGN.
Additionally, through joint R&D with domestic equipment manufacturing enterprises, it will promote the continuous improvement of the manufacturing and processing level of China's major nuclear power equipment and help the country manufacture eight to 10 nuclear power reactors per year.