A report recently released by Liaowang Think Tank showed that Shenzhen ranked eighth in the country in terms of the influence of the urban nighttime economy in 2021.
The influence evaluation encompasses multiple dimensions, including innovation capacity, communication capacity, industrial size and foot traffic of business circles, the report reads.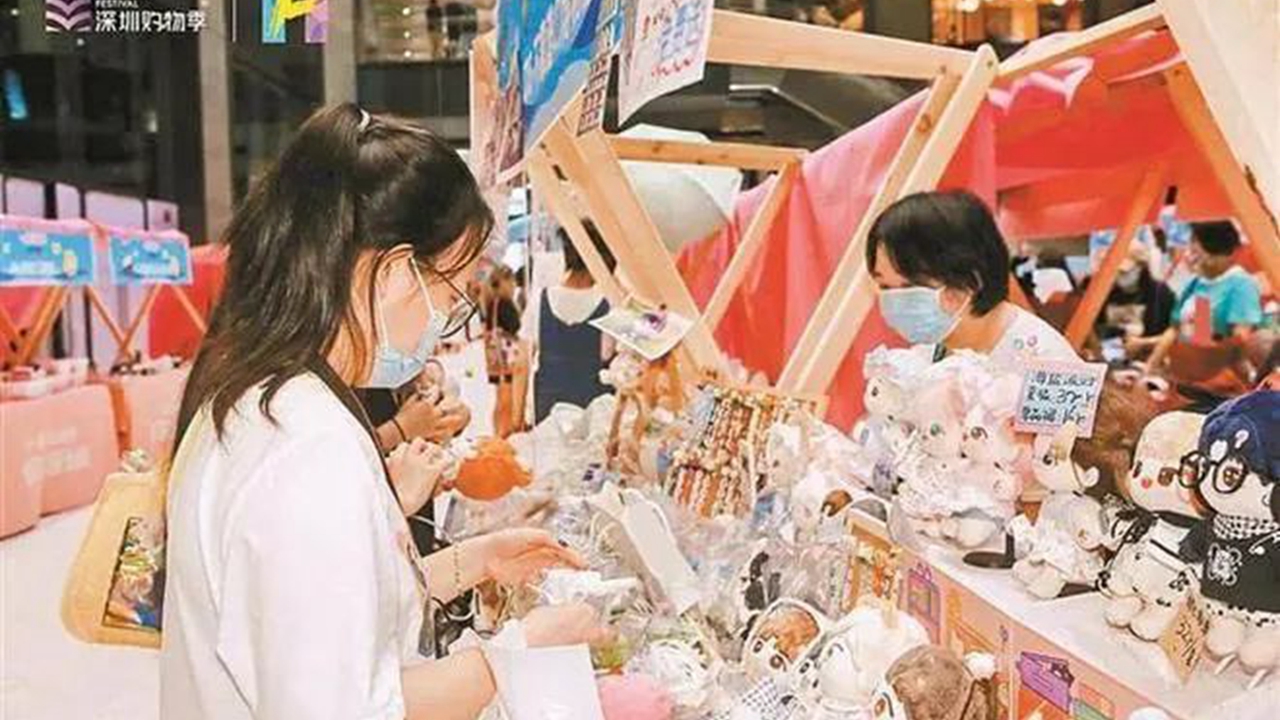 Residents shop at a night market. Xiao Han

Nighttime harbors great consumption potential as urbanites can finally slow down their fast-paced life. Eateries, malls, and scenic and other entertainment spots have been key drivers of Shenzhen's robust nighttime consumption, Shenzhen Economic Daily said.
Just as another summer night has begun, INJOY· In Future Shopping Complex at Shangmeilin in Futian District was once again flourishing with many visitors. Night markets, gourmet food and trendy shops have made the business circle popular for consumers to enjoy a relaxing night.
One waiter of a restaurant in the mall told the Daily that the business' turnover rate was high recently, with the restaurant serving three or four more times its maximum table capacity per night, as people prefer dining out on summer nights.
A resident surnamed Yang and her family opted dining out at restaurants at night. "It is summer vacation now, and my children have free time in the evening. We usually come to the eateries early. Otherwise, we have to wait in a queue. After eating, we like to go shopping in the mall, which is very pleasant," she said.
To further enhance nighttime consumption vitality and attractiveness, Shenzhen has made efforts to combine businesses with culture, tourism and sports.
Various shows and performances such as beer carnivals, light shows, magic shows, acrobatic performances, shadow plays and fashion runways have injected vitality into the Window of the World, Gankeng Hakka Town, Happy Valley, Dameisha and other tourist attractions in Shenzhen.
Guangdong's culture and tourism department has listed two of Shenzhen's tourist spots, Nantou Ancient Town and Gankeng Hakka Town, among the first seven provincial night culture and tourism consumption clusters.
Shenzhen's 14th five-year plan (2021–2025) on culture, sports and tourism development further reinforced the consumption potential of nighttime culture and tourist consumption clusters. At present, the city has over 80,000 places for nighttime spending.
Meanwhile, online food delivery platforms also saw an uptick of midnight snack orders in the city. Data from dianping.com reported that purchases made between 9 p.m. and 3 a.m. in Shenzhen ranked first among Chinese cities. The city also topped the country in the number of Taobao livestreaming's active users at nighttime.