More than 90 innovative companies in the biomedicine field have gathered at the Shenzhen Biomedicine Innovations Industrial Park in Pingshan District, seeking breakthroughs in the field of biomedical technology while growing strong, Shenzhen Special Zone Daily reported Saturday.
With over 100 staffers engaged in R&D and production, Cardiolink Science, a biomedical company focusing on minimally invasive medical intervention, settled in the park in 2016. It has obtained round D financing and is in the rapid development stage.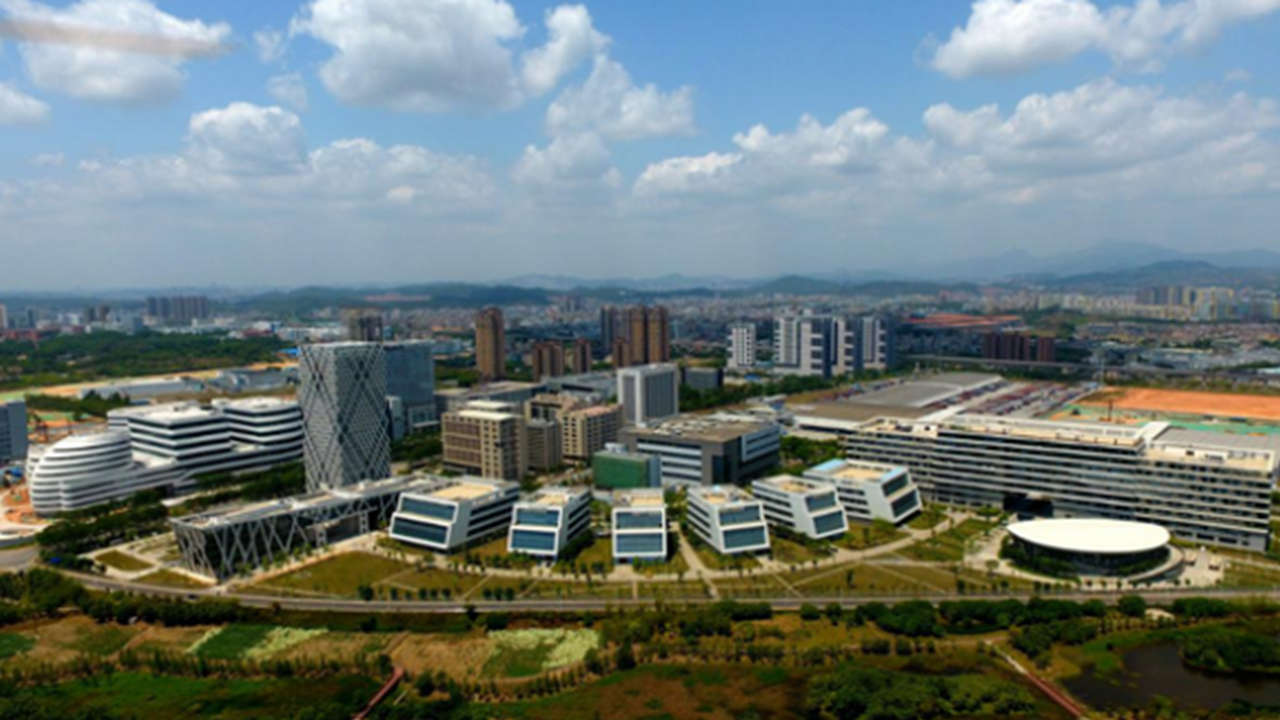 A view of the Shenzhen Biomedicine Innovations Industrial Park in Pingshan District. Shenzhen Special Zone Daily

Our United Corp., a medical enterprise focusing on innovative radiotherapy equipment, relocated one of its subsidiaries in Shenzhen to the industrial park in Pingshan from Nanshan District. The company's gamma knife has won the gold medal of China Patent Award for appearance design.
According to the company, it will build an international tumor radiotherapy industry in line with the corporation's strategic development goal in the Guangdong-Hong Kong-Macao Greater Bay Area in the next few months.
Ascentawits Pharmaceuticals Ltd., a company engaged in the R&D of small molecule targeted innovative drugs, is a new entrant to Pingshan industrial park.
At present, the company has officially launched clinical research and begun to recruit subjects in the country for its latest liver cancer targeted chemotherapeutic drug AST-3424, which means that the company has made key progress in its R&D.
Shenzhen New Industries Biomedical Engineering Co. Ltd. is a biomedical company specialized in clinical laboratory instruments and in vitro diagnostic reagents, with its production and R&D base set up in the park.
A product developed by Rao Wei, the company's chairman, has won the silver prize at this year's China Patent Award. At present, all of the company's 154 chemiluminescence detection reagents have applied patented technology. Since the technology's application in 2017, the company has achieved sales revenue exceeded 7.5 billion yuan (US$1.08 billion).
The park, invested by Shenzhen Investment Holdings and operated and managed by Shenfubao Group, is vigorously promoting its 71,000-square-meter capacity improvement project in order to accelerate the introduction and cultivation of innovative biomedical enterprises.
According to the statistics from the city's enterprise registration bureau, Shenzhen had added 322 biomedical enterprises by the end of July this year. Up to now, Pingshan has gathered nearly 1,000 biomedical enterprises, accounting for nearly 50% of the total number in the city.