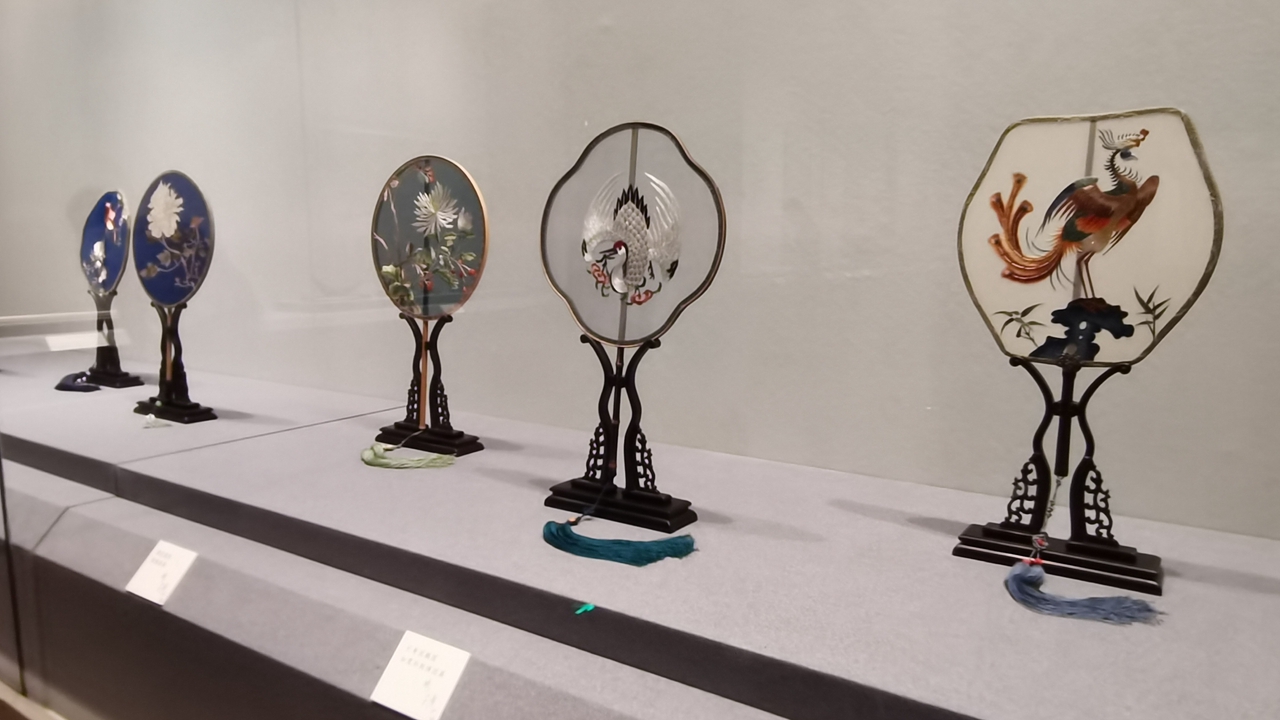 Embroidery fans are on display at Nanshan Museum. Photos by Cao Zhen
A small exhibition at Nanshan Museum, titled "Life Style in the Regions South of the Yangtze River," presents the elegant lifestyle in Jiangnan, the regions south of the lower reaches of the Yangtze River, that spanned thousands of years.

The exhibition showcases incense materials, tea sets, chinaware, guqins and embroidery fans to recreate the elegant scenes of daily life from those booming regions of cultural brilliance and social prosperity. The exhibits are modern made in the style of the ancient ones.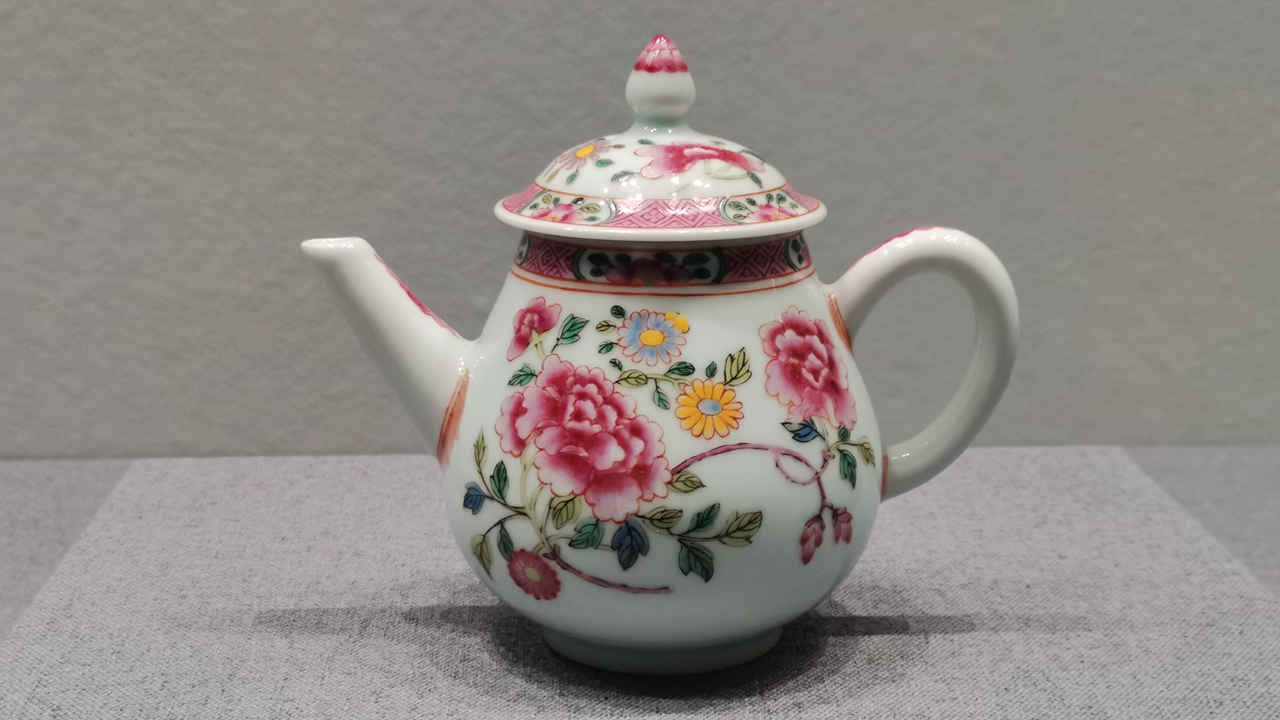 A famille rose porcelain teapot is seen. This kind of porcelain is decorated with predominantly pink enamel and was popular in the 18th century.

The Jiangnan regions, especially during the Southern Song Dynasty (1127-1279), achieved a time of widespread economic prosperity and excellence in the fine arts. All classes in the regions were in the pursuit of elegant lives, presented in architecture, home decoration, clothing, food and more. The regions had also long been eulogized by poets and artists, so this aesthetic taste had created a rich culture and can be found in literature, paintings and calligraphy.
Apart from admiring the beautiful exhibits, visitors can also have a glimpse into the ancient people's main leisurely activities: incense-burning, tea-making and indoor decor painting. Visitors can closely inspect the famous Jian ware that became important symbols of prestige in the Song Dynasty (960-1279), especially in relation to tea drinking. Some Jian tea bowls feature an amazing "hare's fur" or "oil dripping" glaze effect.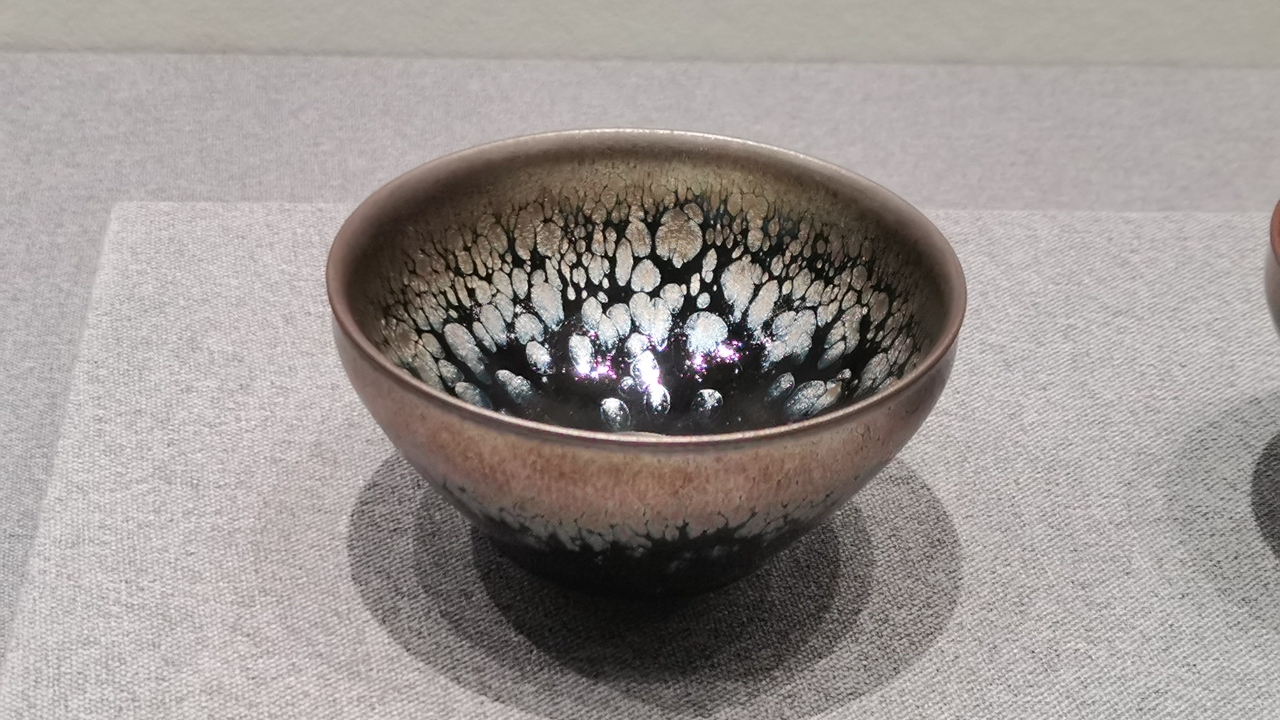 A Jian tea bowl features an amazing "oil dripping" glaze effect.

A wide variety of green and celadon porcelain wares as well as replicas of ancient paintings are also on display at the exhibition for reenactments of the lifestyle in the regions.
Dates: Until Oct. 16
Booking: WeChat "nanshanmuseum"
Venue: Nanshan Museum, Nanshan District (南山区南山博物馆)
Metro: Line 1 to Taoyuan Station (桃园站), Exit B