There are over 200 biomedical companies located on both sides of a 3.6-kilometer boulevard in Pingshan District. The boulevard is thus commonly known as BT (biotechnology) Boulevard.
BT Boulevard in Pingshan District has become a biological industrial cluster with three major segments of biological innovative drugs, high-end medical devices and biotechnology as its core.
Shenzhen New Industries Biomedical Engineering Co. Ltd. (Snibe) is one of the biomedical companies located on BT Boulevard that is specialized in clinical laboratory instruments and in vitro diagnostic reagents.
Founded in 1995, Snibe has been focusing on chemiluminescence immunoassay for 27 years and has established cooperation relationships with its business partners from over 148 countries and regions including Italy, Spain and France.
Snibe is the country's first company to receive U.S. Food and Drug Administration (FDA) clearance on chemiluminescence analysis product.
Its research results have broken the long-term monopoly and technology blockade of foreign manufacturers in the field. Snibe has now become a leader in the field of quantitative analysis of chemiluminescence immunity in China.
Li Tinghua, deputy general manager of Snibe, spoke highly of Pingshan's potential in spatial expansion and its business environment that could allow the company to concentrate on its operation and development.
EDAN Instruments, Inc. (Edan) is another company located at BT Boulevard. Edan, a health-care company, is dedicated to improving the human condition around the world.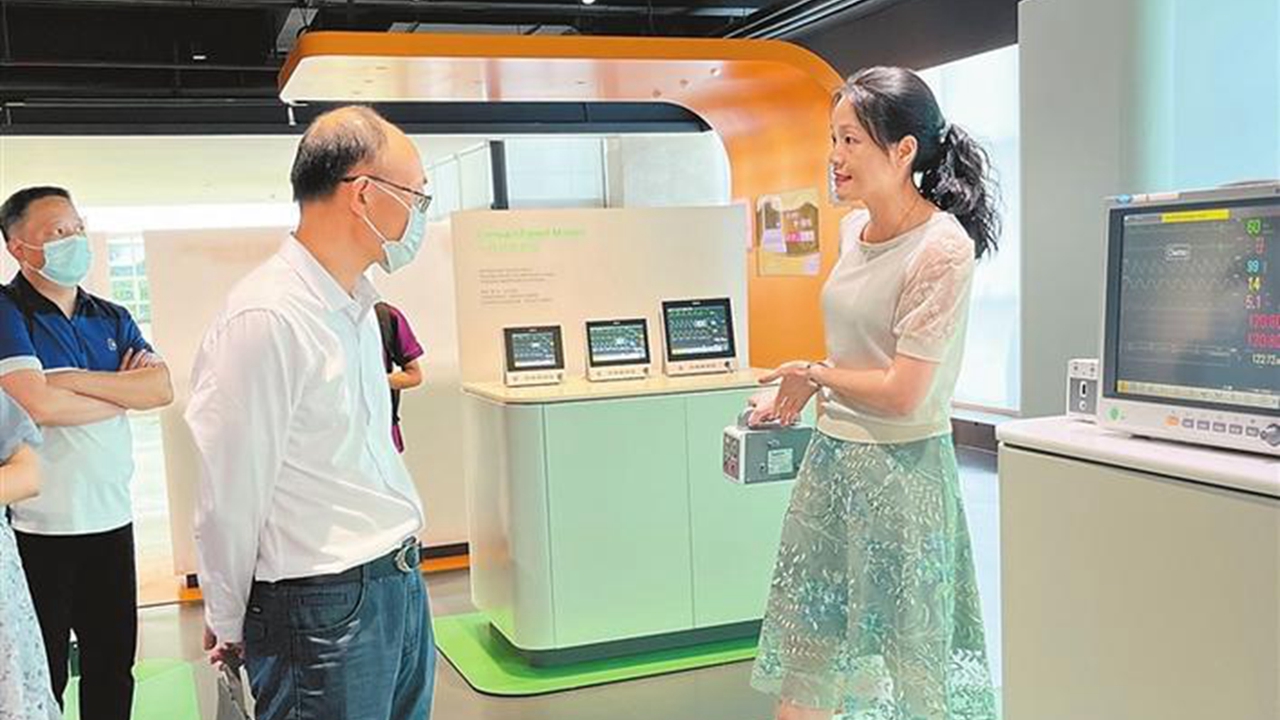 A staffer (R) from Edan introduces one of their health-care devices to visitors at the company's exhibition hall in Pingshan District during a media tour Sept. 22. Wang Jingli

Its products have been sold to over 170 countries, covering fields such as diagnostic electrocardiogram (ECG), patient monitoring, obstetrics and gynecology, ultrasound imaging, in vitro diagnostics and smart health care.
With over 20 years of experience, Edan is regarded as a pioneer in China's fetal monitor field. One of Edan's fetal and maternal monitors can obtain fetal and maternal heart rates at the same time. Its fetal and maternal monitors are being used in over 30 countries and regions, according to the company.
In 2000, Edan entered the overseas markets. Its international sales value exceeded US$200 million in 2020, and its products have been used in IASO Children's Hospital in Greece, Derriford Hospital in the U.K. and Mae Fah Luang University Hospital in Bangkok, Thailand.
Innovation is an essential factor to Edan's contributions in helping improve the human condition. The proportion of the company's R&D investment stands at around 15% to 20%, according to Zu Yudong, vice president of Edan, during a recent media tour.
Zu also emphasized Pingshan District's advantage in meeting the company's needs for industrial space.
In order to better serve medical device companies, Pingshan District cooperated with the Guangdong Medical Devices Quality Surveillance and Test Institute to set up an office in the district. The move has hugely improved companies' efficiency and reduced their costs as products had to be previously sent to Guangzhou for related checks.
Shenzhen Biomedicine Innovations Industrial Park, located at the district's national biological industry base core area, is dedicated to helping small and medium-sized biomedical enterprises grow in full swing.
The industrial park houses 97 high-quality companies, covering a floor area of 124,000 square meters. These companies generated a combined revenue of over 10 billion yuan (US$1.4 billion) in 2021, according to staffers from the industrial park.
The industrial park's third-phase project was initiated in September last year, which is expected to add 71,000 square meters of construction area year by year.
Shenzhen HwaGen Pharmaceutical Co. Ltd. is located at the park's first phase. The company is dedicated to the development and manufacturing of specialty and niche intermediates and APIs covering various therapeutic areas including oncology, antiviral and respiratory, delivering high value-added and affordable products for global pharmaceutical industry.
"Some startup companies might not be able to build a large-scale laboratory or they want to spend less to facilitate the development of drugs so we could help address issues like these," said Ye Weiping, president of HwaGen.