People from different eras have experienced childhood in different ways. Social media sometimes radiates a nostalgic vibe and a comparison of then and now, triggering some people to say "It's different in my time."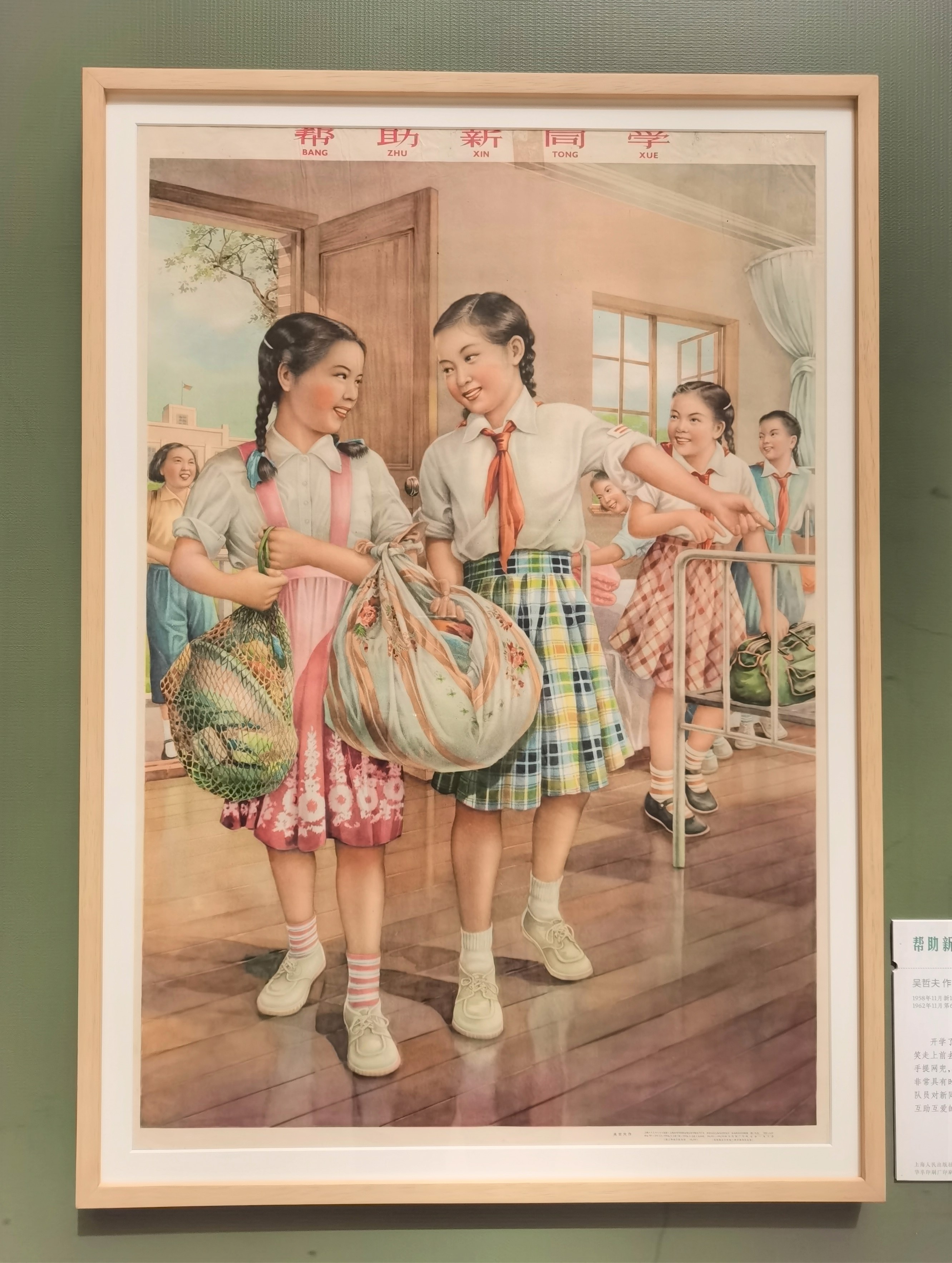 A 1958 painting portraying a student helping her classmate is on display at an exhibition at Shenzhen Museum's history and folk culture division. Photos by Cao Zhen

Now, old Chinese publicity paintings with children as subjects, created during the 1950s to the 1980s, are on display at a new exhibition in the Shenzhen Museum's history and folk culture division. Let's hop on a time-travel ride and look at that particular era of childhood.
A painting created in 1964 showcases two girls repairing a shoe.

A painting created in 1978 encourages students' all-round development.

On loan from the Dongjiangchao Red Culture Museum in Longgang District, the colorful paintings present the images of healthy, upbeat and vigorous Chinese children after the founding of New China in 1949.
These paintings' style is realistic, using bright colors to reflect the national rejuvenation and the socialist construction. The paintings functioned as inspiring posters to spread patriotism, social values and virtues. Some took inspiration from old Shanghai calendar paintings, traditional Chinese New Year paintings or ink paintings.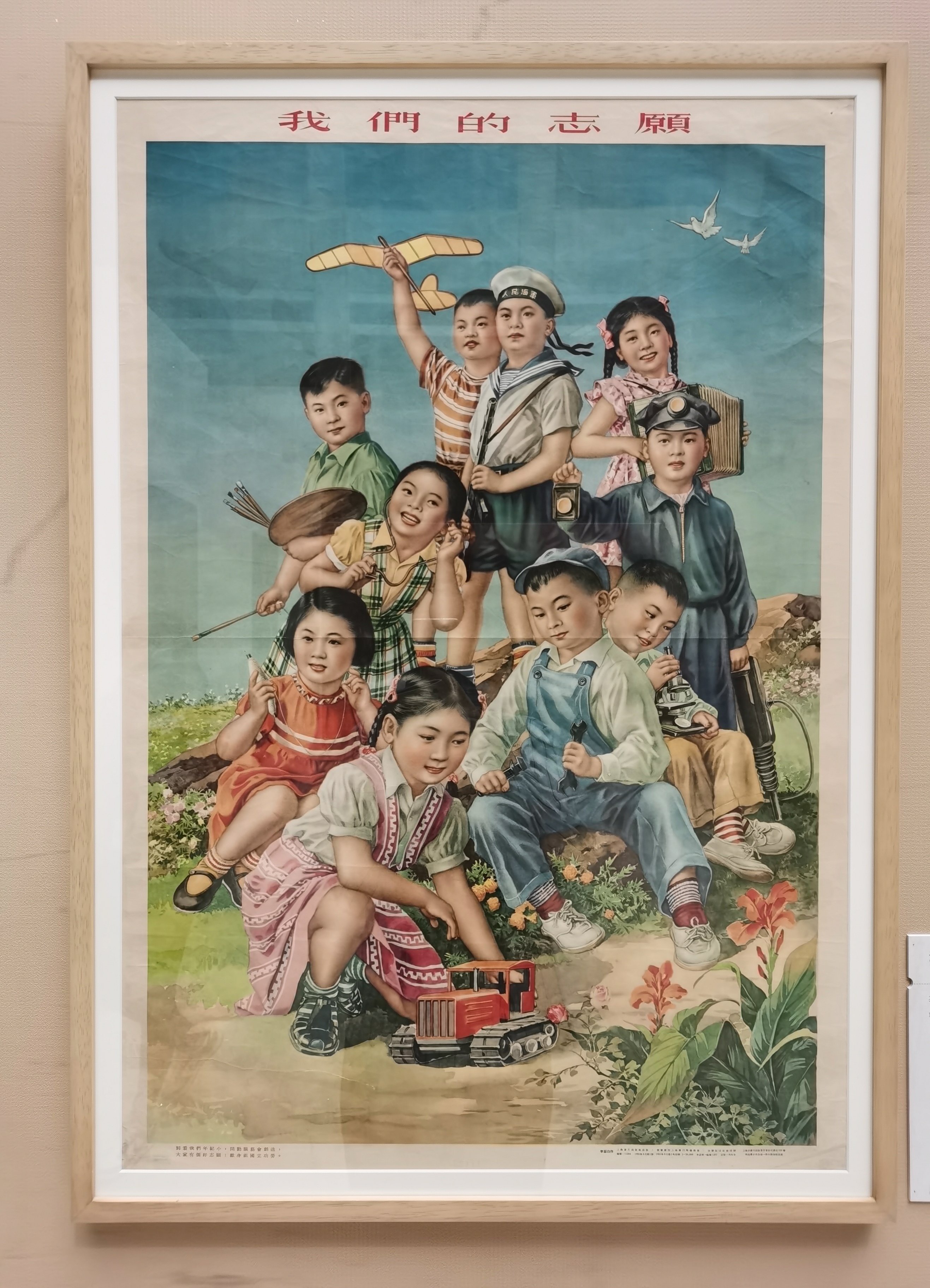 A painting created in 1955 depicts children's dream careers.

Some paintings depict children attentively listening to stories told by workers, farmers, PLA soldiers and teachers. Lei Feng (1940-1962), a role model soldier renowned for his selflessness, modesty and dedication, was frequently seen in some paintings. Many paintings portray heroes and martyrs, such as Long Mei and Yu Rong, two Inner Mongolian children who spared no effort in protecting the people's commune's flock of sheep in a snowstorm in 1964. These paintings guided children at that time to review the past, admire the heroes and cherish the peaceful life in New China.
A painting created in 1978 depicts Lei Feng with children.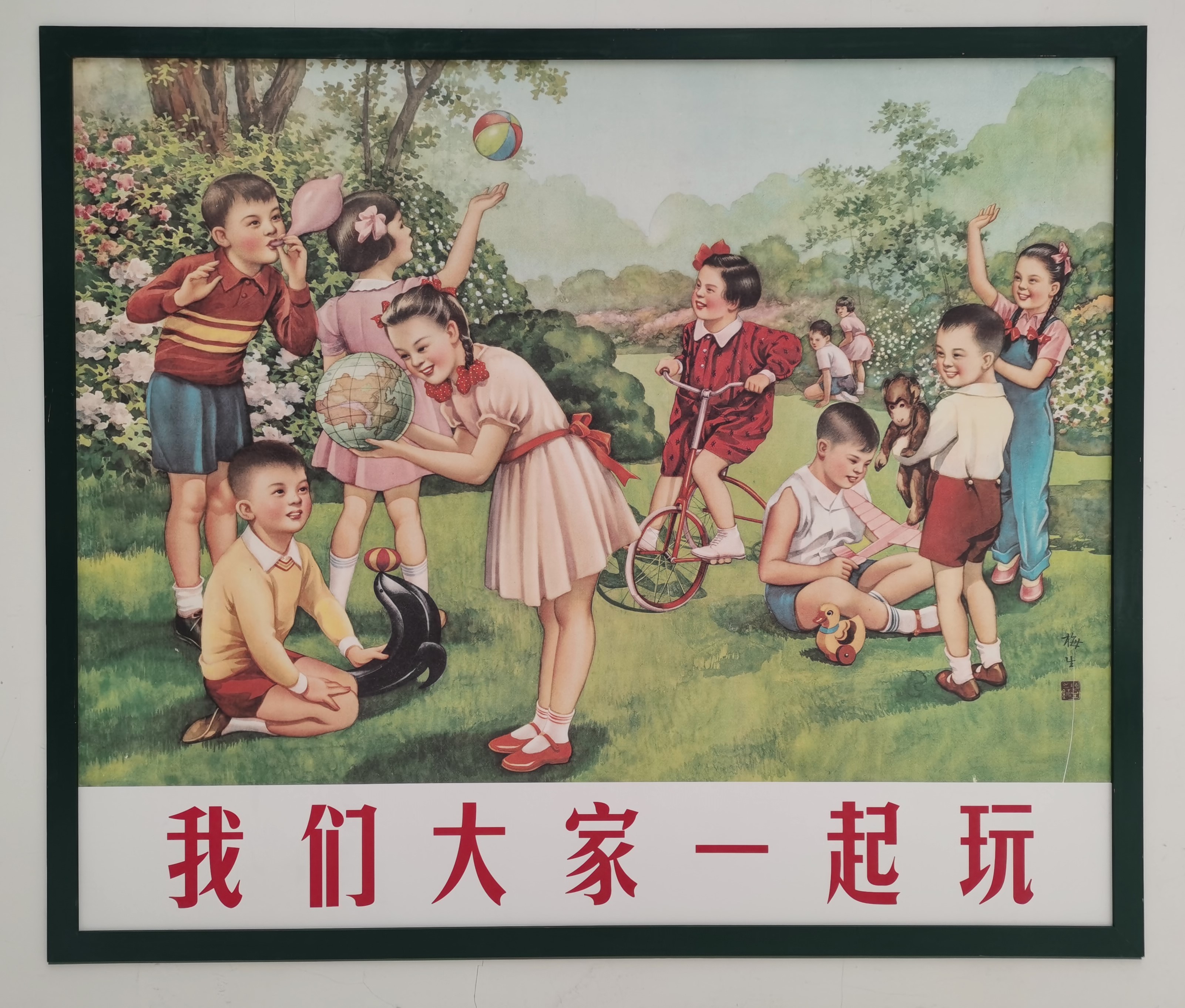 A 1953 painting portrays children playing various games.

Most of the paintings portray children's lives and studies, since equal educational opportunities were attained after 1949 and students' all-round development began to be commonly accepted. Additionally, youths' outdoor labor, games and sports, as well as home decorations, depicted in these paintings, also reflect the new values of New China and what the youths would strive to achieve in life at that time.
In this New Millennium, the Generation Zers are witnessing the burgeoning of technologies and the flourishing of social media and multiculturalism. Though the Chinese publicity paintings have now become past artifacts, their timeless beauty are still etched into the minds of many people.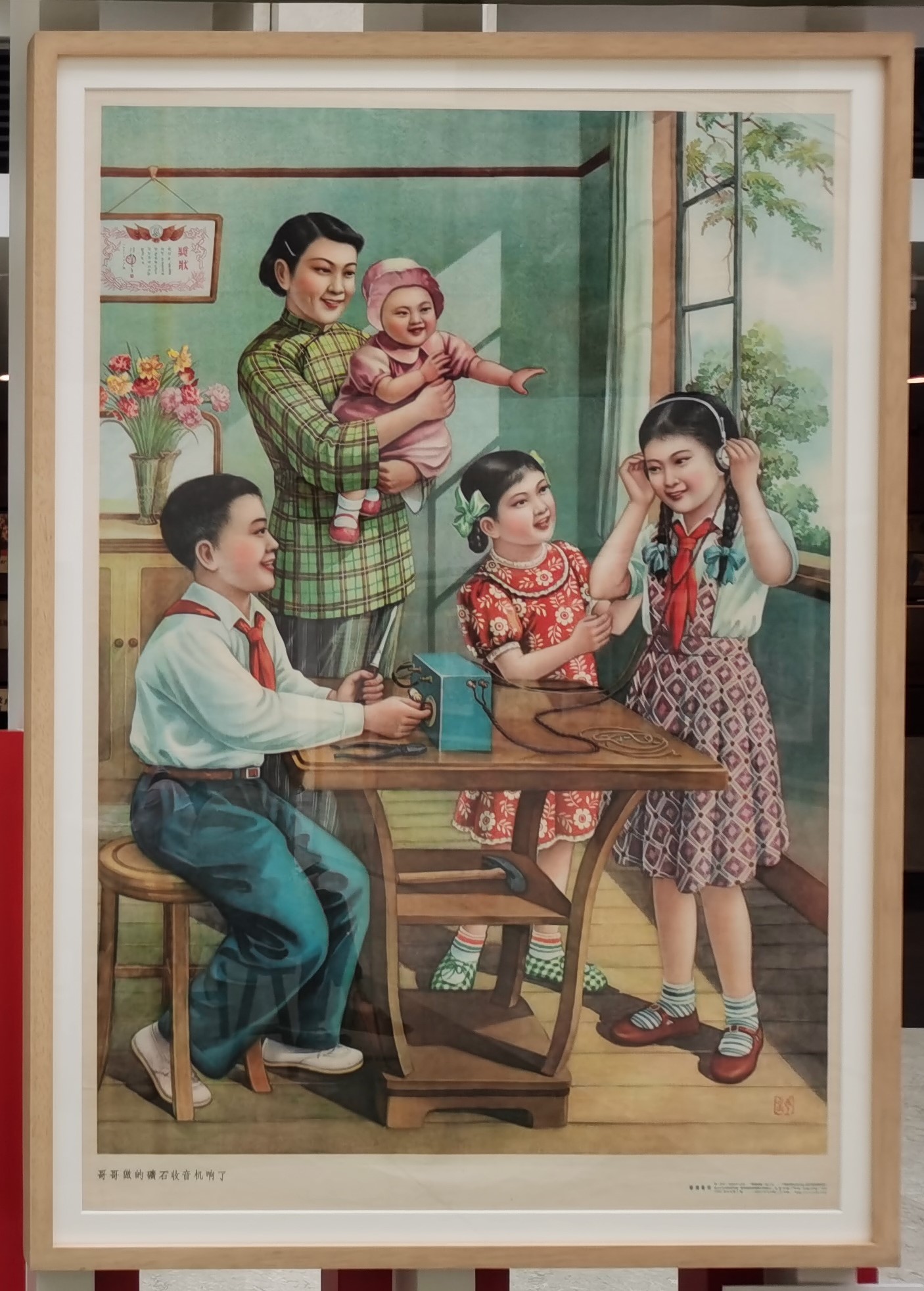 A painting created in 1957 portrays a boy testing his self-made crystal radio with his family.

At the exhibition, a corner is decorated like an old Chinese classroom with publicity paintings and slogans like "Be United, Alert, Earnest and Lively" and "Study Hard and Make Progress Every Day." Old-style desks and long wooden stools have attracted several adult visitors who would reminisce about how things were when they were small and innocent.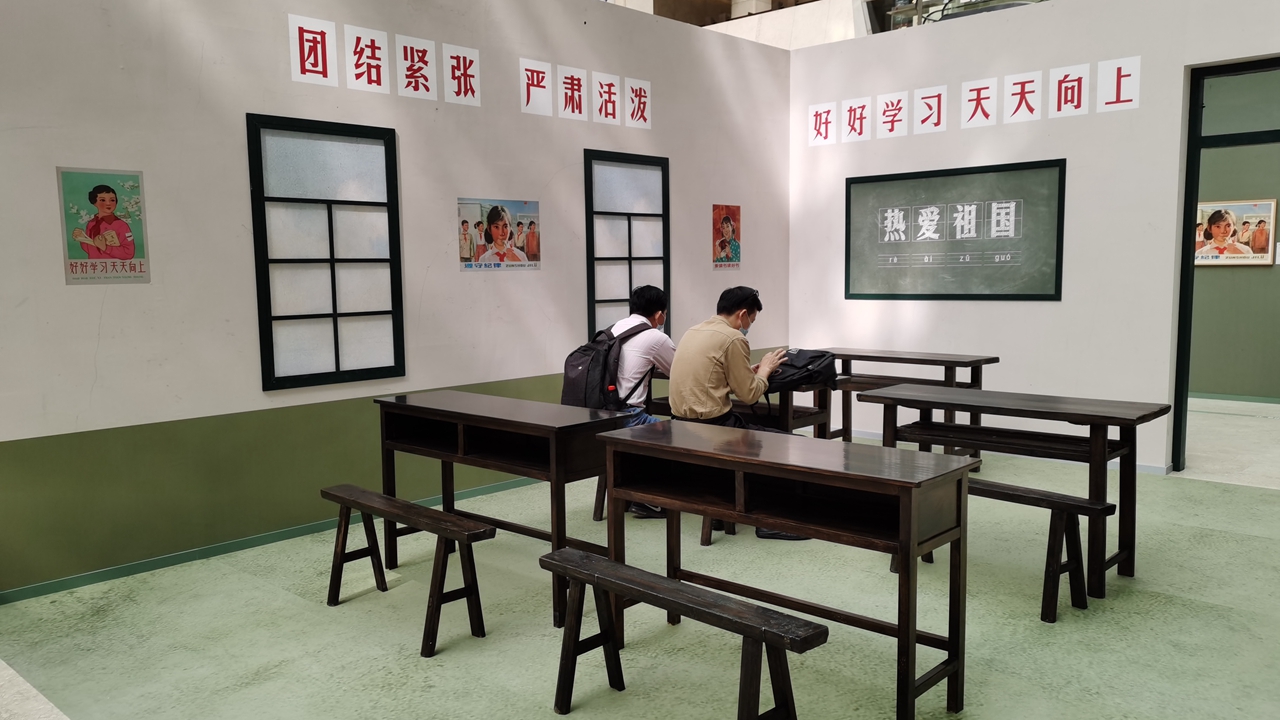 Two visitors sit at a corner at the exhibition. The space is decorated like an old Chinese classroom.

Dates: Until Feb. 26, 2023
Booking: WeChat account "iszbwg"
Venue: Shenzhen Museum (of History and Folk Culture), Futian District (深圳博物馆历史民俗馆)
Metro: Line 2 or 4 to Civic Center Station (市民中心站), Exit B