Accompanied by snippets of classical masterpieces handpicked by Shenzhen Symphony Orchestra artistic director Lin Daye, more than 200 audience members spent three joyous hours at a free lecture Saturday afternoon in Nanshan District.
A special event of the "Xili Lake Lecture" series organized by the Taoyuan Zhiguang book bar during Shenzhen Reading Month, the lecture was praised by the attendees as both enlightening and entertaining.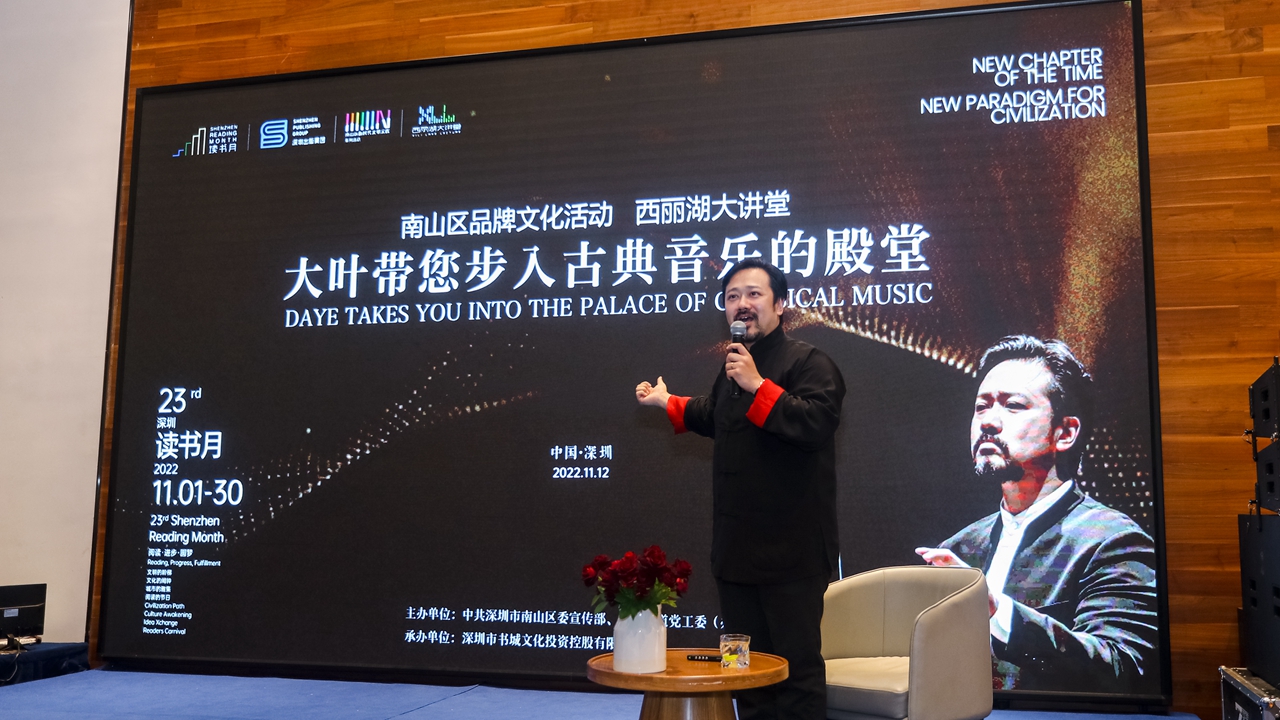 Lin Daye speaks at a lecture on classical music Saturday at Taoyuan Zhiguang in Nanshan District. Photos by courtesy of the organizer

Lin, winner of the sixth Sir Georg Solti International Conducting Competition, studied piano at an early age and began to learn conducting at 15. Like many professional musicians, he was under strict discipline by his parents in his childhood when his music talent was first spotted.
"I don't think it the best way to teach classical music to children or the general public the way I got acquainted with it," Lin recalled.
"For beginners, classical music should be fun, good entertainment and a leisurely pastime."
He compared the audience members to diners treated with gourmet dishes, and said that anyone with acute hearing can appreciate classical music as long as they stay focused, without the knowhow about the structure or tones of works, or instruments. "It's in a way similar to the experience of enjoying a good meal. You don't need to know about the ingredients or recipe to be able to savor a dish. Knowing the tricks is the job of the chef."
An open-minded classical musician, Lin said the narrow sense of classical music refers to a Western music tradition represented by the works of Haydn, Mozart and early Beethoven. In a wider sense, the word "classical" is used by popular culture to distinguish this kind of music from jazz, rock, or other contemporary styles. "But literally, 'classical' can also mean 'classic,' which implies that despite its genre, all beautiful, refined music pieces can be called classical," he said. "For me personally, Michael Jackson's and Teresa Teng's pop songs are also classical."
Getting to know and appreciate classical music helps people to better enjoy pop music, Lin explained, as many modern pieces have been inspired by classical ones, and there have been an increasing number of crossover performances in our time.
When introducing the audience members to Bach, one of the classical masters, Lin played a video clip of a live concert performed at an outdoor plaza in Leipzig in year 2000 titled "Swinging Bach." That concert, which lasted 24 hours, witnessed jazz, rock and classical musicians performing side by side various versions of Bach's music. Especially touching was when American singer Bobby McFerrin sang Bach's "Air on the G String."
"His voice is so soothing and peaceful that it can mitigate the pains of an anxiety sufferer," Lin said.
Many pop singers have also sung adapted versions of Charles Gounod's "Ave Maria," which was in fact based on Bach's "Prelude in C Major" from his famous "Well-Tempered Clavier." Gounod added a theme, to be performed by voice or a solo instrument, to the piece, which has since become quite popular.
One of the greatest composers, Beethoven is certainly a household name around the world. Lin played snippets of his "Moonlight Sonata" as well as third, fifth, sixth and ninth symphonies, to give audience members a general taste of his various styles. "Different from the stereotype imposed by his popular fifth symphony, Beethoven can be peaceful, pleasant and lyrical," Lin said, giving the examples of his "Moonlight" and "Symphony No. 6."
Lin introduces classical music to the audience at the lecture Saturday.

Like any other tradition, classical music often witnesses the influences of previous masters on those who came later. During the lecture, Lin also introduced Brahms, who worshipped Beethoven's symphonies so much that he didn't have the confidence to write one until later in his career. When he did compose one, it was a great piece, although, to his dismay, was nicknamed "Beethoven's 10th Symphony" because of a similar theme in its final movement that is reminiscent of "Ode to Joy."
The more beloved piece from Brahms is certainly "Hungarian Dance No. 5," which has been adapted into jazz or re-orchestrated and performed on many occasions outside the concert hall. Those who watched the opening ceremony of the Winter Olympics this year could remember hearing the tune when the Hungarian team entered the arena.
As a conductor, Lin said he never enjoyed listening to the music while on the job, because he was focused on the minutest "wrong sounds" so that he could do a better job next time. "Listening to other musicians' performances is totally a different experience," he said. "It's like when a chef visits another restaurant and all he has to do is to relish the moment."
He also suggests the audience try Bach's "Goldberg Variations" for insomnia. "I always fall asleep when it comes to the sixth or seventh variation. It's more effective than sleeping pills," he assured.
Lin (3rd R in first row) and audience members of the lecture poses for a group photo Saturday.
Taoyuan Zhiguang is a four-story library and bookstore where people can read, buy books and stationery, and enjoy a cup of coffee near the university town in Xili Subdistrict. The book bar regularly organizes free cultural events for residents.