Two lectures and a workshop were held Nov. 20 at the Art Museum, Guangming Culture and Art Center, to get the public interested in art and in exploring museums. The events were meant as a series to mark the second anniversary of the landmark cultural venue's opening in Guangming District.
In one of the lectures, Cao Yuxi, whose large-scale solo exhibition "Solidified Dimension" is on display at the second floor of the Art Museum, shared his thoughts with an attentive audience on the value of traditional Chinese culture and philosophy, which, in his opinion, can provide inspiration and new dimensions in the exploration of new media art.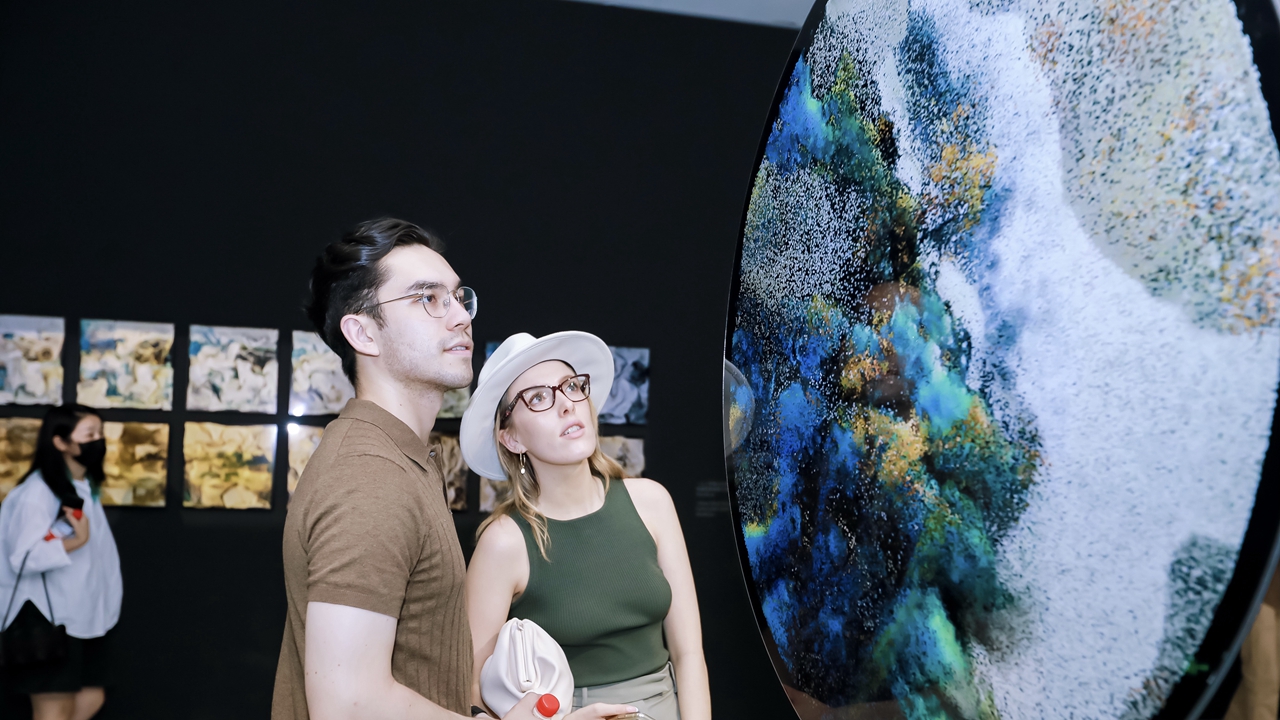 Two visitors attend Cao Yuxi's exhibition "Solidified Dimension" before sitting at the artist's lecture Nov. 20. Photos courtesy of Art Museum, Guangming Culture and Art Center

Apart from the snowflakes visuals that dazzled audiences at the Beijing Winter Olympics opening ceremony, Cao is perhaps best known for his public installations, including an interactive ink painting installed at Beijing Daxing International Airport that is presented on an LED screen and is based on AI algorithm.
While sharing behind-scenes stories about how his team came up with the stunning visuals for the Winter Olympics opening ceremony, as well as the birth story of many other installations in urban public places across China, Cao was joined by Hong Kong architect Frankie Lui in a discussion about the future trends of new media art and the increasingly ubiquitous practice of merging architecture design with contemporary art.
In addition to their widespread adoption in public spaces, new media art, according to Cao, can add fun to people's private lives and let them think about their lives and their relationships with the world at large.
"I've always been fascinated by technologies, and am eager to explore the integration of art and technology," Cao said. He also gave the audience a glimpse of his new project currently in development.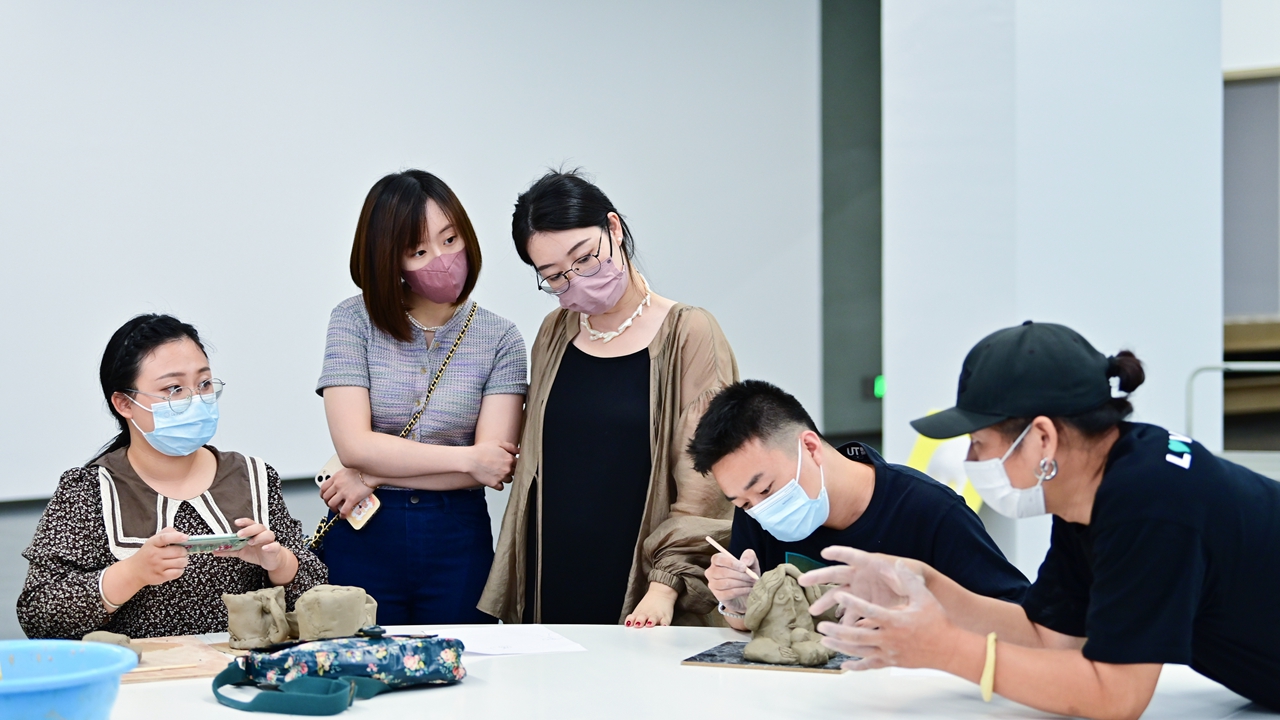 Local artist Zhou Yuan (R) and several attendees of his ceramic workshop look on as one of the participants is concentrated on his work at the Art Museum, Guangming Culture and Art Center on Nov. 20.

On the fifth floor of the venue, 20 art fans were tutored by local artist Zhou Yuan in a workshop to make their own pottery. Zhou's exhibition "One Falls Another Rises" is being held in Hall C on the fifth floor of the venue. The show features pottery and porcelain pieces as well as magazine-size ink paintings, most of which feature exaggerated human faces and bodies. The 20 trainees were first given a tour around the exhibits and asked to share their opinions about Zhou's works; next, they were instructed to draw what they had in their minds, close their eyes to again envision their drawings, and then create pottery with their own hands.
"To put it in simple words, creating pottery is having fun with mud," Zhou told his students. "Because the material is soft, you can make it into any shape; but also because it's soft, you may lose some degree of control in the end, which can be both disastrous and fun."
Many of the participants, without any previous training in art, were exalted to see their imagination materialize into abstract pottery works.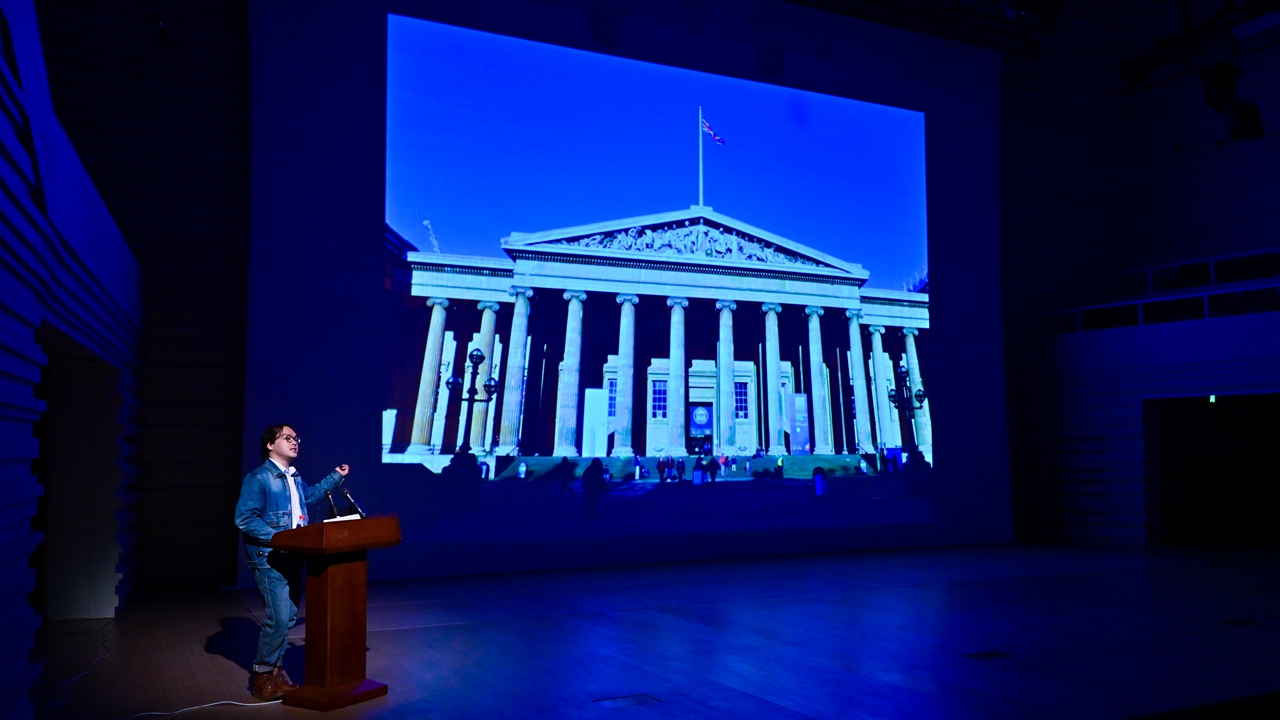 Author and art critic Zhuang Fengjian lectures on the British Museum's collection at the Art Museum, Guangming Culture and Art Center.

In another lecture, author and art critic Zhuang Fengjian introduced the audience members to 10 representative antique art pieces in the collection of the British Museum, and in the process gave them a general picture of the art history of Europe's Middle Ages.
With photos on the big screen and with vivid exposition, Zhuang guided the listeners through piece after piece, such as the Lewis Chessmen and the Sutton Hoo Helmet. Dating back to around 1150-1200, the Lewis Chessmen consist of elaborately worked walrus ivory and whales' teeth in the forms of seated kings and queens, mitered bishops, knights on their mounts, standing warders and pawns in the shape of obelisks. The Sutton Hoo helmet, dating back to the early 7th century, is an iron and tinned copper alloy helmet found in hundreds of pieces in a tomb and was carefully reconstructed by conservators. The helmet is one of the four known existing complete helmets from Anglo-Saxon England.
The lecture was the fourth in a 10-episode series titled "The Stendhal Syndrome: Suspected Museum Burglars." The previous lectures have focused on Berlin's Museum Island, the Acropolis Museum in Athens and the Capitoline Museums in Rome. In the following months, lectures will be offered on the Uffizi Galleries, Vatican Museums, Rijksmuseum Amsterdam, Old Masters Gallery Dresden, Orsay Museum in Paris and Museum of Modern Art in New York City.
Since its opening day Sept. 19, 2020, the center has been reaching out to the public with free or affordable exhibitions and a lot of public-benefit events.
"A main function served by museums and culture centers is educating the public on art," said the gallery's spokesperson Zuo Qianqian. "We will continue our efforts to provide more events that resonate with the visitors."