Established in 1980, young Shenzhen has only a history of 42 years; however, humans have been thriving on this land since the Neolithic period some 6,700 years ago. The city is both young and old.
Here we'd take you on several excursions around the city to explore its cultural heritage.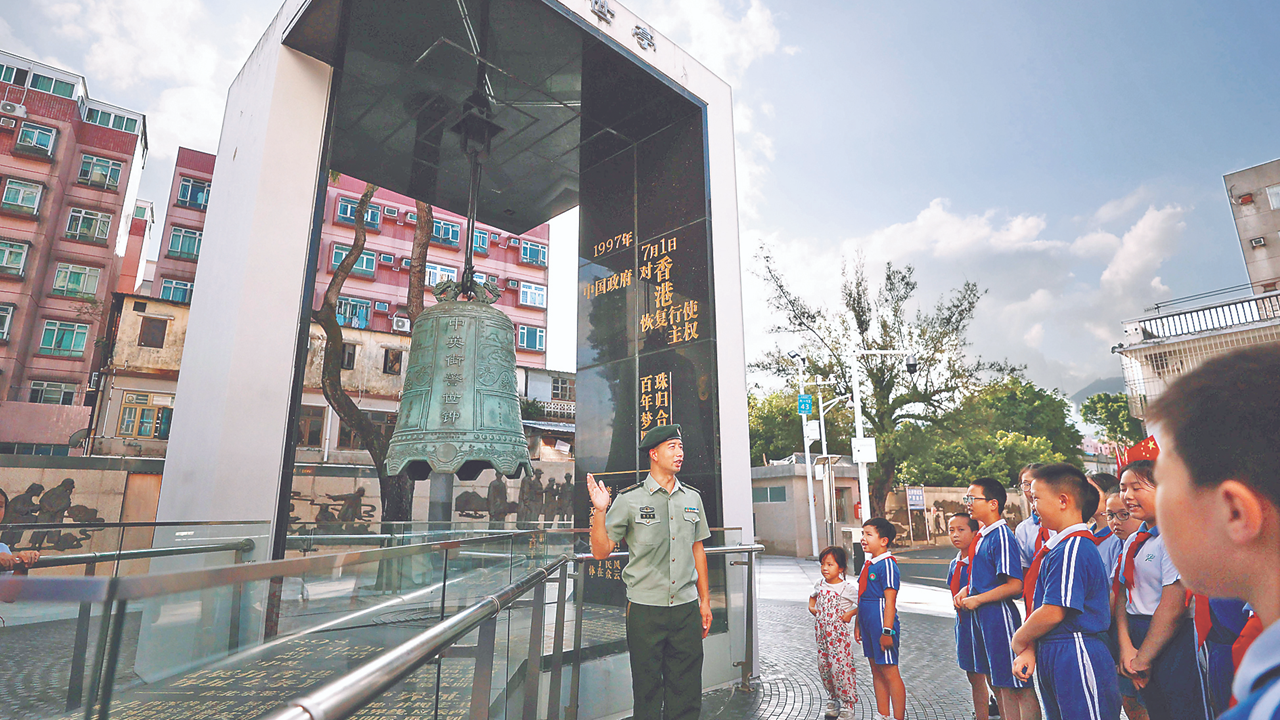 A paramilitary police officer gives a lecture to students in front of the big bell on Zhongying Street. Xinhua
Zhongying Street:
one street, two systems
Eight boundary stones demarcate the 4-meter-wide street in Shatoujiao Subdistrict in the middle, telling the history of "one street, two systems." Before Hong Kong was returned to the motherland in 1997, the east of the street was Chinese territory while the west side was under the jurisdiction of Britain, giving the street its name, which literally means "Sino-British Street."
The street today remains a tourist destination lined with duty-free shops and small stores selling local specialties. People can visit the Zhongying Street History Museum, capture some snapshots of an ancient water well and a big bell, or simply take a walk along the beautiful coast and enjoy the refreshing sea breeze.
Follow the WeChat official account of Yantian's government (ID: ytqzwfwzx) or the WeChat Mini Program "沙头角边境特别管理区通行证办理" to make an online reservation before you visit. Then you can scan the QR code received on your smartphone to enter the street. There is also a booth at the entrance of the street where visitors can get a pass after registering with their ID cards or other certificates.
The street opens between 9 a.m. and 6 p.m., while the on-site pass issuing window opens until 5 p.m.
Transport: Take buses M520, 85, 103 or 387 to Sanjiadian stop, and walk around 600 meters to get here. Or take Metro Line 8 to Shatoujiao Station, and walk 1.6 km to the street.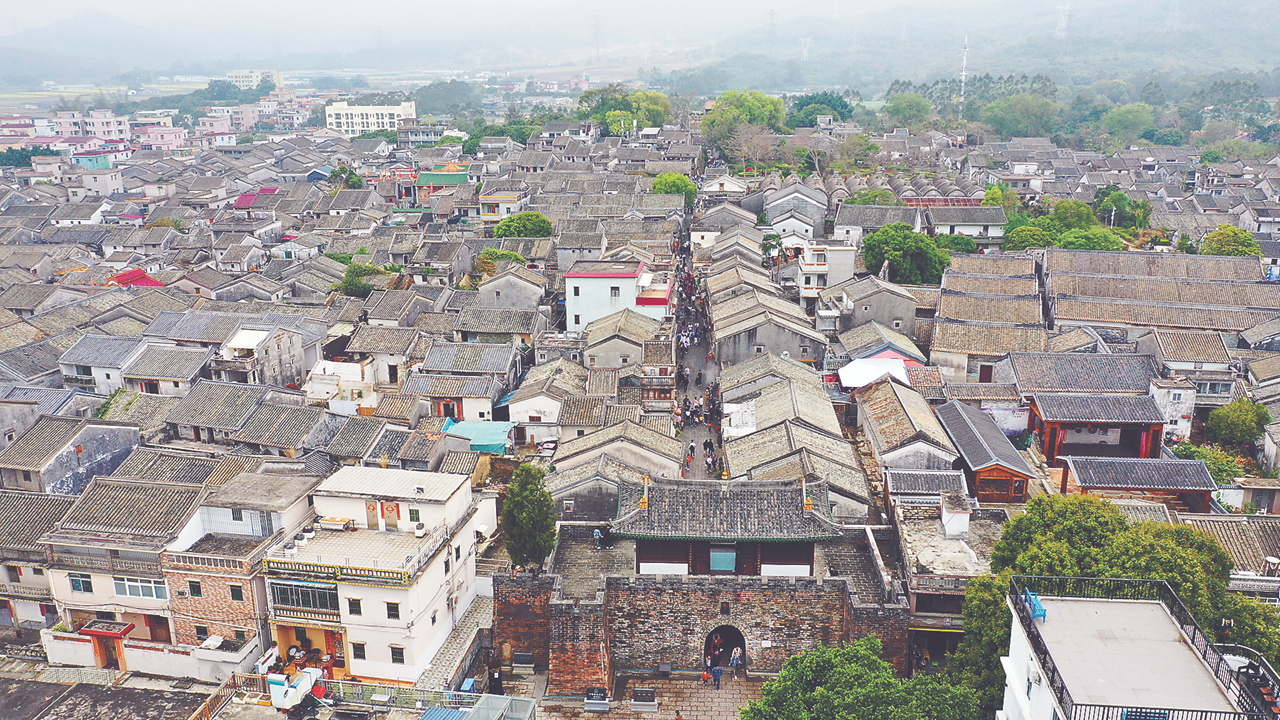 An aerial view of Dapeng Fortress. China News Service
Dapeng Fortress: a landmark
that witnessed the migrant history
First built in 1394 during the Ming Dynasty (1368-1644), Dapeng Fortress was strategically important in coastal defense during both the Ming and Qing (1644-1911) dynasties. It became a State-protected cultural heritage in 2001 and is recognized as the top of eight Shenzhen landmarks.
For over six centuries, Dapeng Fortress witnessed the history of Chinese fighting against foreign invasions, led by such heroic figures as Lai Enjue, Lai Xinyang, Lai Enxi, Liu Qilong and Liu Heizai. The place also became the melting pot of Hakka, Danjia (known as "sea nomads"), Cantonese and military traditions.
Such historical buildings as the tower gate, the warehouse and the mansions of General Liu Qilong and another military official are intact despite lengthy warfare. The Dapeng Fortress Museum with its rich collection of antiques and exhibits is also worth a visit.
Visitors can also try local snacks at small shops at the venue, which opens free to the public all year round.
It takes about three to four hours to explore this destination.
Transport: Take buses M457 or M471 to Dapeng Fortress stop, and walk about 450 meters to get here.

Visitors at the Shajing Marketplace in Bao'an District. Photos by Liu Xudong unless otherwise stated
Shajing Marketplace:
a living history book
As the largest historical community existing in Shenzhen today, Shajing Marketplace occupies an area of around 260,000 square meters. The Longjin River winds its way through this land of several hundred old buildings, a dozen family temples, ancient wells and memorials; the most conspicuous structure is the Longjin Stone Tower — a millennium-old relic of the Southern Song Dynasty. Historical buildings stand side by side with an urban village built after the reform and opening in the 1980s, keeping record of Shenzhen's history.
Dongmeng Street, Shatoujiao Street and Guanlan Marketplace are the other three historical communities in the city.
A two-year renovation project of the Shajing Marketplace by CR Land won two honors at the 2021 UNESCO Asia-Pacific Awards for Cultural Heritage Conservation.
Transport: Take Metro Line 11 to Shajing Station, and walk about 10 minutes to get here.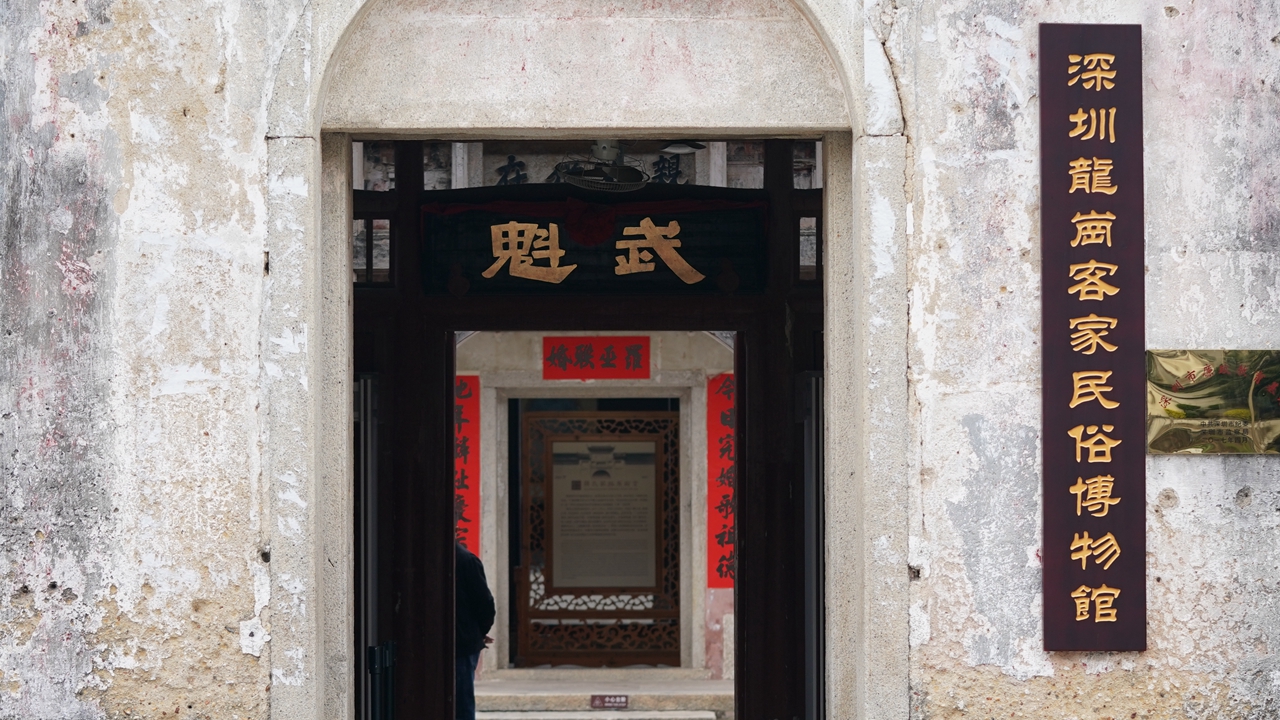 Hehu New Residence, now a Hakka folk museum, opens free to the public.
Hehu New Residence: the largest cluster of traditional Hakka houses
Dubbed the living fossil of Hakka culture, Hehu New Residence in Longgang District is the largest-scale group of roughly rectangular Hakka houses that can be found in China today and one of the best-preserved and most typical as well.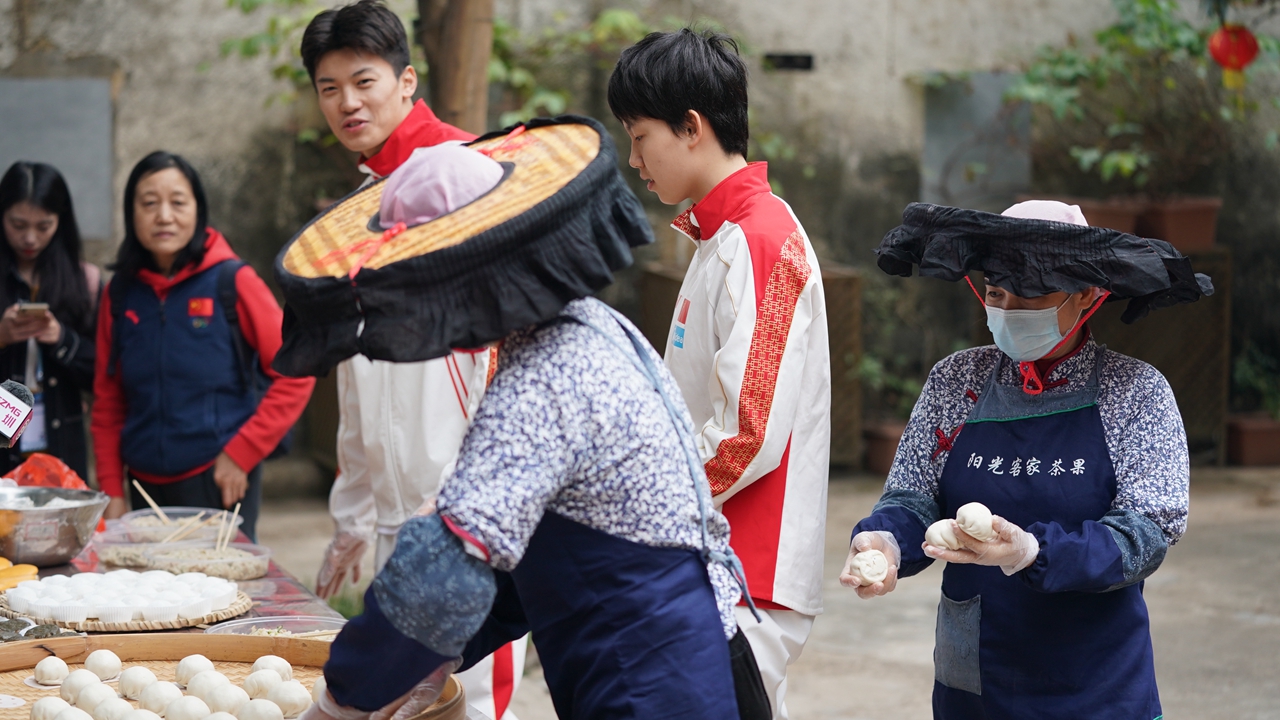 Hakka women prepare a local snack made of glutinous rice at Hehu New Residence.

First built in 1817 during the Qing Dynasty, this group of Hakka houses were the family homes of the Luos in Longgang. With its front part a bit larger than its back, the plot plan of the buildings resembles a trapezoid. The buildings, arranged in an inner layer and an outer layer, are massive and typical of the castle-style Hakka houses in Shenzhen and Hong Kong.
Similar structures can also be found in Longtian Ancestral Residence and Gankeng Hakka Town.
Now a folk museum, the venue opens free to the public between 9 a.m. to 5:30 p.m.
Transport: Take Metro Line 3 to Nanlian Station, and walk about 10 minutes to get here.