Shenzhen is striving to become a world-class sea container logistics hub. The city now has opened 300 international shipping routes and ranked among the top four globally in terms of container throughput for 10 consecutive years, according to Shenzhen Special Zone Daily.
Mawan Port, the first 5G green and low-carbon smart port in the Guangdong-Hong Kong-Macao Greater Bay Area (GBA), has a capacity of handling 3 million twenty-foot equivalent units (TEUs) a year.
Yantian Port's annual throughput capacity reached over 10 million TEUs. Over 60% of its operational routes are to Europe and the U.S. Data showed that the port currently undertakes one-third of Guangdong Province's imports and exports and one-fourth of China's trade with the United States.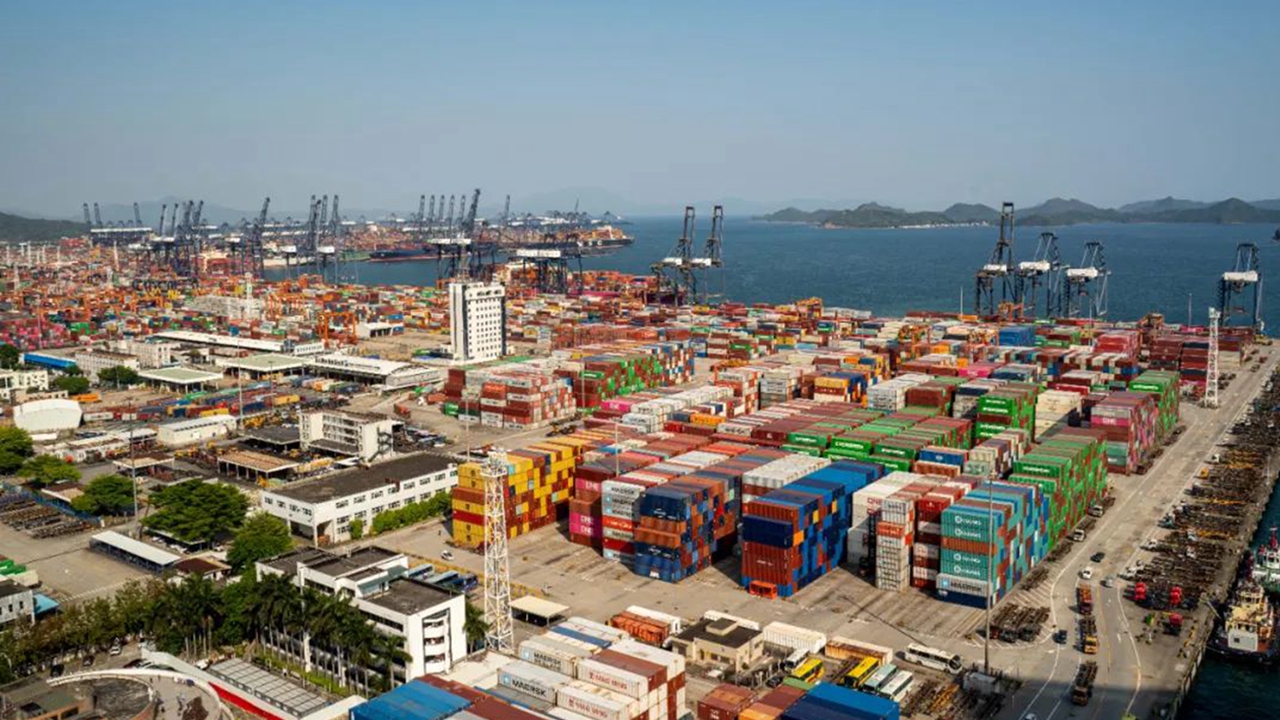 An aerial view of Yantian Port. Lin Jianping

The world's largest container ship named the Ever Alot, which has a capacity of 24,004 TEUs, sailed from Yantian Port this July. As of now, container ships with a capacity of over 20,000 TEUs all have berthed at Yantian Port. In addition, the port allows six vessels each with a capacity of 200,000 tons of cargo to berth simultaneously for operation.
As of Nov. 30, Shenzen Port's container throughput was 26.84 million TEUs, up by 2.29% year on year, ranking fourth among the world's major container ports.
Shenzhen Port has continued to increase the amount of its cargo containers by building inland port areas in the country. As of now, it has a total of 12 inland ports in Guangdong, Hunan, Jiangxi and Guizhou provinces. From January to October, Shenzhen Port has completed a total of 165,000 TEUs through the inland ports.
Ganzhou inland port has been upgraded as one of Shenzhen's combined ports to further facilitate operations. The combined port model has been operated in the GBA, and the city's eastern and western port areas have also carried out sea-rail intermodal transportation.
Zhang Yiju from the China Development Institute said, "Although Shenzhen Port has a solid foundation, it has reached 94% of its designed throughput. The container throughput of Yantian Port reached 14.16 million TEUs in 2021, which was overloaded."
Given this, Shenzhen has stepped up the building of new ports and Shenzhen Port database to promote the interconnection of its western and eastern ports.
Additionally, Shenzhen accelerated the development of sea-rail and river-sea combined transport systems to cooperate with surrounding cities to improve water transport network.
Staffers from the Shenzhen Municipal Transport Bureau suggested that the city will build the Shenzhen Shipping Exchange, Shenzhen Shipping Foundation and Qianhai International Vessel registration center to attract investment to the city's shipping industry.
Wu Bingqing, president of Maersk Greater China, said that the company will increase its investment in Shenzhen in the future at the recently held Shenzhen Global Investment Promotion Conference.