The liaison offices of the China Council for the Promotion of International Trade Shenzhen Municipal Committee (CCPIT Shenzhen) have established an extensive network with nearly 1,000 overseas outlets of Shenzhen enterprises through emails and phone calls, and timely responded their needs through the "Shenzhen businessmen circle" platform and regular exchange activities.
The CCPIT Shenzhen Liaison Office in India helped TCL become familiar with the technical requirements of the Indian government over electronic displays. The office also contacted related Indian agencies to discuss issues relating Shenzhen enterprises in India such as taxation, visa and customs clearance. It also collected and reported business information and local exhibitions in mobile phones, pharmacy, mobile internet and semiconductors twice a month. In the mobile phone industry, the office worked out professional reports and aided CCPIT Shenzhen in offering targeted guidance and help to Shenzhen enterprises' operation in India.
The CCPIT Shenzhen Liaison Office in Egypt aided Speedaf, a Shenzhen-based logistics company, to renew work and residence permits for their employees in Egypt and it offered consulting services related to work and residence permits for Shenzhen companies such as Huawei and Konka. It bridged contacts between Mindray and the Ministry of Egypt and shared office resources in New Cairo with Mindray.
In 2022, the Egypt office contacted 15 enterprises from Shenzhen and worked out 19 reports on trade and economic information in Egypt, covering internet, e-commerce, mobile payments, telecommunications, electric-powered vehicles, energy, tourism, construction and agriculture. The information about electric-powered vehicles, mobile payments, electronic products and telecommunications highly coincided with Shenzhen's industrial development.
Attendees pose for a group photo during the Mid-Autumn Festival party held by the Thai liaison office of CCPIT Shenzhen and commerce chambers in Bangkok, Thailand.  Courtesy of the CCPIT Shenzhen

Similarly, overseas liaison offices in India, Tanzania, Nigeria and Mexico held symposiums in celebration of the Mid-Autumn Festival.
The CCPIT Shenzhen Liaison Office in Tanzania coordinated and facilitated a training program of a Shenzhen enterprise at University of Dar es Salaam to train local interns and localize employees.
The CCPIT Shenzhen Liaison Office in the United Arab Emirates helped Shenzhen Ronghui Medical Treatment Development Co. Ltd. reach Xiehe Medical Hospital in Dubai, helped BGI set up a subsidiary and organized a business and investment forum for Honor in Dubai, and offered consulting support for Shenzhen enterprises' overseas expansion.
The CCPIT Shenzhen Liaison Office in Belarus helped China-Belarus Industrial Park Development Co. Ltd. match with BYD.
The liaison office in Ghana actively aided vanilla suppliers in Madagascar to contact Shenzhen procurers.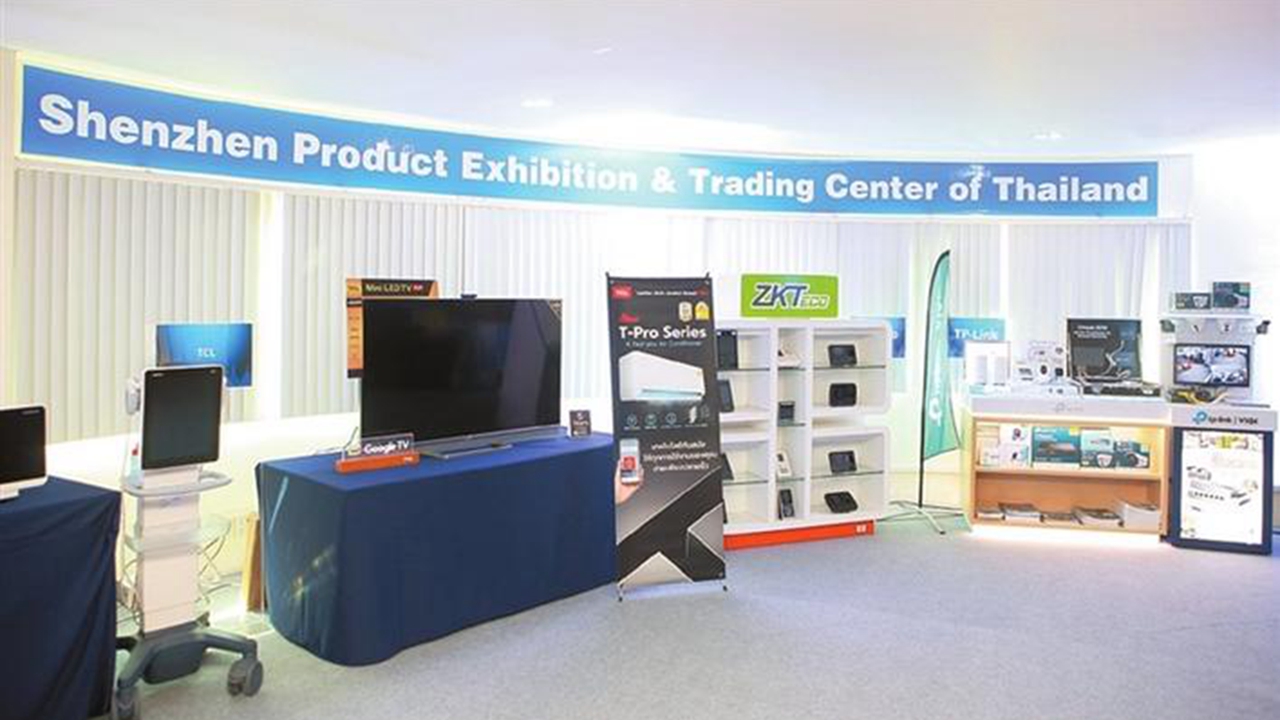 Shenzhen-made products on display at the Shenzhen Product Exhibition & Trading Center in Thailand.

The CCPIT Shenzhen Liaison Office in Nigeria, under the assistance of Transsion Holdings, provided quarantine services for employees of Shenzhen enterprises who had planned to return to China. The office also provided medicines and medical support to the employees of Egatee, who were infected with COVID-19.
The CCPIT Shenzhen Liaison Office in Mexico aided in donating medical equipment and held nearly 30 online symposiums over trade issues amid COVID-19 to help enterprises overcome difficulties.