Established in 1980, young Shenzhen has only a history of 42 years; however, humans have been thriving on this land since the Neolithic period some 6,700 years ago. The city is both young and old. Here we'd take you on several excursions around the city to explore its cultural heritage.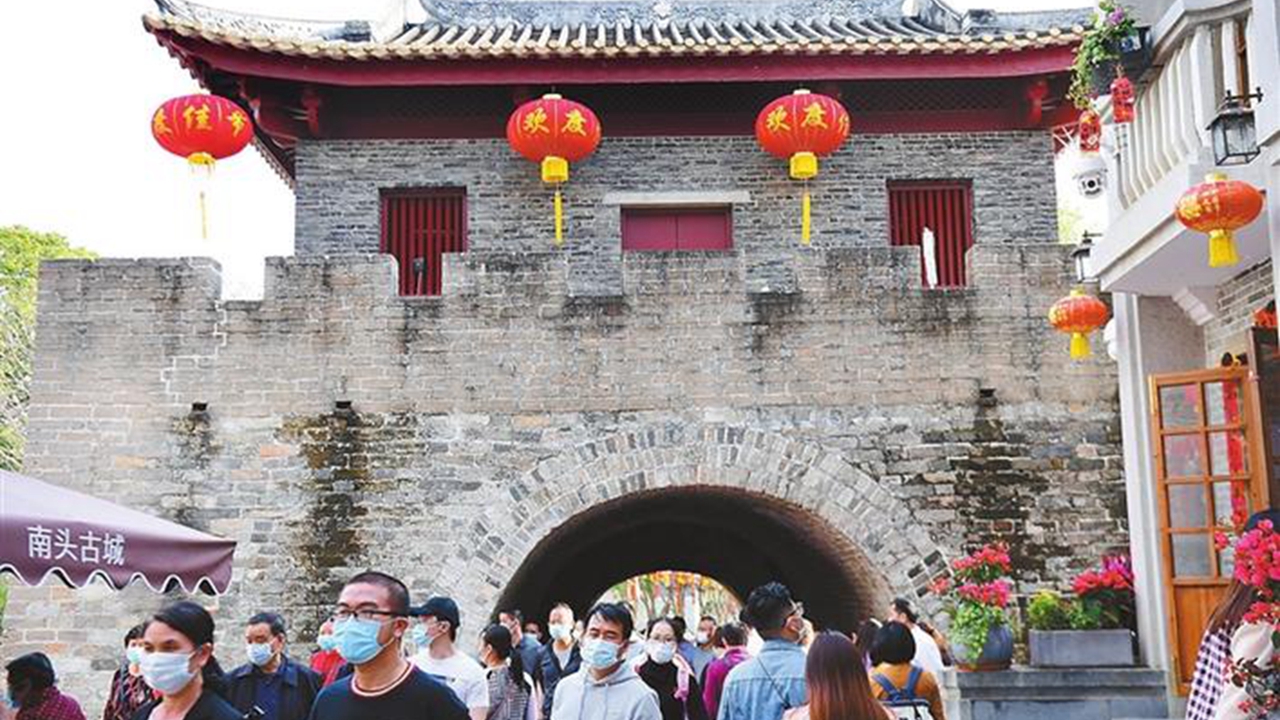 Crowds are seen at the southern gate of Nantou Ancient Town in Nanshan District in this file photo.China News Service
Nantou Ancient Town: the cultural roots of Shenzhen and Hong Kong
Also known as "Xin'an Old Town," this historical site north of the Nantou Footbridge in Nanshan District was first built in 331 during the East Jin Dynasty (317-420). Witnessing the changes on this land for nearly 1,700 years, Nantou Ancient Town is acknowledged as the cultural roots of Shenzhen and Hong Kong.
This place was once an administrative center and significant coastal fortress as well as a hub of sea transportation and foreign trade. Surrounded by trenches is a roughly rectangular foundation built of a type of red clay, measuring 680 meters from east to west and 500 meters from north to south at its widest. The foundations of the walls on the north and south are both well preserved, as is the southern gate, whose top bears in seal script the Chinese characters "宁南" (meaning "Peace in the South").
A dozen historical sites in the ancient town are worth a visit, including the Xin'an Prefectural Office. The site, refurbished as a museum and having over 300 pieces of antiques on display, opens free to the public from Tuesday to Sunday.
How to get here: Take buses 42, 201, 301 or M371 to Xin'an Gucheng stop, and walk about 70 meters.
Take Metro Line 12 to Zhongshan Gongyuan Station, and walk 500 meters.
Chiwan Left Fort at dusk. Photos by SD-Agencies unless otherwise stated
Chiwan Left Fort:
a witness to history
On Yingzui Hill in Chiwan, Nanshan District, the Left Fort, first built in 1669 during the Qing Dynasty (1644-1911), is a city-level protected cultural heritage in Shenzhen.
Chiwan Ancient Fort, originally lining the left and right sides on a promontory overlooking the Lingding Sea, was equipped with 12 cast iron cannons and served the function of coastal defense during the two Opium Wars (1839-42; 1856-60). In 1839, Qing Dynasty Governor Lin Zexu had the fort refurbished, hoping it would help with curbing the opium trade. Senior military official Guan Tianpei had triumphed over the British troops on the Lingding Sea making good use of the fort. Today, only the fort on the left remains intact.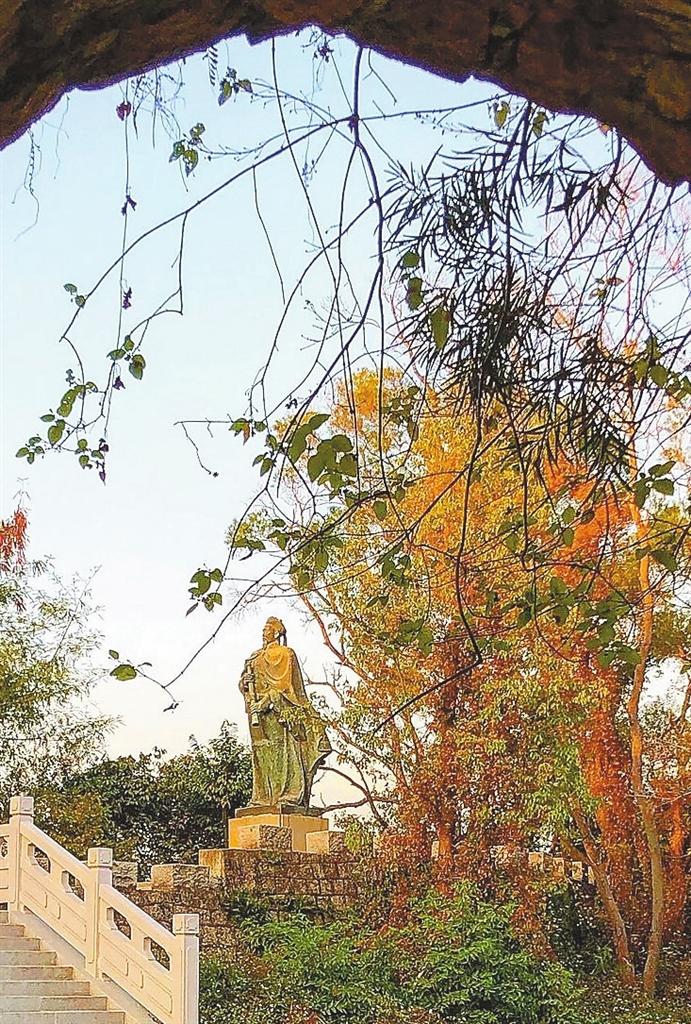 A bronze statue of Lin Zexu stands at the site of Chiwan Left Fort.

A tower gate stands at the entrance to this heritage site, a few steps from which two banyan trees already 130 years old accompany the rusty cannons. Lin Zexu's bronze statue stands north of the cannons, next to a plaque inscribed with quotes from Lin's poems. Two famous lines that say "I disregard my life and death when summoned by my country; that's not a choice weighing risk against benefit" were handwritten by late Chinese president Jiang Zemin.
How to get here: Take Metro Line 12 to Zuopaotai East Station, and walk 1 km.
An aerial view of the tomb of the last Southern Song emperor.
Tomb of the last Southern Song emperor: the only royal tomb in GD
At the foot of Xiaonanshan Mountain and facing Lingding Sea in the south rests the last emperor Zhao Bing of the Southern Song Dynasty (1127-1279) in the only royal tomb in Guangdong Province. The site is a city-level protected cultural heritage in Shenzhen.
Far from splendid, as we would normally expect of an emperor's mausoleum, a burial mound and a tombstone at the center stand as the only evidence of this being the resting place of Zhao Bing, who had lost his empire and was in exile. The tombstone is inscribed with the gilded characters "大宋祥庆少帝之陵"(meaning "Tomb of Xiangqing Emperor of Song Dynasty") and included the patterns of dragons, phoenixes and clouds often associated with a Chinese imperial court.
On a stone tablet east of the tomb visitors can read a brief introduction of the young Song emperor, who had been accompanied in his final days by a loyal minister named Lu Xiufu. Lu drowned himself with the emperor in the sea after being defeated by Yuan armies. A 4-meter-tall stone statue depicting the scene of their suicides stands west of the tomb.
How to get here: Take buses B946, M489, M106 or 113 to Nanshan Gongsi stop, and walk 500 meters.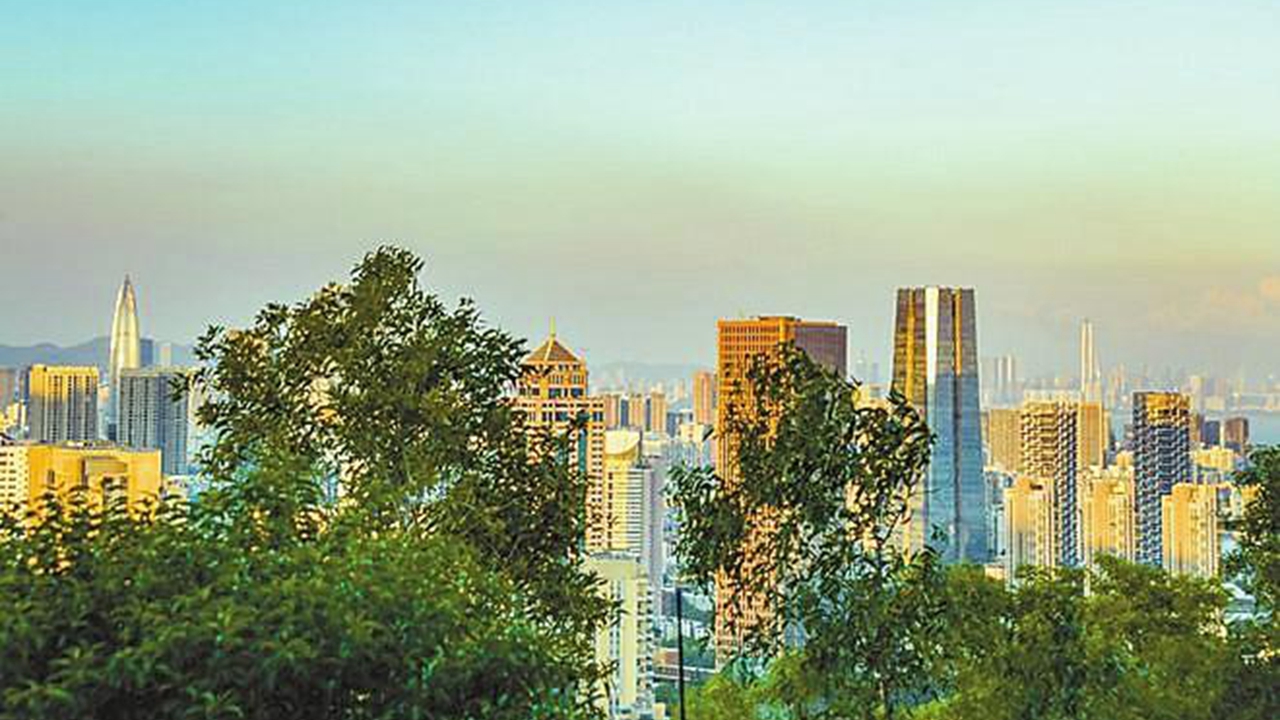 Wen Tianxiang Memorial Park is a good place to enjoy the city's skyline.
Wen Tianxiang Memorial Park: tribute to a patriot
"Who can avert his death since time immemorial?/Let my heart remain true to shine in the annals."
These two lines quoted from Wen Tianxiang's "Passing by Lingding Sea" that sum up his own life story have inspired the Chinese for more than seven centuries.
To pay tribute to this patriotic poet, Shenzhen's government built a memorial park on the hills by the Lingding Sea in Chiwan. In the park, visitors can learn about Wen's story in four sections arranged in a chronological order — from his student years, to the ups and downs of his career as an imperial court minister, his persistent fight against Yuan invaders, and his tragic suicide because he would rather die than surrender.
A statue of Wen now overlooks Lingding Bay, a beautiful place made famous by his indelible poem.
How to get here: Take buses 113, 122 or M106 to Wentianxiang Jinian Gongyuan stop, and walk 200 meters.