With inheriting craftsmanship, fashion and digital integration as centerpieces, Futian District is showcasing its strengths in the creative design and fashion industries at the 18th China (Shenzhen) International Cultural Industries Fair (ICIF).
This year, the district has set up one main venue, one online exhibition hall, seven subvenues and planned 24 supporting activities at the annual national cultural event.
The Futian pavilion features over 30 pieces of arts and crafts masterpieces from 25 Chinese arts and crafts masters across the country. The number of invited arts and crafts masters and their works has reached a new high.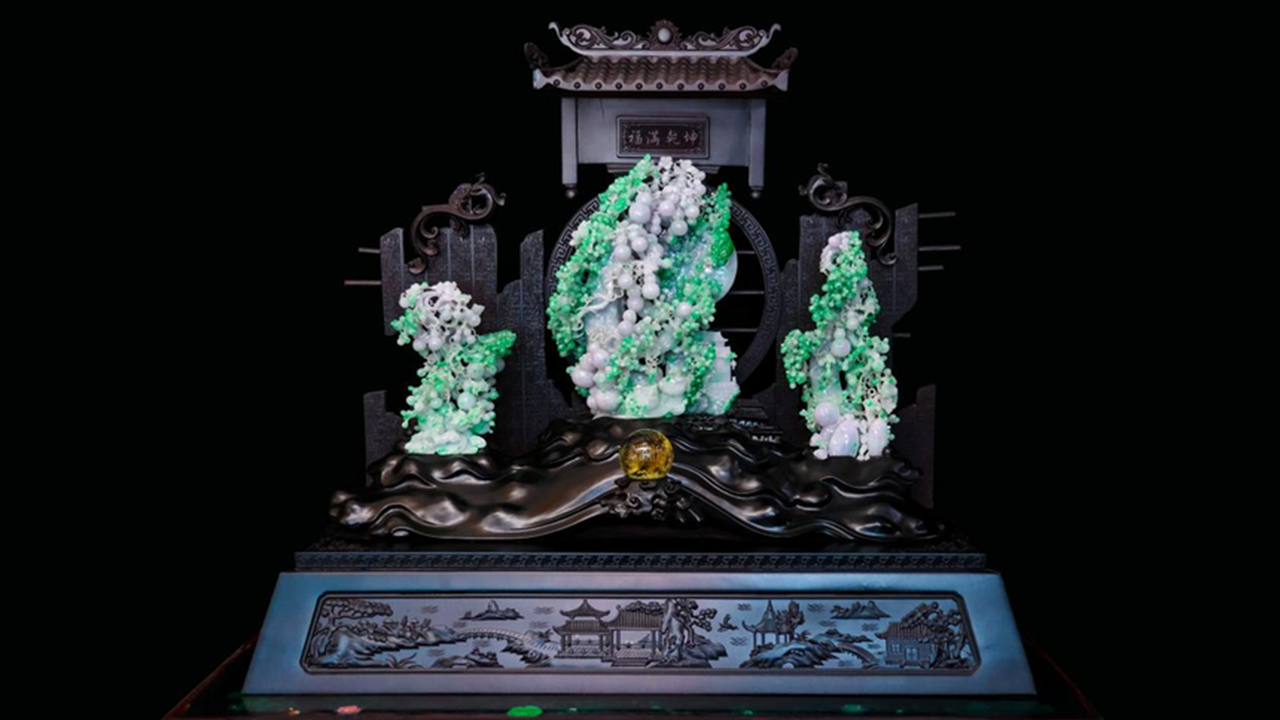 A jade sculpture artwork.

The works cover categories such as sculpture, artistic ceramics, weaving, dyeing and embroidery, metal craft, lacquerware and "Neihua" or painting inside a small bottle.
A prize-winning beaded screen work titled "Tulips" comes from Huang Weixiong, the first local master of Chinese arts and crafts in Shenzhen. The whole piece is filled with glass beads. The embroidery pattern uses colorful small glass beads, which are sewn on the satin cloth one by one according to the design.
Tulips of all sorts are blooming in a riot of color. Huang fully uses different techniques to make the work look more three-dimensional. At the same time, different tulip shapes are vividly presented in light as they were sewn with glass beads.
Li Denong, one of the first batch of inheritors of national intangible cultural heritage, has brought his wood carving work featuring a lotus-covered pond. The stunning works of Chinese ceramic master Chen Mingliang, Neihua master Zhang Ruicai and jade carving master Ye Fuhuan can also be seen at the Futian pavilion.
Futian, known for its fashion industry, also aims to help visitors appreciate the beauty of tradition and modernity at the ICIF. Exhibits showcasing fashionable and innovative products customized by craftsmanship inheritors as well as trendy industrial designs can also be seen at ICIF.
Meanwhile, various novel cultural and technological products and digital application scenarios in the cultural industry are provided to give visitors an immersive experience not only at the offline main venue, but also at the online exhibition hall.
A series of activities are planned at the seven subvenues including the Sino-Finnish Design Park, the STRONE Creative Design Industrial Park, the T-PARK SZ-HK Film Creative Park, the Shenzhen Book City CBD Store and the Jihong Creative Design Industrial Park.
The 24 supporting activities covering modern fashion, art and performance allow visitors to closely experience high-end fashion culture.