Shenzhen Museum is offering a great lineup of new exhibits this winter. Don't forget: The museum's divisions are free to enter but require booking via the museum's WeChat account (ID: iszbwg).
Silk Road glassware
Though a common material for modern people, glass used to be a luxury thing that only a small group of people could afford. Now an exhibition provides visitors the opportunity to admire 325 pieces of ancient glassware from countries along the Silk Road.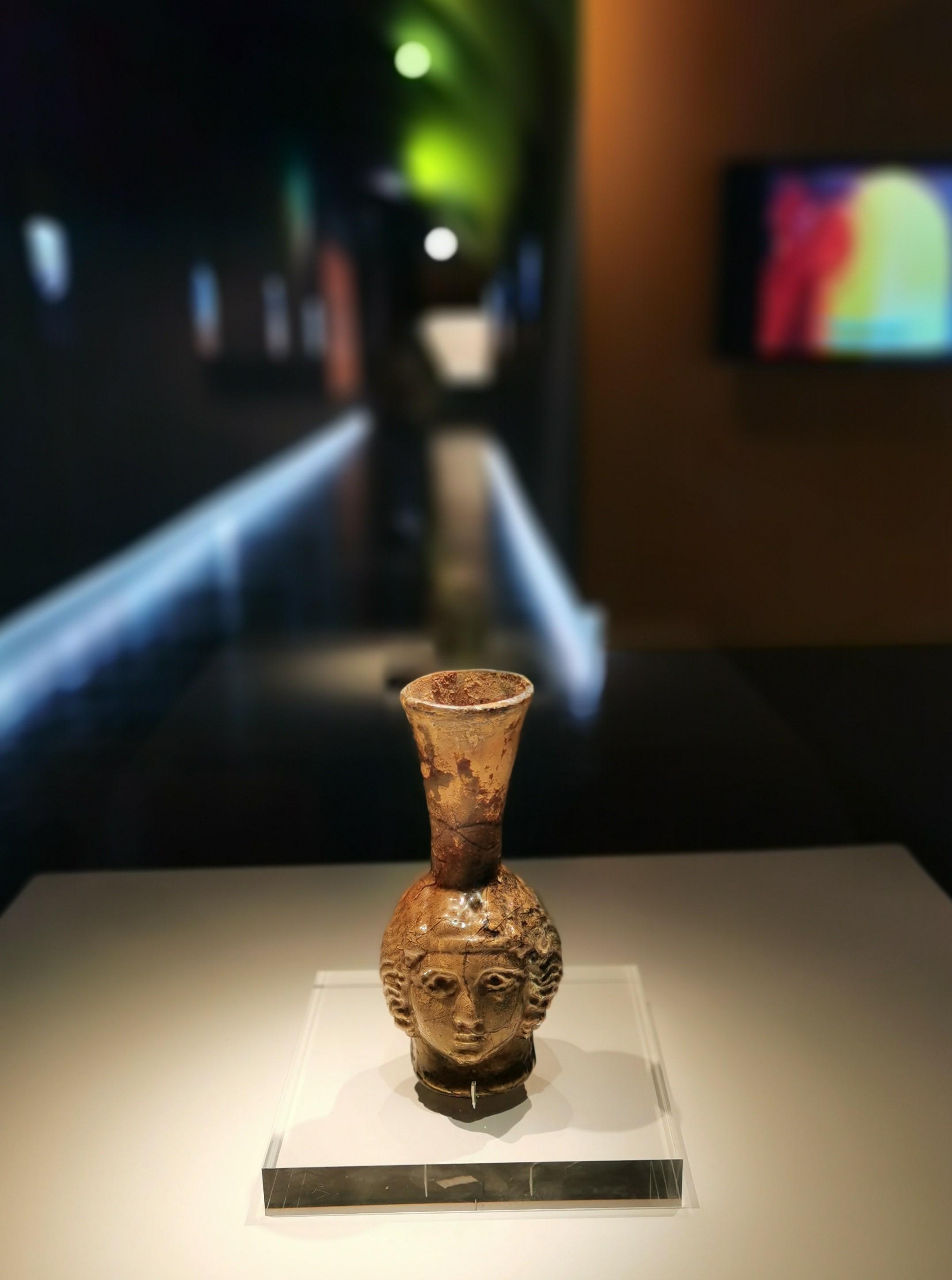 A double-head glass flask (3rd-4th century) from eastern Mediterranean is on display. Photos by Cao Zhen except otherwise stated
The exhibited items include jewelry, inlays, fragrance and cosmetic containers, tableware, lamps and architectural materials, covering many types of glassware in the history of glass art. Visitors can have a glimpse into the development of glassware as a substitute of natural gemstones to a functional and versatile household object under the influence of technological innovation and cultural diversity.
The earliest glassware was made in Mesopotamia in 2300 B.C. and then in the West Asian and Mediterranean regions. Glassware in Achaemenid Empire (550-330 B.C.), Hellenistic Age (323-30 B.C.) and Roman Empire (27 B.C.-A.D. 395) constituted the finest items in glass art history.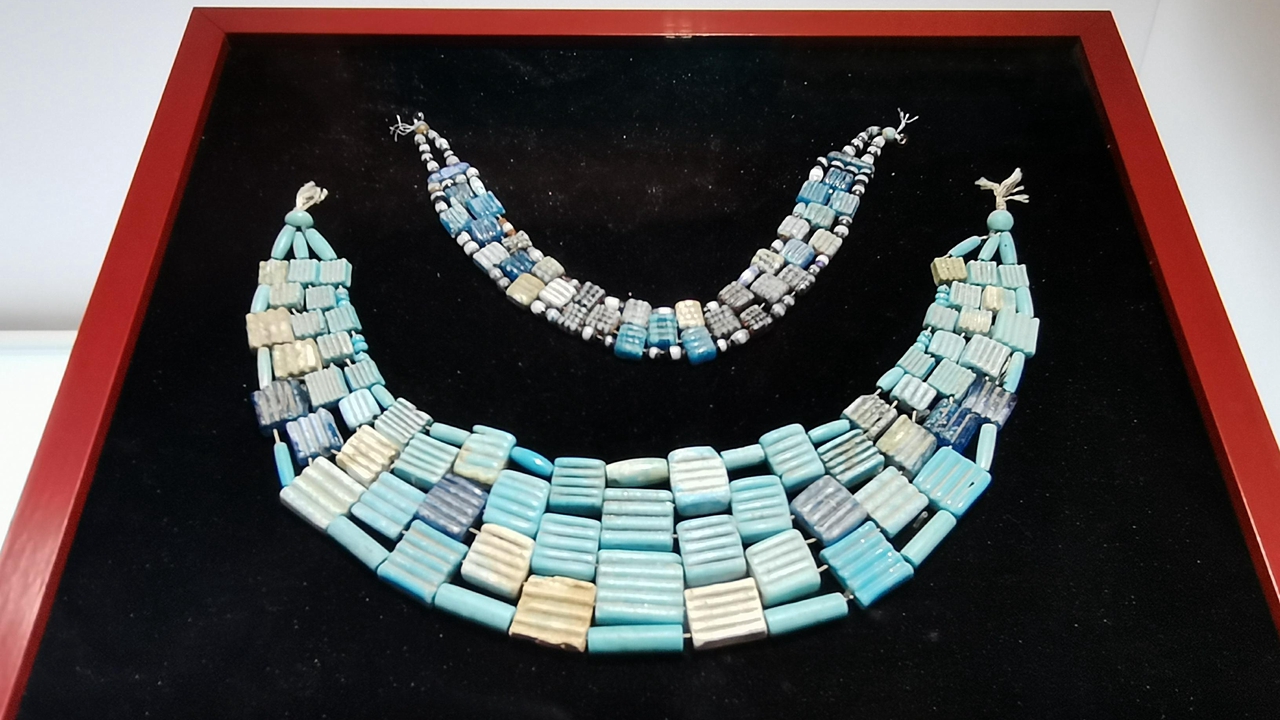 A glass necklace (16th-13th century B.C.) from northern Mesopotamia is on display.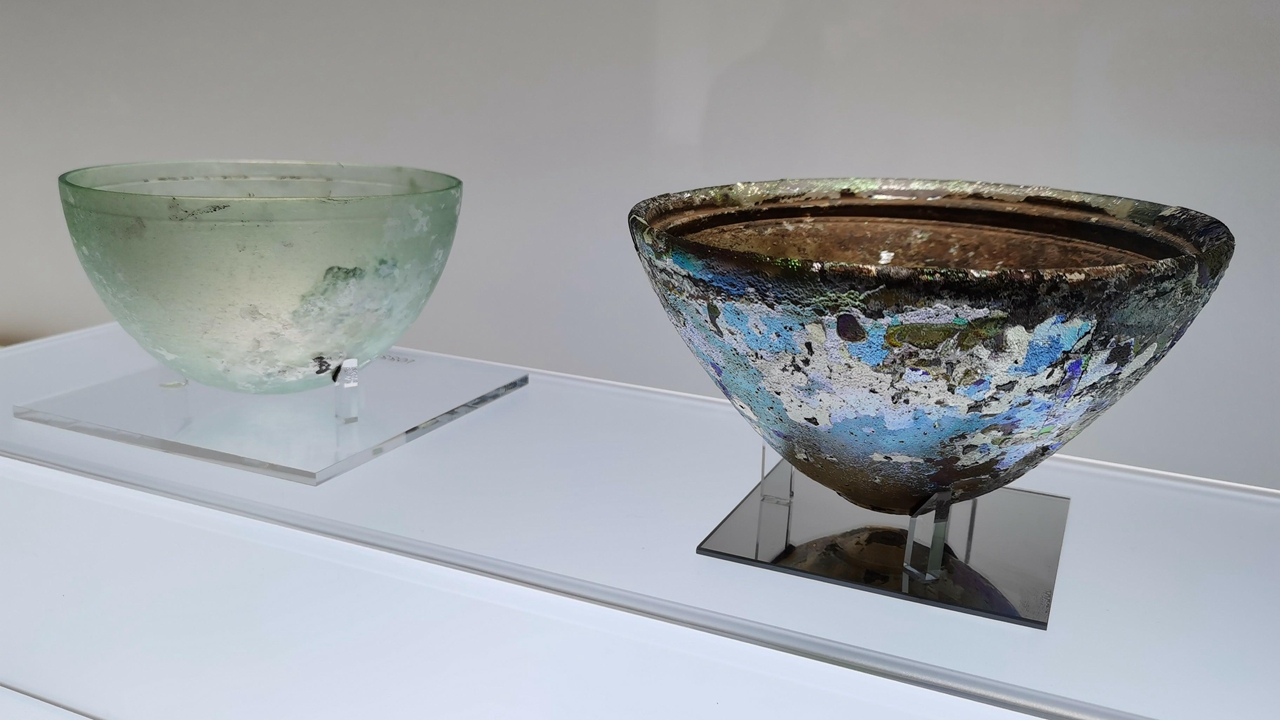 Glass bowls (1st century B.C.-A.D. 1st century) from eastern Mediterranean are on display.

The glass-blowing techniques developed around the first century B.C. marked a turning point in the history of glass production because it made glass easy to be molded into desired shapes. The art of glassmaking in the Sassanid Empire (224-651) and Islamic glass traditions also formed new techniques and patterns.
All the exhibits are from the Hirayama Ikuo Silk Road Museum in Japan. Hirayama Ikuo (1930-2009) was a renowned painter who visited countries along the Silk Road more than 150 times, including 70 visits to Dunhuang, China. He developed a huge passion for the cultures related to the Silk Road and his museum has a large collection.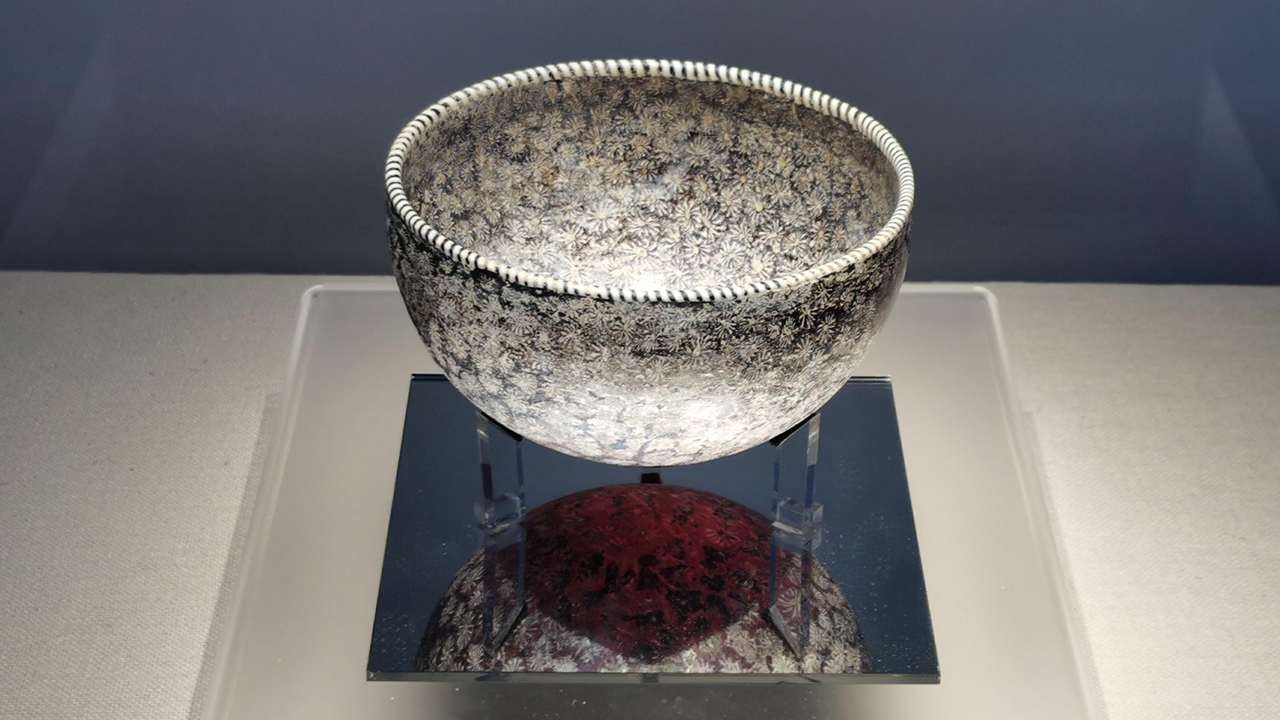 A glass bowl in millefiori technique (1st century B.C.-A.D. 1st century) from eastern Mediterranean is on display.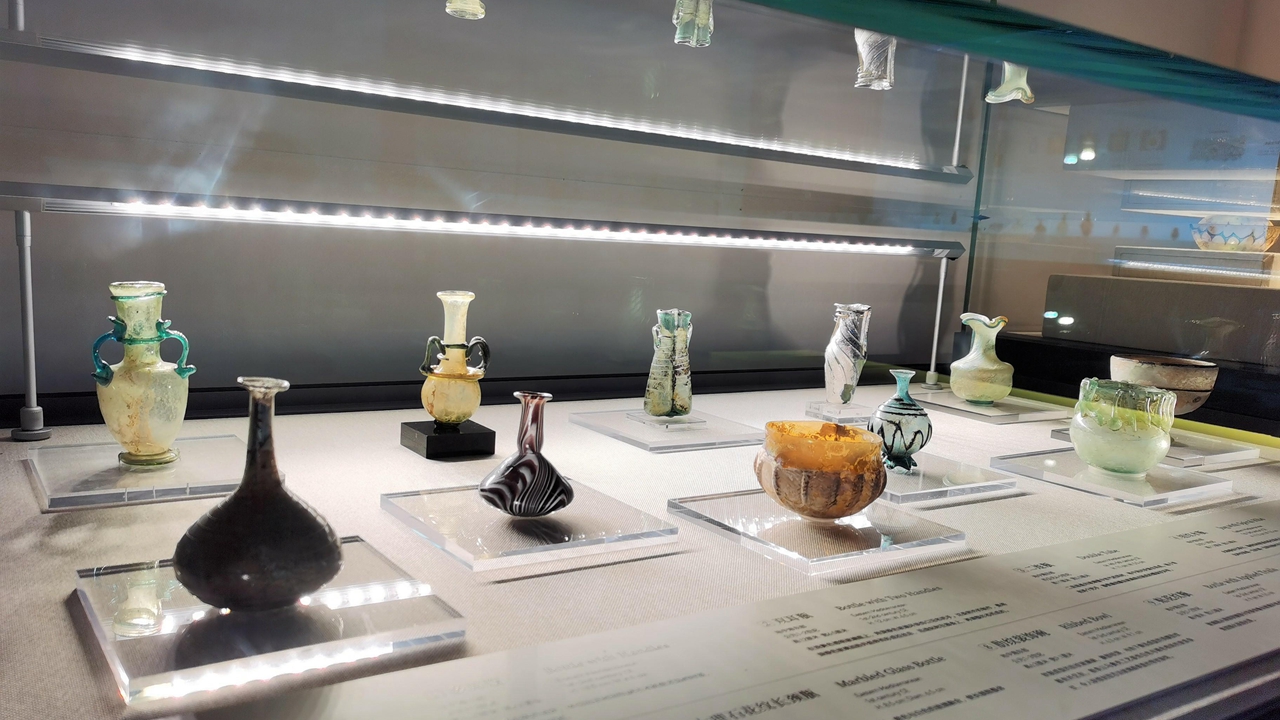 An array of glass objects.

Dates: Until April 6
Venue: Shenzhen Museum (of History and Folk Culture), Futian District (深圳博物馆历史民俗馆)
Metro: Line 2 or 4 to Civic Center Station (市民中心站), Exit B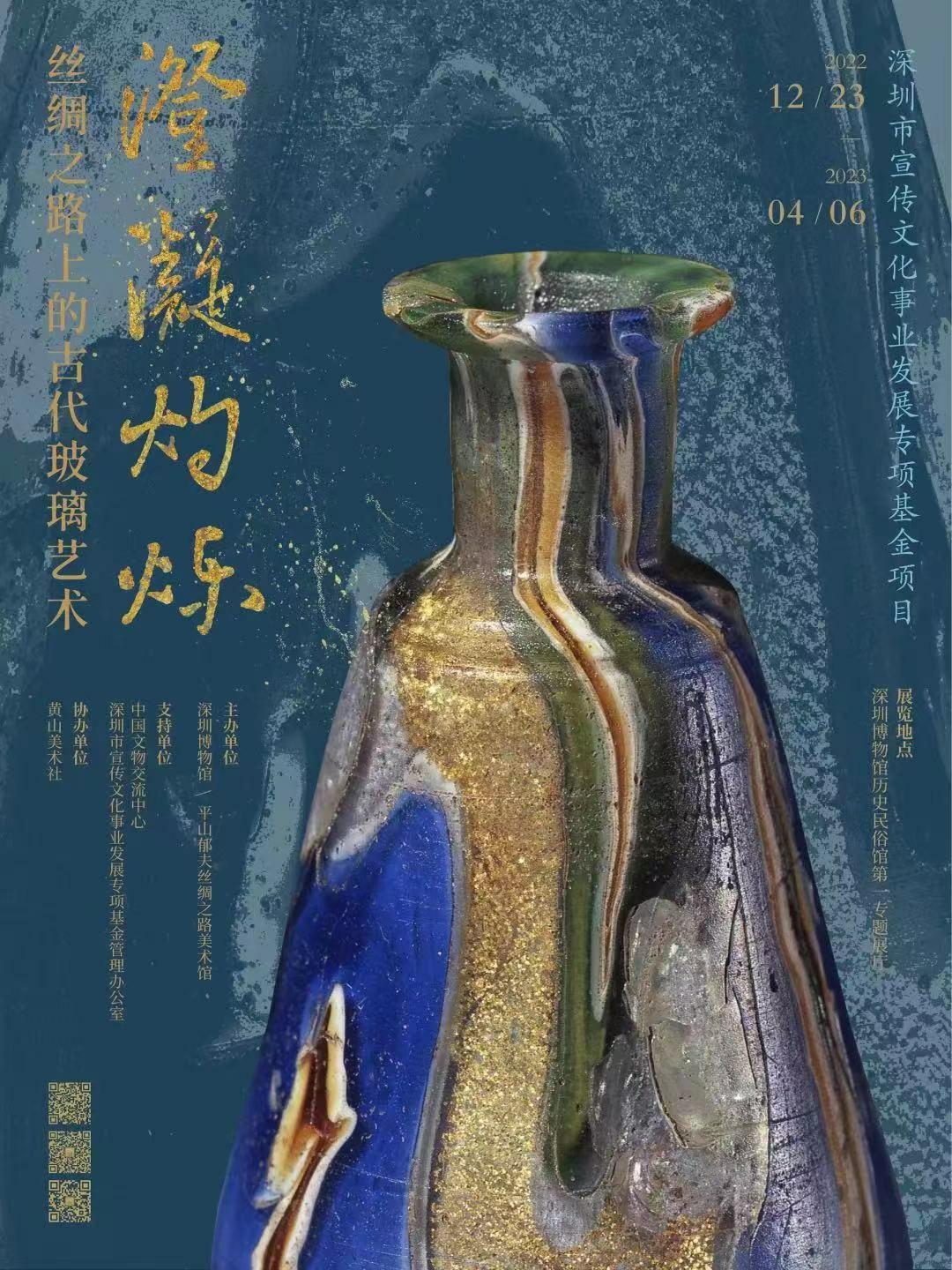 Chinese zodiac
To welcome the Year of the Rabbit, an exhibition featuring the 12 Chinese zodiac animal signs is being held and sure to attract locals.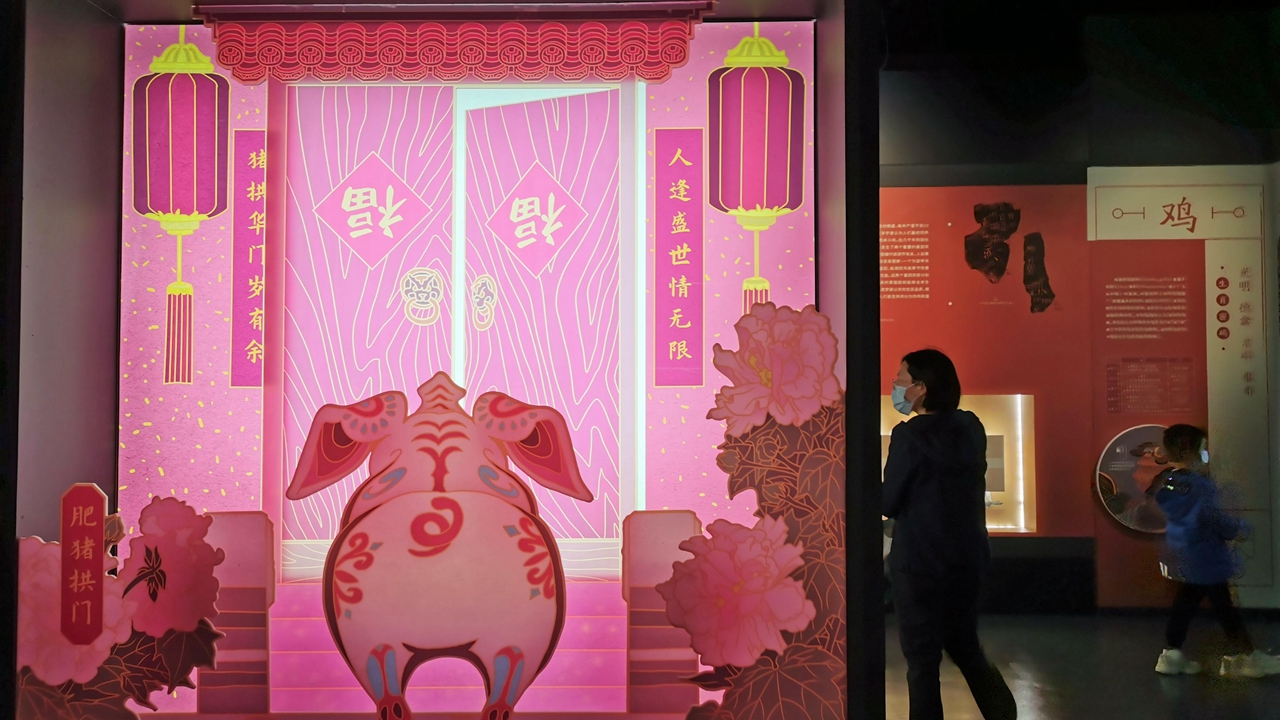 Visitors admire exhibits at the Chinese zodiac exhibition.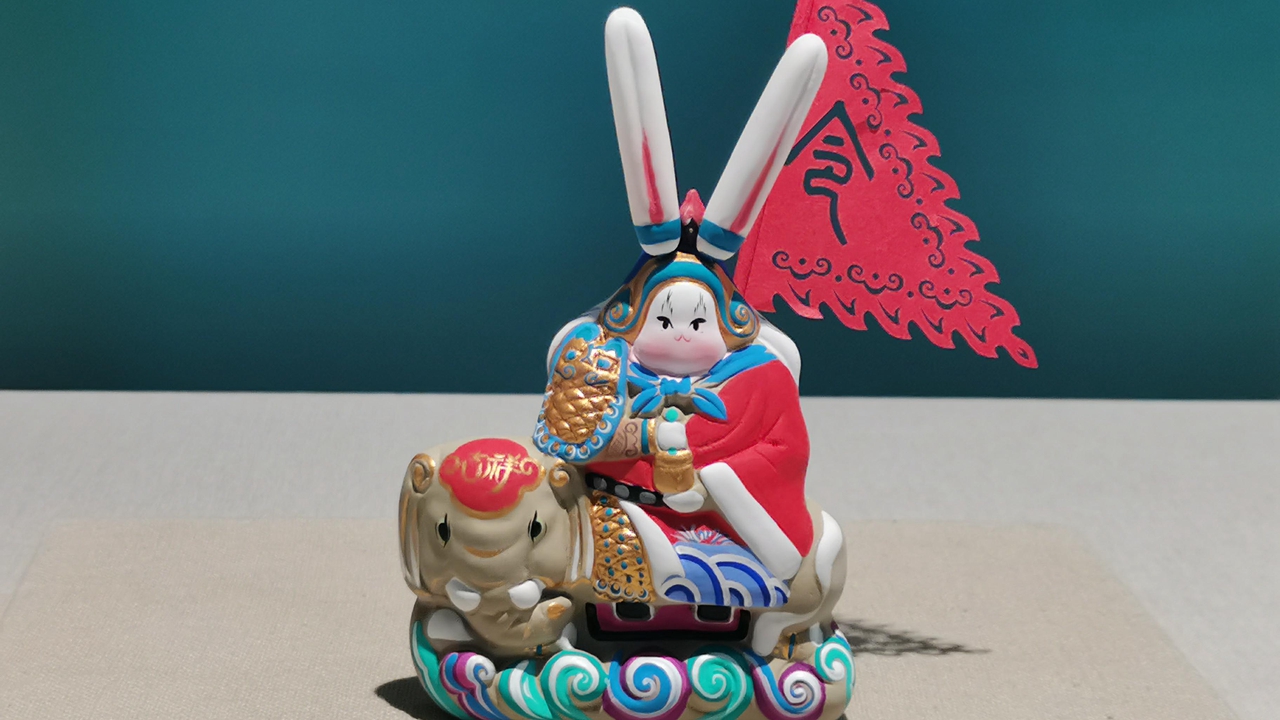 A modern Lord Rabbit toy is on display.

The Chinese zodiac is a traditional classification scheme based on the lunar calendar that assigns an animal each year in a repeating 12-year cycle. In the Chinese zodiac, each animal symbolizes a particular set of virtues, so a zodiac sign not only records one's birth year, but also is one's lifetime mascot.
The exhibition illustrates some possible origins of the Chinese zodiac, from animal worship to astrology. It is a significant part of China's culture and touches many aspects of society, enriching and bringing enjoyment to people's lives.
Twelve Chinese zodiac pottery figurines crafted in the Tang Dynasty (618-907) are on display.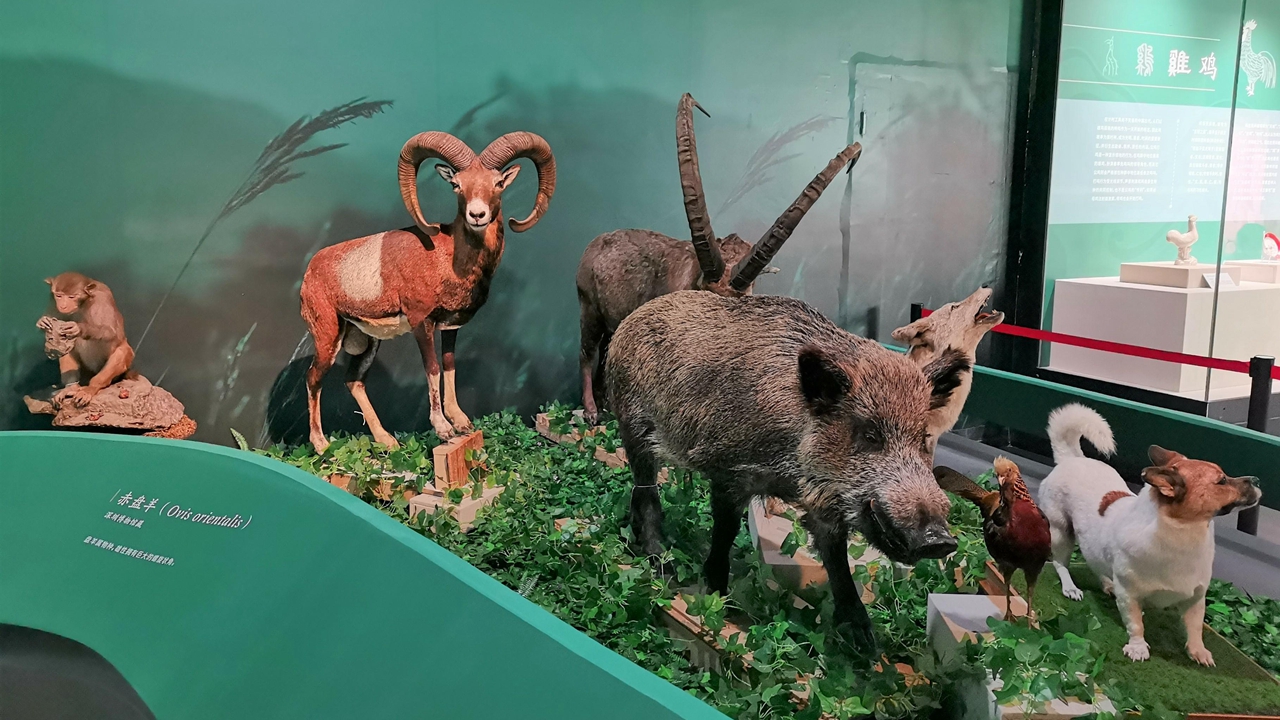 Animal specimens are on display at the Chinese zodiac exhibition.

On display is a selection of zodiac-themed cultural relics and modern folk items from the Shenzhen Museum, Shanghai Science and Technology Museum, Hunan Museum and Guangzhou Museum. Animal specimens, fancy animal images on information boards and interactive displays are highlights of the exhibition.
A monkey-shaped porcelain flask crafted in the Qing Dynasty (1644-1911) is on display.
Dates: Until May 7
Venue: Shenzhen Museum (of History and Folk Culture), Futian District (深圳博物馆历史民俗馆)
Metro: Line 2 or 4 to Civic Center Station (市民中心站), Exit B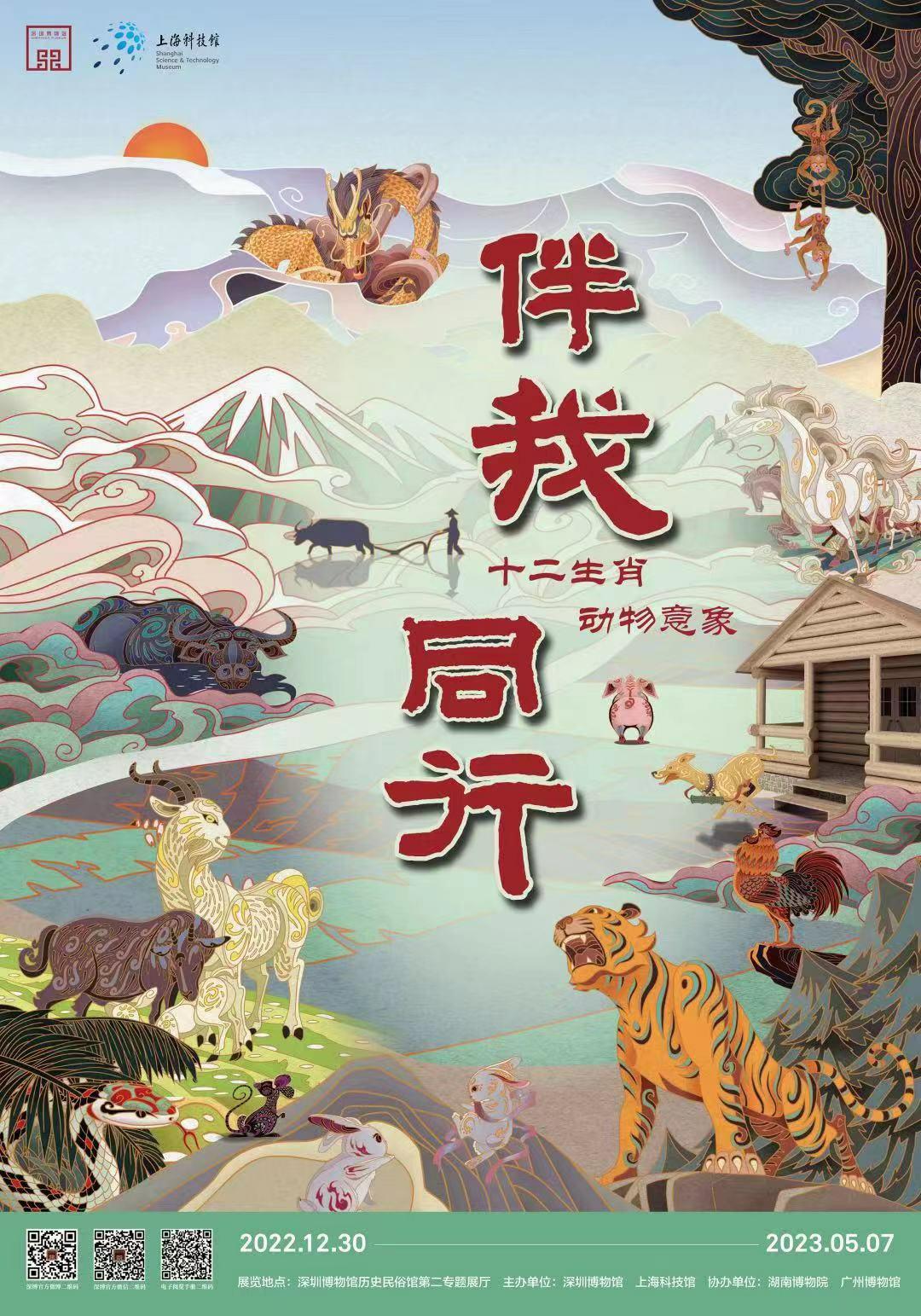 Purple clay objects
Yixing purple clay teapots are highly coveted and sought after, and now visitors can admire 165 teapots, study room items and objects for enjoyment crafted from the Ming Dynasty (1368-1644) to the early 20th century at an exhibition.
Yixing City in East China's Jiangsu Province, known as a "pottery capital," is rich in purple clay. After the clay is fired into utensils, the color is warm and quaint. Ever since the Ming Dynasty, craftsmen in Yixing have combined Chinese tea culture with literati culture and folk art, to make the pots both functional and beautiful.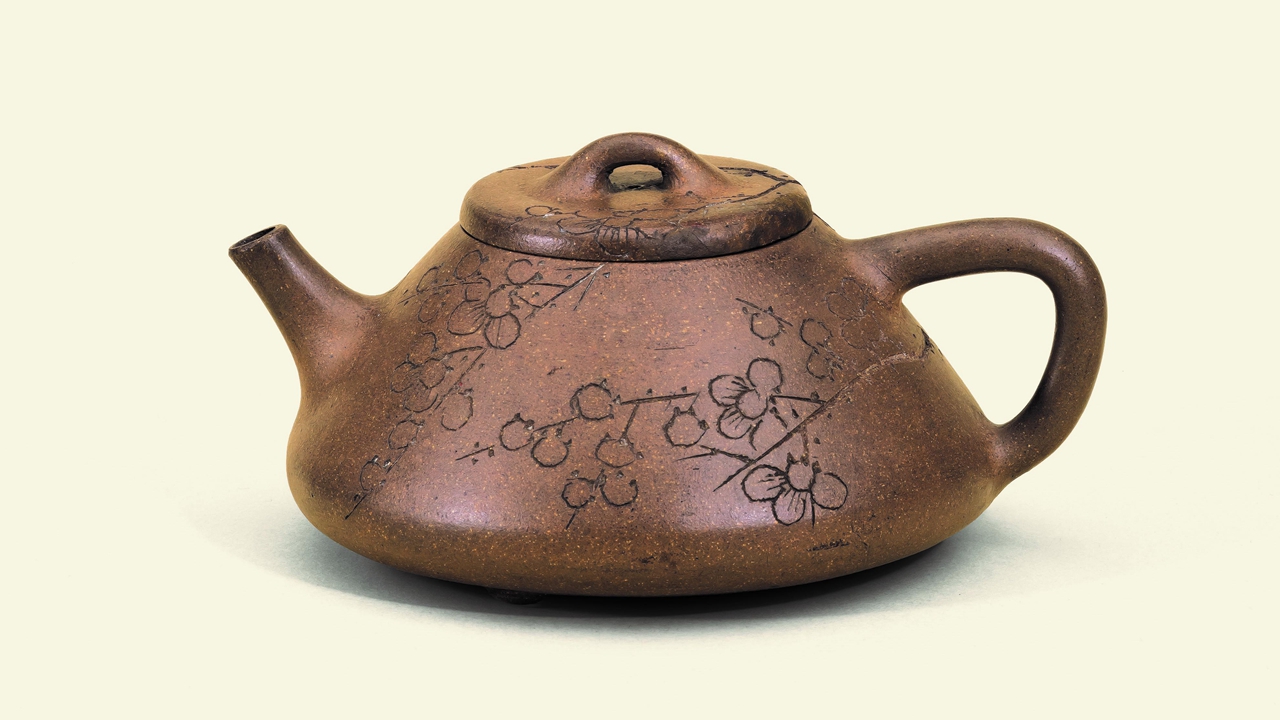 A purple clay teapot crafted in the early 19th century is on display. Photo courtesy of the exhibition organizers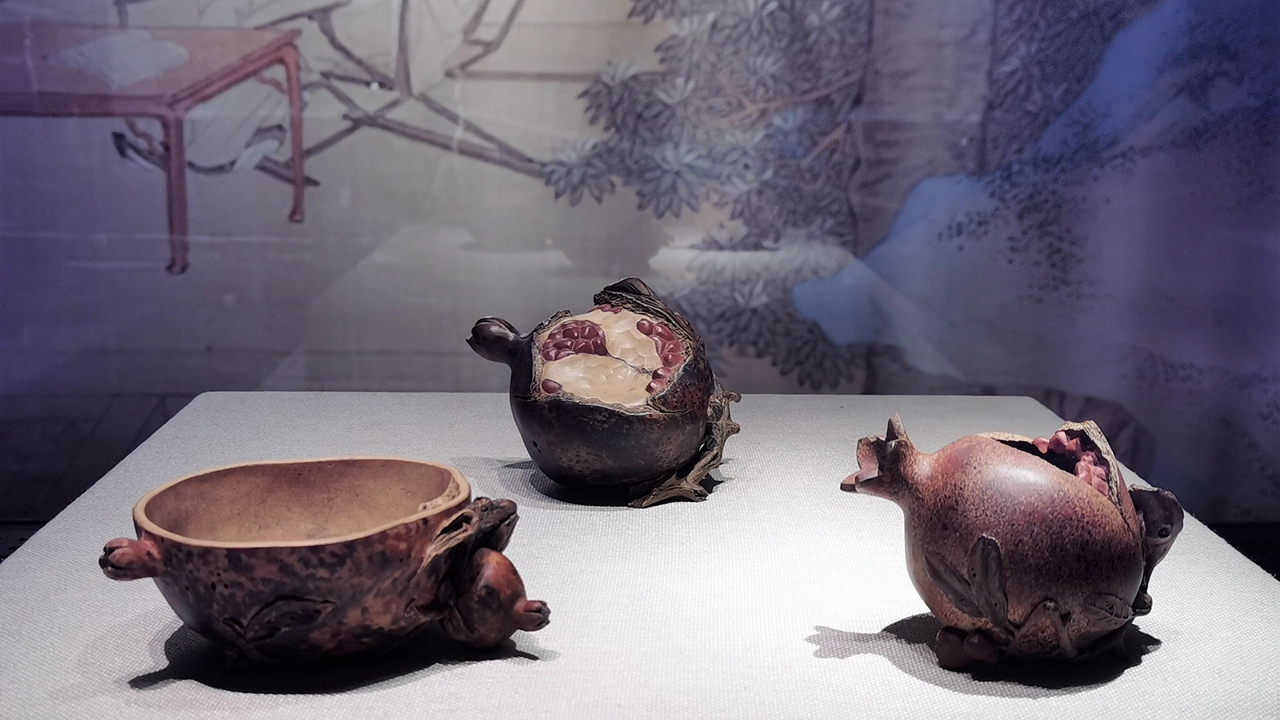 Pomegranate-shaped study room items crafted in the early 20th century are on display at the purple clay exhibition.

At the exhibition co-organized by the Shenzhen Museum and The Chinese University of Hong Kong Art Museum, visitors can not only sense the elegant lifestyle of ancient literati and scholars, but also explore the history of Yixing purple clay teapots that span more than 500 years.
Dates: Until Feb. 26
Venue: Shenzhen Museum (of Ancient Art), Futian District (深圳博物馆古代艺术馆)
Metro: Line 9 to Hongling South Station (红岭南站), Exit A