GDH City · Jinpi Fang in Luohu District is the main venue of the Ninth Bi-City Biennale of Urbanism\Architecture. Photos by Cao Zhen except otherwise stated
Converting old factories into creative spaces has been trending around the globe for quite some time. GDH City · Jinpi Fang (Kingway Brewery Industrial Heritage) in Luohu District, Shenzhen, is another one of those gorgeous spaces where the old and the new meet in an exciting and innovative manner.
What was once a busy brewery has now been transformed into the main venue of the Ninth Bi-City Biennale of Urbanism\Architecture (UABB), where architects, artists and scholars are brewing new ideas for future urban development.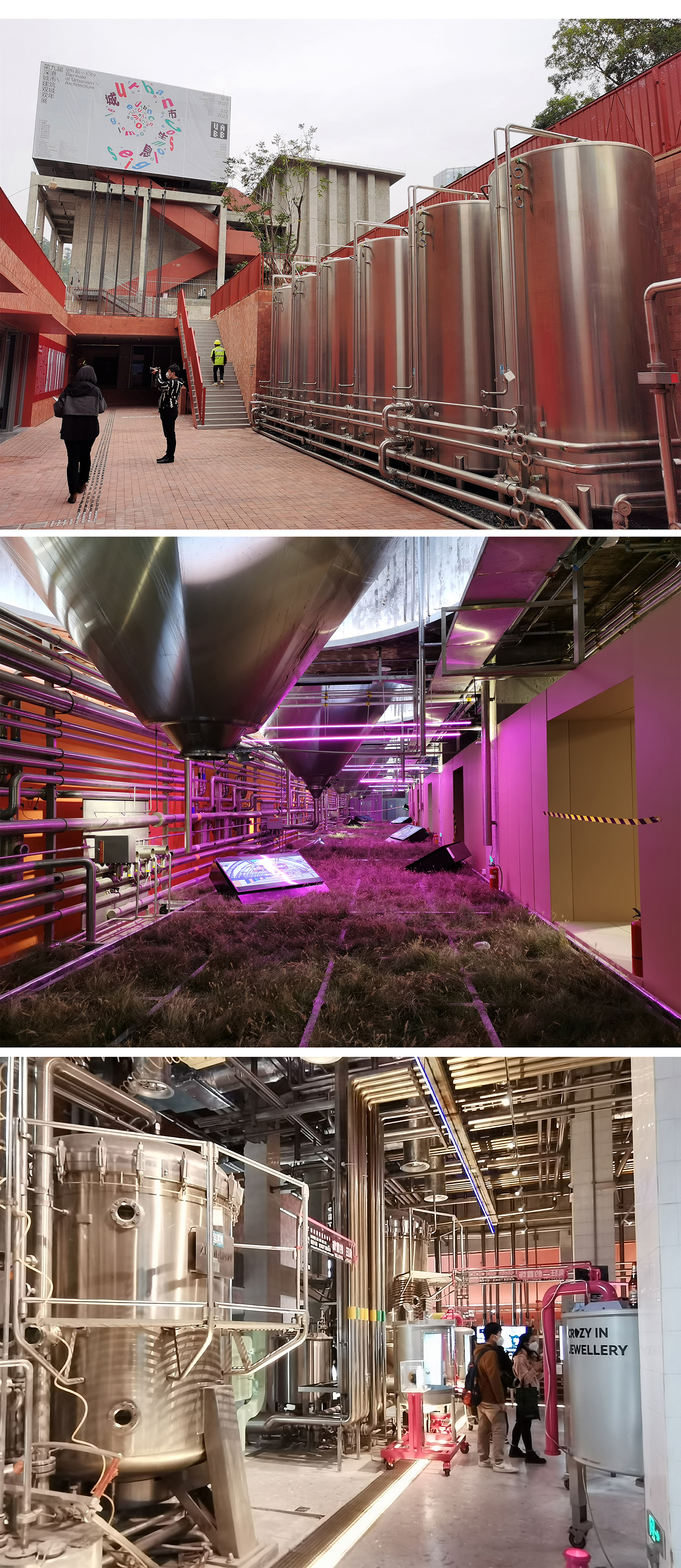 Hundreds of projects and exhibits are on display next to old fermentation tanks.
"This brewery is particularly charming and symbolic for the exhibition. It was not a factory for industrial output; it was a factory for beer. Beer is something intrinsically organic because it is from food and you absorb it in your body. In the very beginning, the brewery was related to the life cycle, and now the rebirth of the post-industrial site has made it a place for dialogue and experimentation," said Lu Andong, who co-curated this year's UABB with Wang Zigeng and Aric Chen.
Lu is professor and vice dean of Nanjing University's School of Architecture and Urban Planning. Wang is associate professor and vice dean of Central Academy of Fine Arts' Department of Architecture. Chen is Het Nieuwe Instituut's general and artistic director.
(From L) Lu Andong, Wang Zigeng and Aric Chen, the three chief curators of the ninth UABB. Photos from UABB
With "Urban Cosmologies" as the theme, this year's UABB focuses on the sustainable and ecological development of cities under the dual-carbon goal. The theme not only stresses diversity and symbiosis in the cosmic dimension but also expresses a life-based philosophy.
The main part of the exhibition is divided into five sections: "Urgent Question," "More-than-human Adventure," "Cosmologic Dialogue," "Co-living Lab" and "Common Action." Lu told Shenzhen Daily that the overall structure or narrative of the exhibition is straightforward, involving raising questions to unfolding a picture of a shared world, then to dialogues, experiments and actions.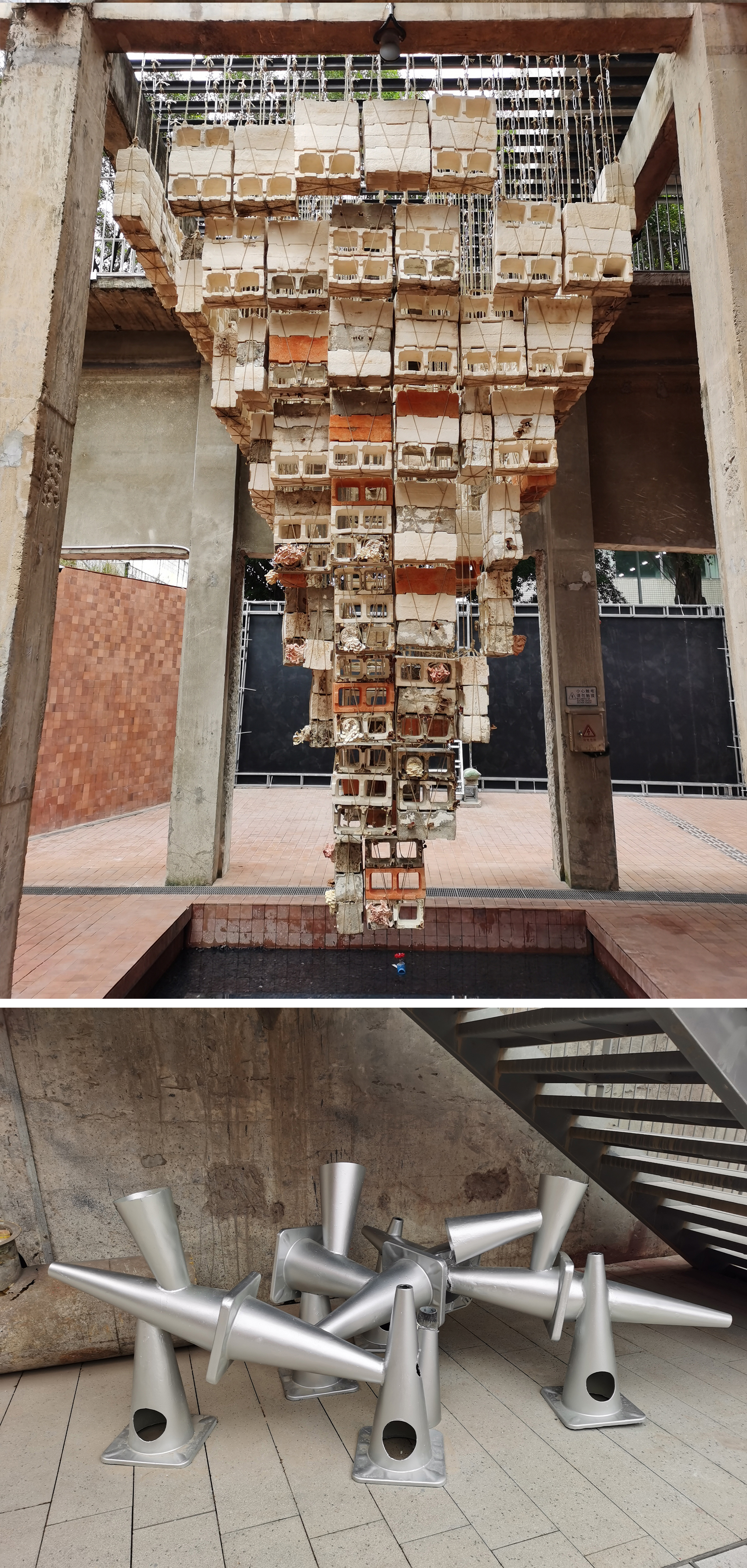 (Top) "Inverted Architecture" (Bottom) "A Home for Stray Animals"
In "Urgent Question," global architects, research institutions and artists display projects with reconsideration of the past and insights into a future of ecological harmony. "Everyone, not only in China but also all over the world, would recognize that we are now at a strategic point of change. The original mode of development is no longer sustainable. The exhibition's first part raises this question and uses art and design to illustrate the problems," said Lu.
"Following that, the second part tries to unfold a multiple picture of the world that is a common ground for all kinds of living creatures," he continued. "More-than-human Adventure" intends to reveal the hidden ecosystems and trigger renewed consideration for symbiosis.
(Top) A visitor observes exhibits. (Bottom) Visitors drink beer at a beer house at the exhibition.
"Building upon an understanding of a shared world, we then need dialogues between different parties of interests. Science, engineering, humanity and art cannot solve problems alone. We have to experiment and have a lab-based model. Finally, we move to action, which is about how people live their everyday lives," he added.
The exhibition, running through March 12, seems intimidating, considering that hundreds of projects and exhibits from 15 countries and regions are scattered around old fermentation tanks and inside behemoth silos, but the overall experience is overwhelming in a positive way.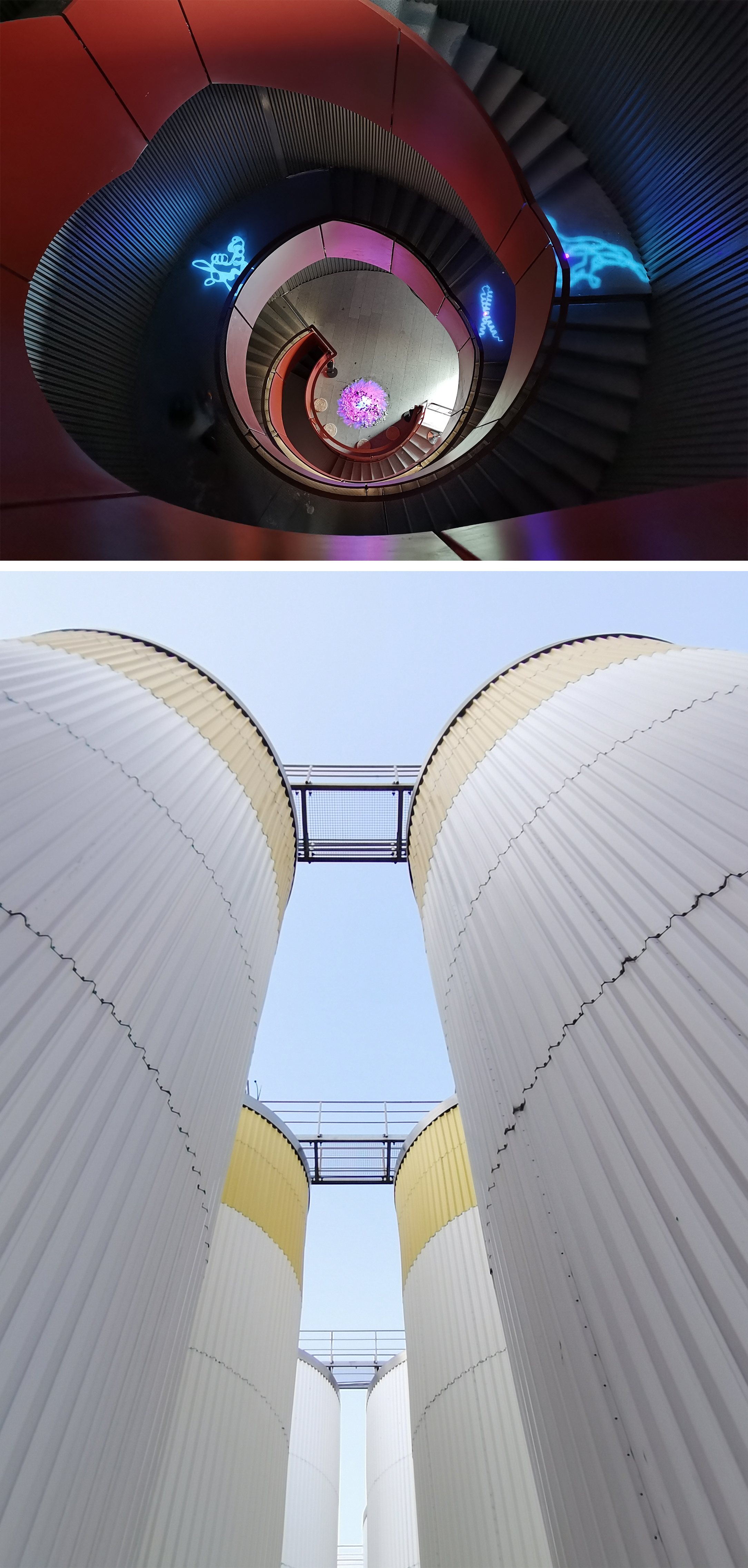 (Top) "Endless River" is displayed inside a silo. (Bottom) Silos are seen at the brewery-turned exhibition site.
Instead of completely dismantling Kingway Brewery, architects of URBANUS have preserved the character of the old factory and its period features. Newly-built corridors, stairs and steps connect exposed concrete, with the rough and the refined seemingly playing off of one another. There is no lack of natural light in here with abundant open-air spaces.
In an open-air sunken space in "More-than-human Adventure," visitors can buy coffee from a stall while observing architecture-themed art installations or may rest on chairs and stools that are also exhibits from Shuhei Aoyama (B.L.U.E. Architecture Studio). By attending weekend workshops, talks and activities, visitors who do not have academic knowledge can get additional inspiration from the art and atmosphere at the biennale.
Visitors can view "The Seed's Garden" at various positions.
Visitors can enter the exhibition buildings from different entries or view the exhibits from multiple positions. Also in "More-than-human Adventure," "The Seed's Garden" by Studio Ossidiana is a circular field built on the former cistern of the brewery. One can have a bird's-eye view of the garden when walking on a red circular bridge or peep at the plants through small holes when standing outside of the garden on the lower floor.
The "Cosmologic Dialogue," "Co-living Lab" and "Common Action" sections discuss interdisciplinary topics on new materials, farming and architecture, and explore a more comprehensive approach. Some exhibits are next to the old fermentation tanks and pipes, and some inside the vertical silos create an immersive experience, inviting visitors to envision a broader universe.
Visitors can watch immersive multimedia works inside an old brewery silo on the roof of a building at the UABB exhibition site.
"Making on Site," a special section of this year's UABB, is a permanent exhibit. It starts with the case of the brewery transformation and also tells the development and innovation stories of Luohu District, while inviting visitors to explore the district's potential.
"Luohu is quite an interesting location for the biennale because it is one of the original parts of Shenzhen," said Lu. "I think the UABB taking place in Luohu has already introduced an idea of revisiting the origin of Shenzhen. It implies a revival, a regeneration and a rebirth of something. Luohu has become a new departure point for this kind of revival, which makes the biennale more symbolic."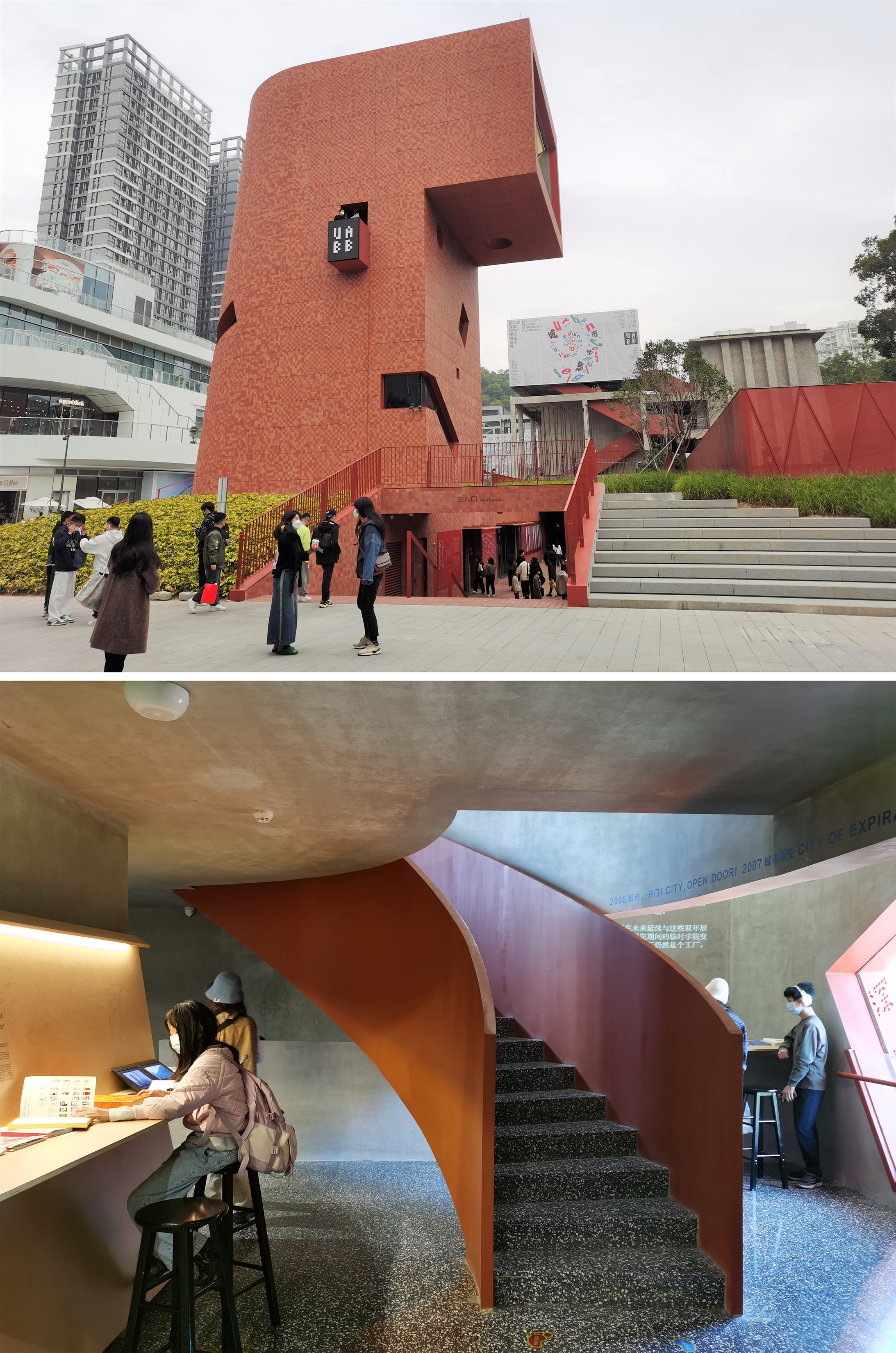 (Top) UABB Pavilion is located in the entrance. (Bottom) Visitors read books inside UABB Pavilion.
Exhibits in UABB Pavilion review the biennale in the past 18 years. Initiated by Shenzhen in 2005 and joined by Hong Kong in 2007, the UABB has made Shenzhen a forerunner in addressing challenges in our time and exploring new possibilities. Past editions were held at old industrial areas and urban villages in Shenzhen and have brought upgrading and vitality to those areas.
"Shenzhen has been thriving, like a magic, in the past four decades, and there are many urban issues that first appeared in Shenzhen; the experimental spirit is also a part of the assets of the city," said Lu.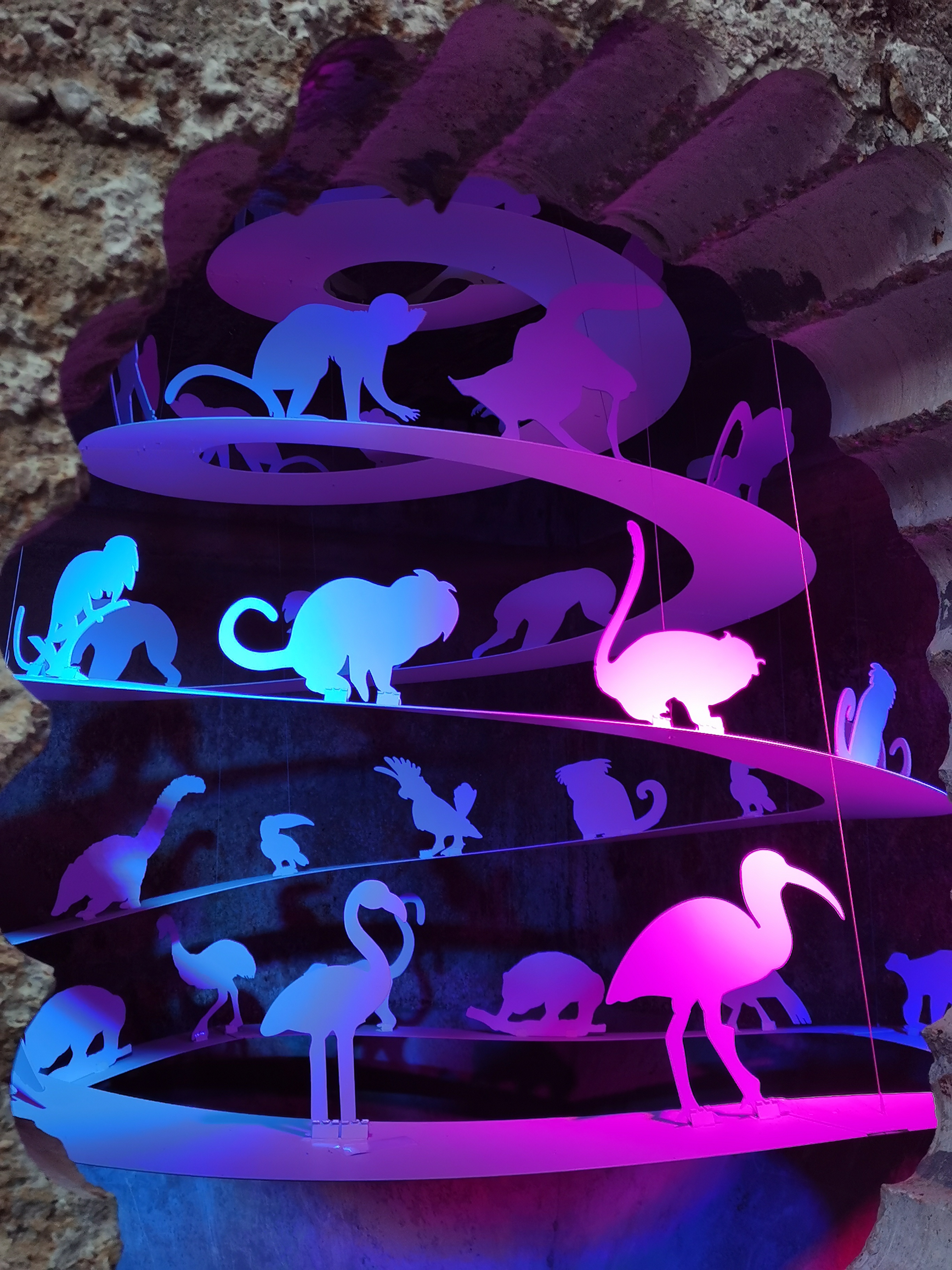 "Evolution Funnel: Nanjing Hongshan Zoological Park Initiate"
"Shenzhen is already a good example of a city that demonstrates how humans and nature can coexist in an urban area. I think this biennale will make Shenzhen think even more about how new understandings of nature and city can be manifested and experimented through the urban practice of Shenzhen in the long run," he added.
Dates: Until March 12 (closed Mondays and Jan. 21-27)
Hours: 10 a.m.-6 p.m. (Tue.-Thur.), 10 a.m.-9 p.m. (Fri.-Sun.), (10 a.m.-6 p.m. on Jan. 20, 28, 29)
Tickets: Free
Venue: GDH City · Jinpi Fang, Luohu District (粤海城 · 金啤坊)
Metro: Line 5 or 7 to Tai'an Station (太安站) or Line 5 to Buxin Station (布心站)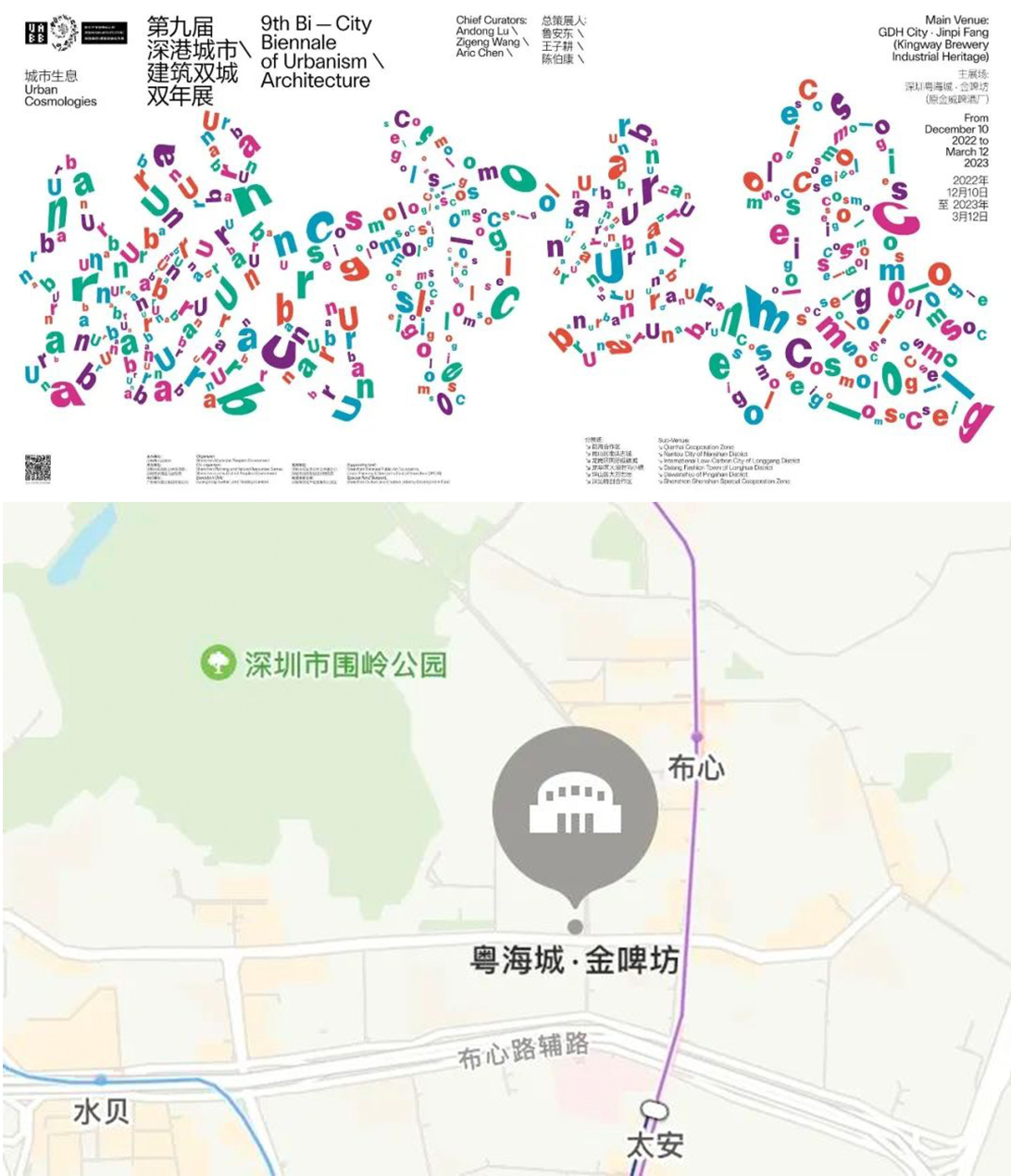 A poster of the ninth UABB and a map showing its main venue. Images from UABB.